Dec 22, 2010 — by Eric Brown — from the LinuxDevices Archive — views
Research and Markets has released an Open Source/Linux Development report claiming that 67 percent of open source developers spend at least part of their time working on non-work-related open source projects. Other results from the report, based on a recent Evans Data survey, include the finding that 65 percent of open source developers earn under $100 per open source project.
The annual Research and Markets (R&M) Open Source/Linux Development report follows up on earlier installments, including a study released two years ago that found that mobile application development projects bring in more money than other types of open source software development.
The survey consists of over 400 in-depth interviews with Linux developers, as well as an Evans Data survey of 350 software developers working on open source projects, says the Dublin, Ireland based research firm.
The report covers topics such as:
languages and Linux distributions
types of apps being created for servers and clients
number of Linux apps to be released next year
major obstacles to Linux and to open source software
impressions of different types of development tools
security concerns with Linux
preferred chipsets
licensing issues
development tools
The study also has sections focusing on embedded software and mobile development. (See link at end of story for a table of contents.)
Reprobates or open source heroes?
Research and Markets (R&M) has released only a few tidbits from the survey results, starting with the finding that 67 percent of respondents spend at least part of the time writing non work related open source software at work. Some 16 percent spend more than half their time using work time for non-company open source work, while 33 percent claim to have never done so.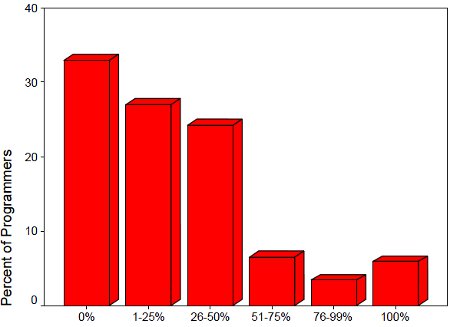 Time spent at work on non-work related open source projects
Source: Open Source/Linux Development
Research and Markets/Evans Data
(Click to enlarge)
Because the majority of developers work on open source projects both at home and work, they can easily rationalize using work time to work on personal projects and vice versa, says R&M. It's easy to pull off non-job related work because supervisors tend to check that developers are working, not what they're working on, says the research firm.
"It may be a discouraging thing for employers to hear but developers working on open source projects can become very involved with them and may find it hard to completely leave them alone when they're on the clock," stated Janel Garvin, CEO of Evans Data.
The issue is complicated, however, because developers sometimes are fixing a bug or enhancing a module that "ultimately will aid the employer's goal as much as the developer's private goal," says R&M.
Meanwhile, the research firm does not mention how many of the employers may know about their employers' open source freelancing, or how many may even actively encourage developers to spend a certain percentage of pro bono time on non-company specific projects.
According to a recent Linux Kernel Report from the Linux Foundation, over 70 percent of all kernel development is demonstrably done by developers who are being paid for their work." Although kernel work represents a fraction of all open source projects, almost a third of all contributions to the kernel in 2010 came from just four companies: Red Hat, Novell, IBM, and Intel.
Piece work
The R&M study also found few developers are getting rich off their open source work. Some 65 percent of developers receive under $100 for their open source projects, and only four percent net over $100,000 annually from open source work. In the middle, some five percent of developers earn more than $1000, but not over $5000 for their products, while four percent earn between $10,001 and $50,000, says the study.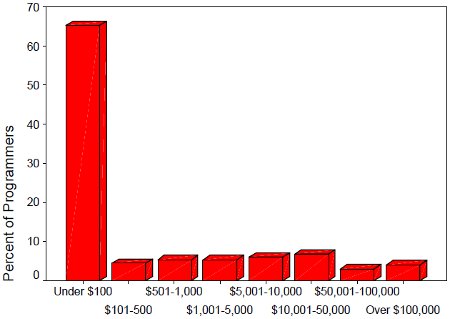 Annual revenue from open source projects
Source: Research and Markets/Evans Data
(Click to enlarge)
The motivation to create open source projects is typically "a labor of love," as well as a show of programming prowess, says R&M. Others are driven by an altruistic desire to contribute to the open source community, suggests the study. In some cases, such work may be a simple necessity in order to complete another project, says the research firm.
Dirty little proprietary secrets
Most open source developers also develop proprietary software, says R&M, although the firm does not detail what percentage. The report does, however, say why.
The decision to use proprietary code stems for a variety of reasons, led by the feeling that proprietary software can better meets their requirements (29 percent) or can generate more revenue (28 percent). Only 17 percent of developers are forced to go proprietary due to corporate governance, says the study.
A sign of the changing, open source times: Only nine percent of developers are developing proprietary software in order to maintain existing proprietary software.
Other highlights from the annual survey include:
67 percent said their last project was either on time or ahead of schedule, with only a third being behind schedule.
Over half say they can resolve most severe bugs within eight hours.
63 percent expect their use of open source databases to increase in the coming year.
Availability
A summary of the Research and Markets Open Source/Linux Development 2010 study, with a table of contents, may be found here.
---
This article was originally published on LinuxDevices.com and has been donated to the open source community by QuinStreet Inc. Please visit LinuxToday.com for up-to-date news and articles about Linux and open source.