Jan 30, 2009 — by Eric Brown — from the LinuxDevices Archive — views

[Updated: 4PM] — Despite a "vicious downturn" in the economy, long-term prospects for wireless broadband-enabled notebooks, netbooks, and mobile Internet devices (MIDs) are "exceptional," says Research and Markets. Its "Mobile Broadband Computing" study is said to examine technologies including mobile platforms, plus HSDPA, LTE, and WiMAX.
(Click for larger view of the WiMAX- and HSPA-enabled USI MID-160 )
With the help of "flatrate data plans and cheap HSDPA modems," mobile broadband subscribers swelled to over 35 million worldwide at the end of 2008, says Irish research firm Research and Markets. Over 340 million active users are predicted by the end of 2014, including 3G, WiMAX, and LTE network users, says the firm.
A trend toward "free" subsidized netbooks sold by wireless carriers will drive the market over the next two years, as cash-strapped consumers look for deals, suggests Research and Markets. However, a consumer backlash against the high monthly tariffs could set in after that, encouraged by the growing availability of free WiFi, enabling other models to emerge, including prepay schemes.
Steady growth for embedded 3G
In the coming years, mobile broadband growth will be encouraged by a growing number of notebooks, netbooks, and MIDs that include embedded 3G or WiMAX modems instead of today's wireless data-cards and USB dongles, says the study. However, dongles will remain popular for longer than was expected, in part due to the financial slump. The study examines both the impact of the growing "credit crunch" on customers, vendors, and operators, as well as a parallel "capacity crunch" as 3G networks grow more congested.
In addition to examining wireless carriers and mobile broadband technologies, the report looks at mobile device manufacturers and their underlying processor platforms. The study does not, however, seem to focus much on operating system (OS) share. Although Research and Markets maintains that both Intel and Microsoft will benefit from the boom in netbook sales, it does not expect ARM devices to play a major role there. Instead, it predicts that in terms of mobile broadband-enabled products, "ARM-based chips from companies such as TI and Qualcomm, running Linux, will mostly appear in niche MIDs, mobile variants of consumer electronics devices, and high-end smartphones."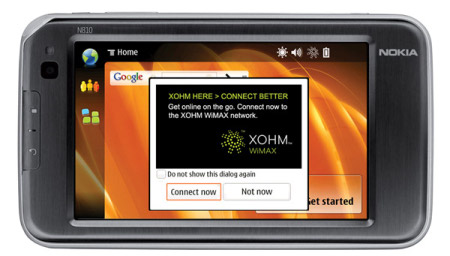 Nokia quietly discontinued its N810 WiMAX Edition Internet Tablet, but says it will revisit WiMAX integration in the future
(Click to enlarge)
Additional trends and analysis offered by the study include:
Embedded modems grow slowly — Notebooks and MIDs with embedded 3G or WiMAX will grow slowly alongside the current dongle market, due in part to the economic slowdown, says the study. By the end of 2011, about 30 percent of mobile broadband users will use notebooks with embedded wireless broadband, compared to 58 percent using external modems. By 2014, there will be 340 million mobile broadband users, of which 150 million will have devices with embedded modems.
The high cost of HSDPA — Some wireless broadband operators have become over-zealous about competing with fixed broadband with subsidies and low rates, leading to HSDPA being cheaper than ADSL in some markets. "This is unsustainable, as the cost structures differ hugely," says Research and Markets.
Capacity crunch — The capacity of mobile data networks will be rapidly reached with the explosion of low-cost traffic, says the firm, adding, "It is no coincidence that future wireless technologies like femtocells need fixed broadband."
Europe out in front — Europe accounts for half of all mobile broadband users, reflecting earlier introduction of low-cost dongles and low-priced HSDPA tariffs.



The HP Mini 1000 netbook
ships with a 3G option
(Click for details)

Rise and fall of monthly contracts — By 2011, only 40 percent of mobile broadband users will be on long-term monthly contracts. Most will use prepaid, session-based, bundled, or "free" models.
MIDs slow to warm — MIDs will grow slowly, with only 3 million to be sold in 2009, but will grow to 30 million units sold by 2014.
WiMAX goes hybrid — By 2012, there will be 45 million users of WiMAX-enabled mobile broadband devices, 11 million of which will also offer 3G or LTE connections in "various hybrid approaches," says Research and Markets.
LTE's coming boom — LTE (Long Term Evolution), a "4G" cellular broadband technology being pushed by Ericsson, will grow slowly until 2012, when a rapid ramp-up will lead to 75 million units shipped in 2014.
In related WiMAX news, WirelessWeek today reported that Nortel, which is going through Chapter 11 proceedings, has canceled its mobile WiMAX development efforts, although it will retain its fixed WiMAX business. Nortel plans to refocus on LTE technology, says the report. The company is said to be working with Alvarion to move their joint mobile WiMAX customers to Alvarion. Last year, the companies combined their efforts to integrate Alvarion's radio access technology with Nortel's core network and backhaul solutions, says the report. More updates on the WiMAX industry can be found in this report on a new Linux-ready WiMAX base station being prepared by PureWave Networks.
Availability
More information on Research and Markets's "Mobile Broadband Computing" study, including a detailed table of contents, may be found here.
---

This article was originally published on LinuxDevices.com and has been donated to the open source community by QuinStreet Inc. Please visit LinuxToday.com for up-to-date news and articles about Linux and open source.