Jun 9, 2011 — by Eric Brown — from the LinuxDevices Archive — views
Motorola Mobility and Sprint announced a Photon 4G smartphone that runs Android 2.3 on a 1GHz dual-core Nvidia Tegra 2 processor, offers a 4.3-inch qHD display, and has an optional, Atrix-like "laptop dock." Motorola also announced that its 4.1-inch Triumph, running Android 2.2 on a 1GHz processor, will be exclusively available from Sprint's Virgin Mobile USA prepaid service.
At the Photon 4G and Triumph launch event in New York City today, covered by our sister site eWEEK, Sprint and Motorola Mobility announced an extension to their partnership that will bring 10 Motorola wireless devices — no doubt most of them Android-based — to the Sprint network. These include the previously announced, business-focused Motorola Xprt, and the new Triumph, which will be offered later this month under Sprint's Virgin Mobile USA prepaid brand.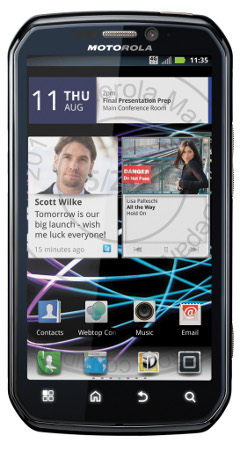 Motorola Photon 4G
(Click to enlarge)
The Motorola Photon 4G is the first Sprint phone to offer the 1GHz dual-core
Nvidia Tegra 2
processor. It is also the second phone after Motorola's
Atrix 4G
(also Tegra 2-based) to offer a laptop dock accessory for displaying smartphone images on a larger screen.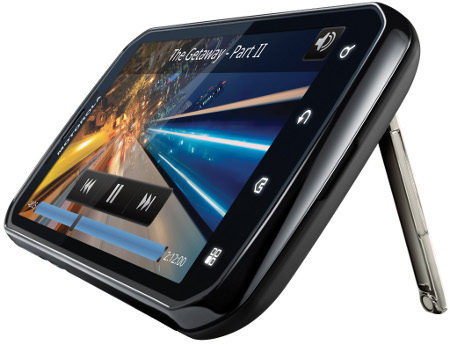 Photon 4G on kickstand
(Click to enlarge)
The Photon 4G is said to offer more memory than any other 4G WiMAX phone. In addition to the 1GB DDR2 RAM, the device provides 16GB eMMC internal flash, and an open 32GB SD slot, enabling up to 48GB total flash memory, says Motorola. The phone runs on Sprint's 3G and 4G WiMAX networks and also offers international GSM capabilities, according to the company.

The 4.3-inch qHD (960 x 540) touchscreen display is joined by an eight-megapixel camera with digital zoom and an LED flash, as well as a front-facing VGA camera, says Motorola. The device is said to offer 720p video capture and the ability to output 1080p video via an HDMI port.
Bluetooth 2.1, Wi-Fi, and GPS are supplied, along with a USB 2.0 port, and a 3.5mm audio port, says Motorola. An extra-cost mobile hotspot is also available.
The 5.0 x 2.6 x 0.5-inch (66.9 x 126.9 x 12.2mm) smartphone weighs 5.6 ounces (158 grams) and is offered with a kickstand, according to the company. The 1700mAh battery is said to offer up to 10 hours talk time on CDMA, and 10.4 hours on GSM, while standby times are listed at 8.3 days and 12.2 days respectively.
The Photon 4G's Android 2.3 software stack includes corporate (MS Exchange ActiveSync) and personal (POP & IMAP) email access. There's also Google Maps, Google Talk IM and text messaging, and Android Market access, says Motorola.
The optional laptop dock appears to be the same as, or similar, to the Motorola Atrix 4G's 11.5-inch "Lapdock" (pictured at left). The barebones, netbook-like accessory lets users plug in their phone, expanding the display via a Linux- and Firefox browser-based Webtop operating system. According to eWEEK, a Sprint spokesperson said that the the laptop dock accessory will be available for purchase after the Photon 4G becomes available.
Motorola Triumph
The vast majority of Android owners are still yoked in indentured servitude by their two-year carrier contracts, but those whose day of liberation is drawing near can take cheer in the growing selection of Android phones available on prepaid networks. The Motorola Triumph, available exclusively on Sprint's Virgin Mobile USA prepaid brand, appears to be one of the most feature-rich yet.

Motorola Triumph
(Click to enlarge)
The Motorola Triumph offers a 4.1-inch screen that dwarfs those of other phones available on prepaid networks. More typical are phones such as Virgin Mobile USA's 3.2-inch
Samsung Intercept
, which runs Android on a modest ARM11-based Samsung S3C6410 processor.
Neither Motorola or Virgin Mobile will fess up to the identity of the Triumph's processor, but it runs at a respectable 1GHz clock rate, and is claimed to play back video at 720p. The phone is further equipped with 512MB RAM, 2GB internal memory, and a 32GB-ready SD card slot, says Motorola.
The 4.1-inch, 800 x 480 touchscreen is joined by a five-megapixel rear-facing camera with flash, as well as a front-facing VGA camera. The Triumph uses Sprint's standard CDMA 1900MHz EVDO RevA 3G network, driven by its Qualcomm MSM8655 baseband. Other wireless services include 802.11 b/g/n, Bluetooth 2.1, and aGPS.
The Triumph also features HDMI, microUSB, and 3.5mm audio ports, says Motorola. Measuring 4.8 x 2.5 x 0.4 inches and weighing 5.04 ounces, the device offers 500 minutes talk time and 300 hours standby, using its 1400mAh battery, says Motorola.
On the software front, it's the year-old Android 2.2, with Android Market, Google Maps, Google Talk, and other Google services. The phone is the first to come preloaded with the social-networking aware Virgin Mobile Live 2.0, which offers access the Virgin Mobile music stream, says the company.
While the Triumph played second fiddle to the Photon 4G at the Sprint event, several on-site reporters seemed to find the Triumph the more significant phone, considering its prepaid status. The true significance, of course, will depend on the yet to be announced price.
According to ZDNet's Rachel King, the Triumph was the "real treat" of the day. "I liked the feel and grip of the Triumph," writes King, who also said the screen was "pretty."
On Engadget, meanwhile, which offers a hands-on video, Dana Wollman noted that while the specs might seem "ho-hum to spec junkies, it's a shockingly solid option for a prepaid carrier." Wollman goes on to write, "And it comes Motoblur-free! How many Photon 4Gs have that to say for themselves?"
Availability
The Motorola Photon 4G will be available beginning Q3 2011 on the Sprint network, while the Motorola Triumph will beat it to market, shipping later this month on the Virgin Mobile USA network, says Motorola.
More information on the Photon 4G may be found at Motorola's Photon 4G fact sheet page, as well as this general-purpose Motorola Photon 4G page. More information on the Triumph may be found at Motorola's Triumph fact sheet page, as well as a Motorola Triumph page. More information on both phones may also be found at Sprint's website.
Motorola recently introduced a Droid X2 Android phone, which went on sale at Verizon May 26, but did not fare too well in a recent eWEEK review. Motorola is also revamping a previously announced Droid Bionic phone called the Droid Bionic 4G. Meanwhile, a video has surfaced this week on the web showing an upcoming Motorola Droid 3.
---
This article was originally published on LinuxDevices.com and has been donated to the open source community by QuinStreet Inc. Please visit LinuxToday.com for up-to-date news and articles about Linux and open source.