Apr 17, 2009 — by Eric Brown — from the LinuxDevices Archive — 7 views

[Updated: 1PM] — Motorola is claiming that rumors about a new Android version of its Au Box set-top box (STB) for KDDI in Japan are unfounded. Meanwhile, Google CEO Eric Schmidt dropped some stronger hints about Android-based netbooks in yesterday's earnings call, says eWEEK.
(Click for larger view of the original Linux-based Au Box)
According to a story in EETimes this week, Motorola and KDDI are preparing to launch a new version of its Au Box STB destined for an October launch by Japanese carrier KDDI. However, Motorola has now released a statement saying that the Au Box will continue to use its own Linux-based KreaTV IP STB open software platform (see farther below).
The now disputed Android Au Box was said to be one of several Android devices to be promoted and supported by a new Japan-based Open Embedded Software Foundation (OESF) organization, said the EETimes story. The Au Box STB "will allow users to take their music and video content with them on the go by connecting to a handset or portable player," says the story. EETimes also reports that JVC is considering the development of a TV set based on the open-source, Linux/Java-based Android distribution.
OESF pushes Android everywhere in Japan
The new OESF group is expected to debut several Android products at Japan's largest electronics show, CEATEC, scheduled for Oct. 6-10, says the story. Established in February, the OESF, which has already sponsored Android ports to the Sharp Zaurus, is an industry group made up primarily of Japanese CE manufacturers and other technology companies aiming to use Android in a range of devices with embedded wireless capability. Possible devices are said to include STBs, VoIP phones, karaoke machines, security and monitoring systems, and digital picture frames (DPFs).
The OESF now has 25 members, with founding members including ARM, KDDI, Japan Cable Laboratories, Alpine Electronics, and Fujitsu Software. Neither Google or Intel are among them, but the story quotes chairman Masataka Miura as saying both are supportive of the group, and that Intel and other semiconductor manufacturers, including Freescale, are considering membership. Miura is also said to have defined the scope of the OESF as promoting hardware, applications, services, and marketing programs. OESF office openings are said to be planned for Taiwan and South Korea this summer.
Au Box: an STB that talks to cellphones
The original Au Box announced by KDDI last September is a Linux-based IP STB that converts and transmits TV and web content to the Japanese carrier's cell phones. Based on Motorola's VIP1830 hardware platform, the Au Box (pictured at top) also plays back music stored on the phones, and offers CD ripping.
The STB can be used to access the Internet and to display video from KDDI's "Hikari One" TV service. In addition, the Au Box enables users to download movies and music onto their mobile phones from KDDI's online stores. (See our previous coverage for more on the interesting Au Box STB, here.)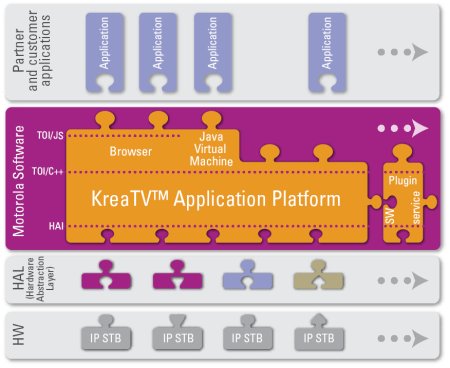 Krea TV architecture
The Au Box runs KreaTV IP STB open software platform, which is used on the VIP1830. KreaTV comes with applications including a navigator, portal, browser, TV, VOD, settings, teletext, and remote reboot programs, says Motorola. The software is said to offer pre-integration with "leading middleware applications, conditional access systems, and video servers," as well as open standard interfaces for browser or native application level development.


HTC Magic
(Click for details)
Android expanding, STB or no
To date, HTC is the only vendor with a shipping Android product, with its G1 smartphone sold by T-Mobile, and it will soon ship a new keyboard-free model, the HTC Magic (pictured), which will be offered by Vodafone. Several more Android smartphones are on the way, however, from vendors including Samsung and Motorola, and a growing number of carriers and consumer electronics companies are considering the use of Android in formats such as netbooks. HP has confirmed the earlier rumors that the computer giant is testing an Android-based netbook, and rumors have it that Google is working on a netbook implementation of Android in collaboration with Asus.
Like Motorola, most of these companies have used embedded Linux distributions in their various products. Motorola has announced that it will shift its Linux/Java MotoMAGX-based smartphones to Android, with its first Android model shipping later this year.


Google CEO
Eric Schmidt
(Click for details)
Google discusses Android netbooks in earnings call
According to a story in eWEEK today, Google CEO Eric Schmidt announced during the company's earnings call yesterday that Android-based netbooks are in development by several third parties, and that more hardware partners for Android can be expected later this year. Several weeks ago, Schmidt (pictured) hinted at a future of Android-based netbooks when being interviewed on the Charlie Rose show on PBS.
"Overall, it looks like Android is going to have a very, very strong year," Schmidt was quoted as saying during the earnings call. "We are already aware of many, many uses of Android. On the netbook side, there are a number of people who have actually taken Android and ported it over to netbook or netbook-similar devices."
Google's earnings exceeded some analyst expectations, but revealed modest declines in revenue due to the recession, says the eWEEK story.
Availability
The EETimes story should be available here. The OESF page may be found here.
The eWEEK story by Nicholas Kolakowski on Google's earnings call and Android plans may be found here.
---

This article was originally published on LinuxDevices.com and has been donated to the open source community by QuinStreet Inc. Please visit LinuxToday.com for up-to-date news and articles about Linux and open source.