May 15, 2007 — by LinuxDevices Staff — from the LinuxDevices Archive — 1 views

Linux/Java has topped CEO Ed Zander's list of things to look for from Motorola as it attempts a financial turnaround. At a New York press conference this morning, Zander introduced Linux-based "Rokr" and "Razr2" models, along with new top-level executives.
Zander opened the conference by introducing a new CFO, and new VPs of products and sales. He said the company is working to reset its strategy, prioritize its markets and technology investments, and "put the 'Wow' back" into its devices.
Referring back to a March investor call at which Motorola announced a $1B shortfall in projected earnings, Zander said, "We talked about three things to look for from our new strategy. One was Linux/Java — today you'll see some products. Another was 3G — today you'll see some products. The third was multimedia and messaging, and we've got some wild stuff there, too."
Motorola announced plans to adopt Linux more than four years ago, but has shipped Linux phones in volume only in Asia and Latin America, to date. That should change in the weeks ahead, as the company's Linux-based MotoRokr Z6 (formerly known as the MotoRizr Z6) rolls out around world.
And, it should really change in early summer, as the world's second-largest handset vendor begins releasing the second generation of its flagship Razr line of fashion phones. Some Razr2 models will be based on Linux/Java, Zander revealed.
Zander also hinted that Motorola's now-mature Linux-based Ming (a1200) touchscreen phone, a big seller in Asia, stands ready for the U.S. market, should Apple's touchscreen-based iPhone disprove the conventional wisdom that Western language users prefer keyboards.
Razr2 (aka RAZR2)
Zander said that Motorola will sell its 100 millionth Razr phone this month, and that the company plans to stick with the brand for a long time. "The Razr brought style to the phone, which is one of the most personal products," he said.
Zander called the Razr2 the "biggest technology upgrade" in the brand's two-and-a-half year history. He said, "Our Linux/Java platform will be available on some versions of Razr2, taking us to our next generation."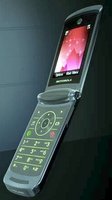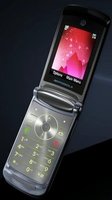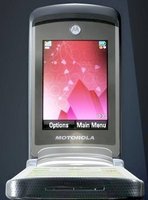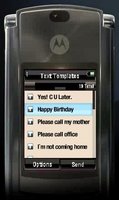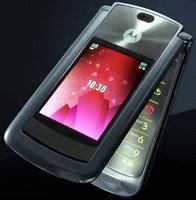 Motorola Razr2 Gallery
(Click any image to enlarge)
Zander touted Razr2 hardware upgrades for reduced thickness, and added strength and smarts. He confirmed that Razr2 phones will use "monolithic" processors
(story)
based on ARM11 and clocked at 500MHz. Other touted hardware features include high-speed USB 2.0, a steel frame with cast aluminum hinge, and new assembly techniques producing a more seamless look. "We've lost the Rokr's double chin," he said.
Other touted Razr2 features include:
"Crystal-talk" adaptive technology adjusts volume based on ambient noise
Talking phone features for use by the blind, in cars, etc
Ability to send pre-set messages in response to incoming text messages, without flipping open
"Best music experience" in feature/fashion phone segment
Full web browser
2MP camera with multi-shot feature
Personal videoconferencing
More about the Rokr2 can be found in an eWEEK story, here.
MotoRokr Z6 (formerly MotoRizr Z6)


Motorola MotoRokr Z6
(Click for details)
Motorola announced the MotoRizr Z6 in January, touting it as the first Linux phone to support all of Microsoft's Windows Media technologies. Now known as the MotoRokr Z6, the phone officially launches today, with global roll-out expected over the next several weeks.
The Z6 has a unique slider form factor aimed at clearly delineating modality. In other words, "Closed, it's an MP3 player. Open, it's a phone," Dale said.
Dale also called the Z6 "Our first true Linux/Java product," presumably a reference to the device's monolithic processor architecture, on which a real-time enabled version of Linux may provide both control- and data-plane functionality; earlier Motorola phones used VRTX or other real-time OSes on separate baseband processors to handle signal processing and run the cellular modem.
Other touted features include:
PC song sync at 3 sec/song — three times faster than Sony Walkman phones
Song storage on removable 2GB SD/MMC cards
Simple music management using Windows Media Player
X9 stereo bluetooth headphones included in European package
Lots more about the Z6 can be found in our earlier coverage, here.
Non-Linux-based Motorola phones debuted at the event included:
A Windows Mobile 6-based Q9, a slim smartphone shipping now in Italy, and elsewhere in Europe this summer
A Symbian-based Z8, dubbed a "media monster" for its videographic prowess
---

This article was originally published on LinuxDevices.com and has been donated to the open source community by QuinStreet Inc. Please visit LinuxToday.com for up-to-date news and articles about Linux and open source.