Mar 9, 2004 — by LinuxDevices Staff — from the LinuxDevices Archive — 10 views

Motorola has announced several new multimedia-enabled mobile phones supporting music and video playback, including one new device based on embedded Linux. The Linux-based Motorola E680 could see US distribution, making it the first of Motorola's Linux-based mobile phones available outside the Far East.
The E680 will support SD memory expansion cards up to 1GB, and music and video content downloads via USB, Bluetooth, or GPRS (General Packet Radio Service). GPRS supports theoretical download speeds up to 115kbps, about one third the speed of a typical home DSL connection.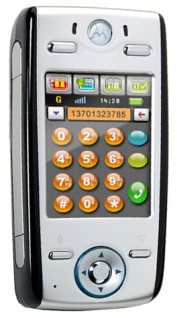 The E680 (click photo at right to enlarge) will include multimedia playback software supporting a variety of formats, including MP3 audio, MPEG4 video, and RealPlayer multimedia content. MIDI ringtones will also be supported, and available for download. A content partnership with Music Television (MTV) is slated to provide content to users outside the US.
In addition to integrated 16mm 3D stereo speakers, the E680 will be available with optional stereo and FM radio headsets.
"The device formally known as the cellphone is now our wireless entertainment portal, connecting us to the music, videos, artists we love, and the information we want," commented Motorola's "chief brand officer," Geoffrey Frost. "Through wireless innovation, partnerships and open standards, we are delivering a new way for artists to reach their fans, and for music-lovers to enjoy their favourite tracks."
The device will feature a 240×320 pixel (quarter VGA) color screen both supporting portrait and landscape modes. An integrated VGA (640×480) camera with an 8x zoom lens will support MPEG4 video capture.
The E680 will include a WAP (Wireless Access Protocol) Web browser and a variety of messaging clients, including email, text, and MMS (Multimedia Messaging Service). The E680 will also support 3D games, including J2ME gaming and "8-way navi and gaming keys." Motorola in October announced its plans to incorporate next-generation Java technologies in future Linux-based mobile phones.
Motorola's previous Linux-based phones have been based on MontaVista Linux, and have used the Qt/Embedded graphical application framework. Sources at MontaVista and Trolltech would neither confirm nor deny whether their products are being used to build the E680. Belcarra recently announced that Motorola has licensed its USB networking stack for use in its Linux phones.
Several sources have suggested that the E680 will see distribution in the U.S., making it the first of Motorola's Linux-based to appear outside of Asia. Motorola earlier shipped its Linux-based A760 and A768 smartphones in China and other Asian mobile markets.
Concurrently, Motorola announced two other multimedia-enabled mobile phones. The C650 camera phone and E398 phone with integrated MP3 player are expected to ship in Q2, 2004, but will not be based on Linux.
---

This article was originally published on LinuxDevices.com and has been donated to the open source community by QuinStreet Inc. Please visit LinuxToday.com for up-to-date news and articles about Linux and open source.