Dec 1, 2011 — by LinuxDevices Staff — from the LinuxDevices Archive — 2 views
Samsung announced volume production of SSDs (solid state drives) that offer a Mini-Serial ATA (mSATA) form factor, 6.0Gbit/sec. SATA, and capacities up to 256MB. Meanwhile, Seagate revamped its Momentus XT hard disk/SSD hybrid, similarly goosing interface speed and doubling flash memory cache to 8GB.
mSATA devices feature a Mini PCI Express form factor (about 2.0 x 1.2 inches), but use their connectors to implement SATA and IDE interface pass-through. They're becoming popular in embedded devices and, as Samsung points out, have also been employed in this year's crop of thin-and-light Ultrabook computers. (They also featured in some netbooks, such as the pictured Dell's Mini 9 and the original Asus EeePC.)
According to Samsung, its latest mSATA products will allow Ultrabook manufacturers to bring disk performance up to the level of larger notebook PCs. The new drives use the same 20nm flash technology as the 2.5-inch SSD 830 and PM830 devices that were announced in August, the company says.
Like those earlier products, the mSATA range — which will be offered in 32GB, 64GB, 128GB, 256GB, and 512GB sizes — supports the Serial ATA Revision 3.0 interface, featuring six gigabits per second (6Gbit/sec.) data transmission. Getting the full benefit of this in a notebook of course requires a compatible I/O controller, such as the QM67 chipset that accompanies Intel's mobile "Sandy Bridge" Core processors (and is already part of the chipmaker's Ultrabook recipe).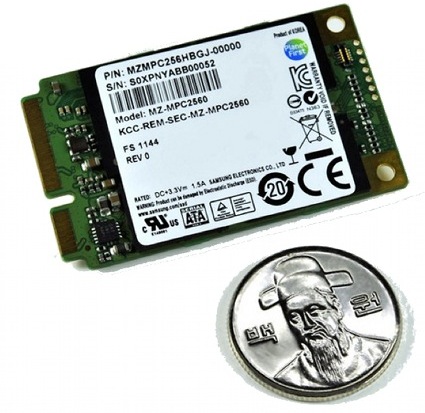 Samsung's mSATA-based SSD
Samsung says the mSATA SSDs offer sequential read and write speeds of 500 MB/sec. and 260MB/sec respectively, "more than six times the speed of hard disk drives." Indeed, this is the same read rate that was quoted for the SSD 830 and PM930, but the 2.5-inch devices were said to deliver somewhat-faster 350MB/sec. sequential writes.
According to Samsung, the mSATA SSDs enable systems to boot up in about ten seconds and "will transmit five DVD files in about a minute." In addition, the company says, they offer "an advanced hardware-based security solution including 256-bit Advanced Encryption Standard (AES) protection, which will prevent unauthorized access to data on a lost or stolen notebook PC."
Pricing and availability were not specified. However, 256GB-packing Ultrabooks have already been announced by a variety of manufacturers.
A revamped hybrid
A 6GBits/sec. Serial ATA Revision 3.0 interface is also one enhancement to Seagate's newly announced Momentus XT (pictured), a revamp of a 2.5-inch drive that was first announced last year. As before, this hybrid device includes both a hard disk (HDD) rotating at 7200rpm and a flash memory cache, and is touted as combining SSD speed with HDD capacity and pricing.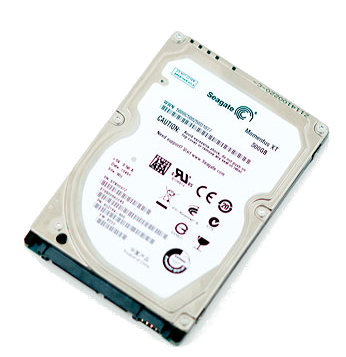 Seagate's Momentus XT
According to Seagate, its "unique adaptive memory" scheme identifies the most frequently used information, then moves it to flash storage for faster access. The company reiterates that its caching technology works with any operating system, but adds that the revised Momentus XT — offered in 500GB and 750GB sizes — provides Advanced Format 4K (4096-byte) sector size with newer OSes, "helping maintain data integrity at higher storage densities and capacities."
Seagate's published specifications for the new Momentus XT do not include sequential read and write speeds, as far as we could see. According to a Nov. 30 CNet review, however, the drive essentially offers SSD speed when loading frequently used (and hence cached) applications and small files, but only average HDD speed when copying a large amount of information.
The revised Momentus XT is available now, with a suggested price of $250 for the 750GB model.
Jonathan Angel can be reached at [email protected] and followed at www.twitter.com/gadgetsense.
---
This article was originally published on LinuxDevices.com and has been donated to the open source community by QuinStreet Inc. Please visit LinuxToday.com for up-to-date news and articles about Linux and open source.