Aug 17, 2011 — by LinuxDevices Staff — from the LinuxDevices Archive — 3 views
Samsung announced 2.5-inch solid state drives (SSDs) that feature 6Gb/sec. SATA interfaces, 500MB/sec. sequential read speeds, and 350MB/sec. sequential write speeds. Meanwhile, Intel said it will release new firmware for its SSD320 drives by the end of the month, fixing a bug that causes some to downsize themselves to a skimpy 8MB.
Earlier this month, Smart Modular Technologies announced an enterprise-focused SSD with a SAS (serial attached SCSI) interface, claiming sequential reads of up to 1GB/sec. and writes of up to 500MB/sec. Samsung's new SSD 830 can't match that performance, but as we'll see, it's one of the fastest SSDs to have a standard SATA interface.
According to Samsung, the SSD 830 — which will be offered in 64GB, 128GB, 256GB, and 512GB sizes — supports the Serial ATA Revision 3.0 interface, featuring six gigabits per second (6Gb/sec.) data transmission. (Getting the full benefit of this in a notebook of course requires a compatible I/O controller, such as the QM67 chipset that accompanies Intel's mobile "Sandy Bridge" Core processors.)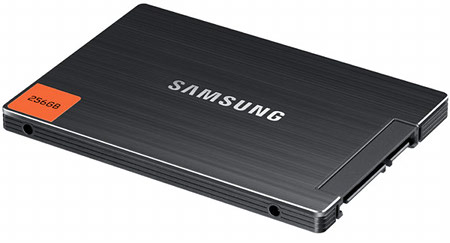 Samsung's SSD 830
(Click to enlarge)
Samsung says the new drives offer double the bandwidth of its previous SSD 470 series. And sure enough, performance stats increase commensurately, with claimed 500MB/sec. sequential read speeds and 350MB/sec. sequential writes. (The flagship 512GB drive Samsung released last year had 250MB/sec. reads and 220MB/sec. writes, the company said at the time.)
Unfortunately for the performance-hungry, Samsung's Aug. 17 announcement had no further information to offer. The company says further stats as well as pricing will be released when the SSD 830 drives go on sale to consumers in October.
Meanwhile, Samsung announced OEM versions of what appear to be the same SSDs on Aug. 12. The 20nm-fabbed "PM 830" drives began sampling in May and entered volume production last month, according to the company, though no word was provided on when they'll turn up in finished devices.
Wanhoon Hong, executive vice president of memory sales and marketing for Samsung's device solutions devision, stated, "Samsung's new line up of advanced SSDs will raise the performance bar to the next level for ultra-slim notebooks and tablets and accelerate growth of the market for high-performance SSDs. The industry is expected to quickly embrace SATA 6Gb/sec.-based SSDs, which also will help increase market interest in 256GB and higher densities significantly."
Intel promises fix for mysteriously shrinking SSDs
As we reported July 26, Intel has been investigating a "Bad Context 13x Error," seen on select units of the company's SSD320 drives and previously noted in an Intel community post as an "SSD Power Loss." The company summarizes the error by saying that after an unexpected power loss, a "small percentage" of SSDs may report themselves to a PC's BIOS as having only 8MB of storage — not exactly what a customer had paid for.
The company now says it has reproduced the Bad Context 13x Error using "strenuous" testing methods, and will address it via a firmware update that will be released by the end of this month. Though it will restore affected drives to normal operation, the update will not recover lost data, the company adds.
Users with SSD320 drives who are concerned but currently unaffected by the error should back up their data regularly, be sure to follow a system's standard shutdown process, and minimize unplugging the SSD while their computers are powered, Intel warns.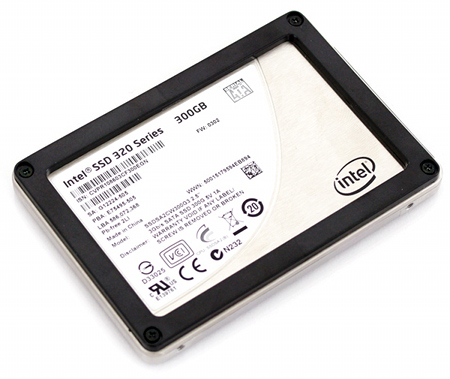 The 320GB version of Intel's SSD320
(Click to enlarge)
Launched at the end of March, the SSD320 drives use 25nm fabrication. Compared to previous SSDs from Intel, they were touted as offering lower pricing, sequential write speeds that have doubled in speed, plus new encryption and data protection features.
At the time, Intel claimed reliability had been improved two different ways:
an array of surplus NAND flash is provided on the drive, so that if and when the controller encounters a faulty NAND array, it can reconfigure itself to reduce the prospect of data loss
small onboard capacitors provide enough reserve power for the drive to complete any data writes that were in progress, even if power fails
The SSD 320 devices — all SATA II-interfaced — are offered in hard disk-rivaling 300GB and 600GB sizes, as well as the 40GB, 80GB, 120GB, and 160GB capacities that were found in Intel's previous X25-M generation. Read and write speeds vary, as this [PDF-formatted] data sheet shows.
For all but the entry-level drive, however, 270MB/sec. reads are cited. The top 600GB offering is claimed to write data almost as fast (200MB/sec.), while the 160GB drive has a 165MB/sec. write speed, according to Intel.
Jonathan Angel can be reached at [email protected] and followed at www.twitter.com/gadgetsense.
---
This article was originally published on LinuxDevices.com and has been donated to the open source community by QuinStreet Inc. Please visit LinuxToday.com for up-to-date news and articles about Linux and open source.