Jan 3, 2011 — by Eric Brown — from the LinuxDevices Archive — 32 views
Freescale Semiconductor announced an ARM Cortex-A9-based "i.MX 6" series of multicore system-on-chips (SoCs) it says will bring 3D HD video to tablets, smartphones, automotive infotainment systems, and other embedded devices. The single-core i.MX 6Solo, dual-core i.MX 6Dual, and quad-core i.MX 6Quad are all clocked at 1.2GHz and touted as delivering 1080p60 video decode, 720p60 encode, and 3D video playback at 50Mbps.
The i.MX 6 supports next-generation tablets, e-readers, smartphones, automotive infotainment systems, and other consumer and automotive products, says Freescale. Initially supported operating systems are said to include Android, Ubuntu Linux, and Windows CE, and support is also planned for Chrome OS and QNX.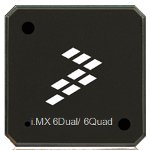 The four-core 6Quad version of the i.MX 6 (pictured) delivers up to five times the performance of Freescale's previous i.MX generation, claims the company. This would appear to refer to the 1GHz Cortex-A8 based i.MX535 processor announced in May, which boosted video decode performance to 1080p HD over the earlier 1GHz i.MX51 720p-ready processors announced two years ago.
The i.MX 6 series is Freescale's first ARM-based multicore SoC and first Cortex-A9 model. The processor advances the i.MX family with dual-stream 1080p video playback at 60 frames per second (fps), 3D video playback at 50Mbps, desktop-quality gaming, augmented reality applications, and novel content creation capabilities, says Freescale.
The SoC is also touted for being one of the first applications processors to offer hardware support for the open source VP8 codec. VP8 drives the related WebM open container format, both of which are supported in the most recent Android 2.3 release.
The i.MX 6 series uses 40nm fabrication and provides low power draw and advanced power management capabilities, says Freescale. The SoC is claimed to enable 1080p video (single stream) with only 350mW consumption. As a result, the i.MX 6 series can deliver up to 24 hours of HD video playback and 30-plus days of device standby time, claims the company.
According to Freescale's Rajeev Kumar, who recently briefed LinuxDevices on the i.MX 6, the combination of the SoC's multiple graphics engines, multiple cores, and power management opens up numerous high-end mobile multimedia applications.
"The i.MX 6 gives you three graphics engine, and 200 million triangles per second, so you can dedicate each engine for a different user experience," said Kumar, consumer marketing manager for Freescale's Multimedia Applications division. "You can make it pop dual stream, 50Mbps video with Blu-ray quality, and provide 3D video with a lot of cool innovation."
Scalable from one to four cores
The i.MX 6 product series is comprised of the single-core i.MX 6Solo, dual-core i.MX 6Dual, and quad-core i.MX 6Quad processors. Common SoC IP building blocks enable series-wide software and development tool compatibility, says Freescale. Meanwhile, similar integrated power management capabilities, a broad range of integrated interfaces, and pin compatibility within package families reduce product complexity and development costs, says the company.
All three i.MX 6 models are clocked to 1.2GHz, and offer the ARMv7 instruction set with Neon multimedia extensions, VFPvd16 (vector floating point graphics), and Trustzone support, says Freescale. While the single-core i.MX 6Solo offers 256KB of L2 cache, the dual and quad versions are each said to offer 1MB of L2 cache.
A Freescale diagram showing how the 6Dual and 6Quad versions of the i.MX 6 enable 3D video


(Click to enlarge)
Freescale has yet to publish a detailed spec list or block diagram, but based on our briefing, as well as the simplified diagram shown above, we know that the SoC combines one to four Cortex-A9 cores with 3D, video, and image coprocessors, as well as an image capture chip.
While the 6Solo is said to offer merely "next-generation 3D graphics," the 6Dual and 6Quad each appears to offer a more advanced 3D coprocessor. Kumar said Freescale was not releasing the source of the 3D technologies, so it is unclear whether this is based on the usual — but recently updated — Imagination Technologies Powervr SGX Series5XP found on many Cortex-A SoCs.
The above diagram refers to the graphics coprocessor found on the 6Dual and 6Quad as a "GC2000" chip, with the GC standing for game content. The GC2000 is said to offer 200 million triangles per second performance, with four shaders and three separate engines. The chip provides for high-quality 3D gaming optimized for mobile devices, as well as augmented reality views and advanced 3D video formats including "source/depth," says Freescale.
The video coprocessor, meanwhile, is said in the dual or quad versions to support 1080p60 H.264 video decode. It also provides for 720p60 encode of H.264, with "1080p planned," says Freescale. Separately, Freescale refers to a 1080p30 encode feature, but it is unclear whether this will be available in the initial release or is the aforementioned "planned" feature.
The i.MX 6's image processing unit (IPU) supports a whopping four displays via HDMI 1.4, and offers stereoscopic image sensor support for 3D imaging, says the company. Other IPU features are said to include color adjustments, gamut mapping, gamma correction, contrast stretching, as well as compensation for low light conditions and backlight reduction.
The combination of the various multimedia coprocessors and engines, along with the multiple cores on the higher end versions, enables dual-stream capabilities and 3D video playback, says Freescale.
SATA-II and automotive interfaces
The 6Solo provides external memory support for up to 32-bit DDR3 and LPDDR2 memory, while the 6Dual and 6Quad versions support up to 64-bit DDR3 and dual-channel 32-bit LPDDR2 memory, says the company. Other special features are said to include an integrated EPD controller for e-reader applications on the 6Solo, and SATA II support with integrated PHY on the 6Dual and 6Quad.
All three models appear to support the SD 3.0 spec for flash memory, and offer support for PCI Express (PCIe), gigabit Ethernet, and multiple USB 2.0 ports, all with integrated PHY. LVDS support is also said to be available. Automotive-oriented interfaces include MIPI CSI, MIPI DSI, MIPI HSI, and FlexCAN, says Freescale.
Simplified power management exploits multiple cores
According to Kumar, the i.MX 6 series' "simplified power management subsystem," offers much better power management than the i.MX5x family, and can be implemented at low cost. In addition, it can exploit potential power savings enabled on the multicore models, said Kumar.
"The 6Quad allows you to have lower power draw than a single core clocked to a higher rate," he said. "The power differential is not linear — you burn a lot more power at high frequency on a single core as opposed to running four cores at lower frequency."
The different models do not target different device types to differentiate between tablets, smartphones, and automotive infotainment computers, adds Kumar. Instead, more cores can be used in any of the usage scenarios to provide more horsepower, he added.
"When you look at future applications like face recognition, location based sensing, and augmented reality, you will generally want more cores," said Kumar. "There are also elements that tend to remain hidden that can make use of more cores, such as virus checking and security, or certain features in an automotive device. For example, for something critical like lane recognition you will probably want a dedicated core, so nothing else can touch it."
Freescale: Quietly taking over the tablet market?
Previous i.MX SoCs have included the popular, ARM11-based i.MX31 SoC, which drove the first wave of the e-reader market in devices such as the Amazon Kindle. Like the i.MX31, the i.MX51 and i.MX53 have been put to work in numerous e-readers and tablets, says Freescale.
On Dec. 16, the company announced that eleven tablet products available for the holiday shopping season were based on processors from Freescale, a total claimed to be "more than from any other semiconductor supplier." In addition, the company cites a recent report from ABI Research that found that a majority of media tablets released commercially in 2010 use application processors from Freescale.
"Freescale has quietly won a significant share of the fast-growing 'white box' market, which has developed predominantly in Asia," says Freescale.
Still, most of the premier tablets have used other processors such as the 1GHz Cortex-A8 Samsung Hummingbird (Samsung Galaxy Tab) or the dual-core Cortex-A9 Nvidia Tegra 2 (most other high-end Android tablets).
Freescale is a bit late to the Cortex-A9 party, but it appears to be arriving with multimedia extras that put it, at least for now, on the vanguard.
According to industry analyst firm In-Stat, standalone e-reader shipments will grow from 11.5 million units by the end of 2010 to 35 million in 2014, says Freescale. In-Stat's forecast for mobile Internet tablets, meanwhile, is said to be approximately 58 million in 2014, up from 13.7 million in 2010.
Stated Jim McGregor, chief technology strategist at In-Stat, "With the i.MX 6 series, Freescale offers the broadest and highest performance family of products based on ARM Cortex-A9 technology of any vendor in the mobile processor segment."
Stated Jani Huoponen, hardware product manager for the WebM Project, "This hardware-based VP8 implementation gives Freescale customers the benefits of fully accelerated WebM support and outstanding performance."
Availability
Freescale plans to begin sampling i.MX 6 series devices later this year. The SoCs will ship with complete reference designs, software for Android, Ubuntu Linux, and Windows CE, as well as other turnkey development technologies, says the company. More information may be found at Freescale's i.MX 6 series page.
---
This article was originally published on LinuxDevices.com and has been donated to the open source community by QuinStreet Inc. Please visit LinuxToday.com for up-to-date news and articles about Linux and open source.