Nov 30, 2006 — by LinuxDevices Staff — from the LinuxDevices Archive — 4 views

[Updated 11:30 P.M.] — The Instituto Nokia de Tecnologia in Brazil released the first beta of the Canola media player for Nokia's Linux-based 770 and forthcoming "870" Internet tablets. Canola can index and render local and network-based music, video, and photos; podcasts; photocasts; and Internet radio.
(Click for larger view of Canola's "Woodbox" interface theme)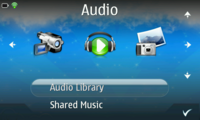 Default Canola theme
Canola has a beautiful, responsive finger-driven (rather than needing a stylus) interface, and is sure to be a featured component of Nokia's rumored 870 Internet Tablet, expected next quarter. The 3.1MB application can also be easily installed on the currently shipping 770 Internet Tablet, provided the tablet has previously been upgraded to Tablet OS 2006, aka "Mistral," or its dot-release successor, aka "Scirocco."
Canola installs two items to the 770's menu — "Canola," and "Configure Canola." The latter simply launches the tablet's Opera browser, which connects to Canola's web-based configuration interface on port 9000. The interface can also be accessed via a normal laptop or PC.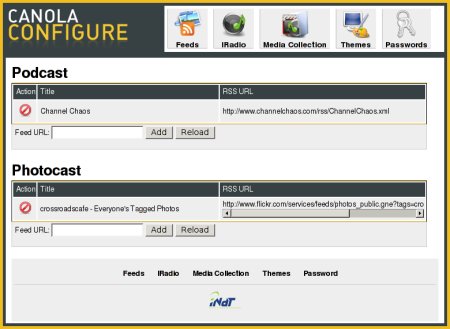 Canola's web-based configuration interface
(Click to enlarge)
Canola's configuration interface enables users to add RSS feeds for podcasts and photocasts. By default, the raunch "Channel Chaos" radio show and flickr's "Everyone's Tagged Photo" feed of tiny thumbnails are included.
Additionally, users can add Internet radio stations. Canola comes supplied by default with a lively listing of "hard core" punk rock stations from the U.K., and with various nifty "drums and bass" stations that sound great when the 770 is attached to a decent stereo or headphones.
The configuration interface also lets users set passwords, albeit only globally, it appears.
When launched, Canola indexes audio, video, and jpeg files found in configurable locations within the 770's filesystem and memory card — or "cards" in the case of the 870.
When "shared music," "shared video," or "shared photos" is selected, Canola acts as a UPnP control point, sending out requests over the 239.0.0.0/8 multicast network space, asking to browse the media indexes of UPnP-compliant servers. Any listening servers respond with xml files of meta-data. Any requested streams are apparently sent via HTTP over UDP. More details about UPnP's AV protocols can be found here.
Many consumer NAS (network-attached storage) hardware devices are available with built-in UPnP servers, often licensed from Mediabolic. Additionally, modern digital music servers and media adapters typically incorporate UPnP servers, as do many multimedia "jukebox" software packages for PCs. Available UPnP features may be disabled by default, however, due to security concerns.
In the Linux realm, GMediaServer appears to be the most mature UPnP server package, although ushare may be another, lighter option. Additionally, aftermarket commercial UPnP server and client software for Linux has long been available from TwonkyVision, which even offers a UPnP server for the Linksys NSLU2, along with builds for nearly every embedded architecture.
As a bonus, TwonkyVision also maintains an extensive, validated index of Internet radio stations, sorted by genre, which are available to 30-day trial users, as well as those who purchase the 40-Euro license (20 Euros for the music-only version).
Under the hood, Canola appears to use Avahi project's Bonjour/Rendezvous implementation to discover network-based resources. Other interesting open source components include JSon (Javascript object notation), the Libsoup HTTP library, libdaemon, the LibEXIF for JPEG metadata, the GNOME VFS virtual filesystem, and the LibTASN abstract syntax notation library. Canola also appears to use a "libupnpbrowser" library, possibly based on libupnp.
Availability
To install Canola on a Mistral device, invoke the Application Manager, then choose Application Catalog… from the Tools menu. Add a new source with web address "http://openbossa.indt.org/canola/repository/," distribution "mistral," and components "user" (do not type the quotes or commas). After the Manager updates its list, the 3.1MB application should then be installable, and should work after the device is rebooted.
Instructions for Scirocco users can be found at the project's homepage, here.
---

This article was originally published on LinuxDevices.com and has been donated to the open source community by QuinStreet Inc. Please visit LinuxToday.com for up-to-date news and articles about Linux and open source.