Aug 20, 2010 — by Eric Brown — from the LinuxDevices Archive — views
After two years of inflated prices, NAND flash memory will return to $1-per-gigabyte pricing by the end of the year, giving SSDs a fighting chance against HDDs, says iSuppli. Meanwhile, the DRAM industry had its best quarter since 1995, with revenues rising 14.4 percent since the previous quarter to $10.8 billion, says another iSuppli report.
Pricing for 1GB of 3-bit per cell (TLC) NAND flash memory will average $1.20 for the fourth quarter, and then decline to an even $1.00 by the end of the year, projects iSuppli. The research firm calls this a "precipitous drop" from the first quarter of 2010, when pricing for TLC averaged $1.80 per GB and 2-bit per cell (MLC) flash cost $2.05.
If iSuppli's projections are true, it would be the first time NAND flash pricing drops below $1 since the fourth quarter of 2008, when MLC pricing averaged 90 cents per gigabyte.

Average per gigabyte pricing for MLC and TLC flash (in U.S. dollars)
Source: iSuppli
"When NAND pricing first fell below the $1 level at the end of 2008, many observers opined that it would sound the starting gun for solid-state storage, allowing the technology to be cost competitive with hard disk drives (HDDs) in PCs for the first time," stated Michael Yang, a senior analyst for memory and storage at iSuppli.
"However," added Yang, "during the following quarters, pricing rose because of strong demand and constrained production capacity, limiting the appeal of SSDs to low-volume servers in data centers and preventing widespread adoption in high-volume business and consumer PCs."
The $1 threshold is considered to be key to driving adoption of solid-state drives (SSDs), says iSuppli. Yet, to compete successfully with HDDs, per-gigabyte pricing for NAND flash memory will have to decline to 40 cents by 2012, says the study. At 40 cents per GB, a 100GB SSD would cost about $50, after supporting electronics are incorporated.
Yet such a drop will be a tall order for the NAND industry, stated Yang.
"With NAND pricing having returned to per-gigabyte pricing levels not seen in two years, there's likely to be a lot of new buzz created for the solid-state storage market at the end of 2010," stated Yang. "However, traditional HDDs gained a lot of additional ground during the past few years in terms of rising capacity and falling prices. In fact, HDDs have gained so much ground that SSDs now are in danger of never regaining their competitive footing."
iSuppli foresees more shortages for MLC NAND, although supplies of TLC NAND are said to be ahead of demand.
Meanwhile, average capacity for TLC chips in SD cards and USB storage devices has stagnated during the past year, says the research firm. Combined with a slowing unit demand due to seasonality, this is causing ASPs (average selling prices) for TLC chips to continue falling, says the study.

In a related story this week, SanDisk announced a new SSD device (pictured) aimed at embedded devices. The integrated SSD (iSSD) packs from 4GB to 64GB of storage, yet it's smaller than a postage stamp and weighs less than a paper clip, the company says.
Led by Samsung, DRAM revenues are the best since 1995
Global DRAM industry revenue in the second quarter rose 14.4 percent since last quarter to $10.8 billion, according to another iSuppli report released today. Growth was driven by a nearly 5 percent increase in bit shipments and a 9 percent rise in ASP.
The second quarter revenue numbers were the best the industry has seen since the end of 1995, says the study.
Second quarter DRAM shipments were pegged at 3.56 billion 1Gbit-equivalent units, which iSuppli notes is "the highest level ever." The $3.03 ASP for all DRAM parts, meanwhile, is said to be unequalled since the third quarter of 2008.
The research firm goes on to predict that 2010 could "possibly generate the highest annual growth in the history of the industry."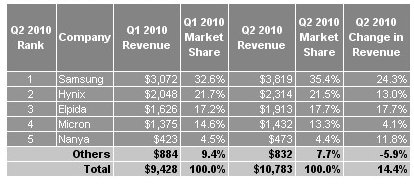 Top-five DRAM suppliers by revenue in 2Q 2010 (in millions of U.S. dollars)


Source: iSuppli
Samsung Electronics expanded upon its commanding lead in the DRAM market, earning revenues of $3.8 billion in the second quarter, up 24.3 percent from its $3.1 billion first-quarter numbers, says iSuppli (see chart above). Samsung is now said to own a 35.4 percent share of the market, up from 32.6 percent in the first quarter.
Samsung had the highest growth rate of the top five suppliers, says the study. The company's "aggressive investment in advanced manufacturing technology paid off in spades," notes the research firm.
Growth was high across the board except for at Micron, which inched up only 4.1 percent from the first quarter as its fourth place market share fell to 13.3 percent, says the study.
Elpida had the second highest growth rate (17.7 percent) in third place, helping it inch closer to second-place Hynix, which has a 21.5 percent share of the DRAM market, says iSuppli.
Availability
The announcement of the iSuppli study on NAND pricing may be found here, and an eWEEK story on the study should be here.
The iSuppli announcement of its DRAM study should be here.
---
This article was originally published on LinuxDevices.com and has been donated to the open source community by QuinStreet Inc. Please visit LinuxToday.com for up-to-date news and articles about Linux and open source.