Sep 14, 2006 — by LinuxDevices Staff — from the LinuxDevices Archive — 11 views
[Updated Sept. 16] — Two Linux-based lunar rovers are on maneuvers — and Internet webcams — this week in the Arizona desert near Meteor Crater. The maneuvers are related to a NASA project tasked with developing extra-vehicular activity (EVA) hardware and procedures for planetary surface exploration.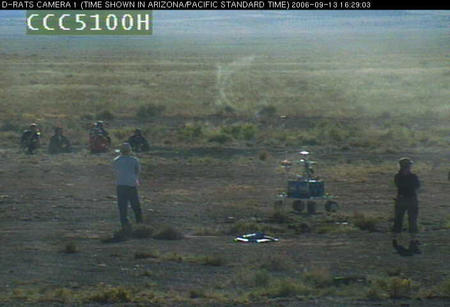 K-10 and D-RATS scientists through a robot's webcam
(Click to enlarge)
(Click any image to enlarge)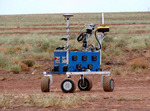 "K-10"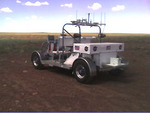 "Scout"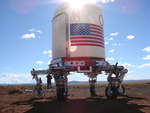 "Athlete"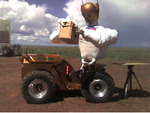 "Centaur"
"Robonaut"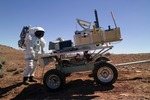 Astronaut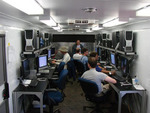 Command trailer
(Click any image to enlarge)
The Linux-based K-10 and Scout robots are being exercised this week by a NASA working group called "D-RATS" (desert research and technology studies). Comprised of both NASA and non-NASA scientists, D-RATS aims to give next-generation engineers, scientists, technicians, and astronauts hands-on experience expected to be of use in realizing the goals of NASA's Constellation Program, which is tasked with creating Crew Exploration Vehicles (CEV), Crew Launch Vehicles (CLV), and related exploration architecture systems for manned and unmanned planetary exploration.
NASA describes today's maneuvers as a "coordinated field test under representative (analog) planetary surface terrain conditions." The tests began on Sept. 2. They appear to be the ninth in an ongoing series of D-RATS field tests.
The K-10
The K-10 was created by the Intelligent Robotics Group (IRG) at NASA's Ames Research Center, as part of a project to build exploration rovers for future robotic missions to the moon and to Mars. The K-10 is a lunar test-bed "used primarily for human robot interaction research," according to NASA. It has four steerable wheels, and can travel at human walking speeds.
The K-10 uses commercial off-the-shelf parts where possible, in order to save cost and promote maintainability. The robot rover's control and communications system is based on an IBM Thinkpad X31 with Intel Pentium M processor clocked at 1.4GHz.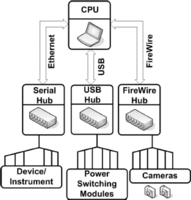 The K-10's control laptop attaches to various robotic subsystems via standard PC interfaces. NASA says that a fundamental architectural goal was to use only "highly scalable, expandable, and hot-pluggable" interfaces, such as USB, Ethernet, and Firewire, in order to reduce cables to the laptop and promote scalability, among other benefits.
The K-10 runs Red Hat Linux, which NASA says was chosen for its large user base and application compatibility. Additionally, NASA notes that, "Linux's flexibility and scalability enable us to easily add, remove, and extend devices with minimal difficulty."
The K-10 is controlled wirelessly, via a PCMCIA-based 802.11g interface connected to an 8db 2.4GHz antenna via an RF cable. The control application runs on the control laptop as a single, multi-threaded userspace application. Real-time performance is not required, NASA says, because real-time tasks such as fine-grained motor control are offloaded to a distributed network of microcontroller-powered control boards.

Many of the K-10's subsystems have serial interfaces. However, these subsystems are attached to the control laptop by way of a Cycades TS-800 console server (pictured at left), a PowerPC-based device that also runs Linux. The TS-800 can connect eight serial devices to the laptop via Ethernet, and protocols such as socket, telnet, or ssh.
The K-10's laptop control system is powered by two li-ion laptop batteries said to last about six hours, when controlling the robot via WiFi. The robot also uses a large number of off-the-shelf lithium-ion batteries and battery charging controllers in its motorization system.
Scout
The Scout is a fully autonomous vehicle that can also be teleoperated, or controlled by touchscreen and joystick. Its control system is based on a pair of Dell D400 laptops running Gentoo Linux. Other technologies involved include TAO CORBA and C++.
More information
A detailed description of the current D-RAT maneuvers complete with lots of photos of the K-10 and Scout can be found in a NASA Robonautics Blog, here.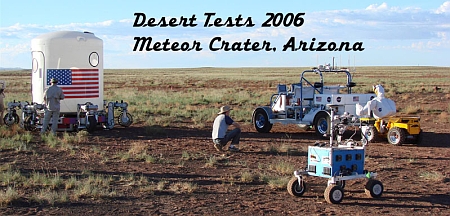 K-10 and friends in the desert
(Click to enlarge)
Additionally, NASA is offering several webcasts suitable for kindergarten through 12th-grade students and educators.
Additional details, including live Java webcams showing this week's Arizona maneuvers, can be found here.
Source for all images: NASA
---

This article was originally published on LinuxDevices.com and has been donated to the open source community by QuinStreet Inc. Please visit LinuxToday.com for up-to-date news and articles about Linux and open source.