Aug 23, 2006 — by LinuxDevices Staff — from the LinuxDevices Archive — 3 views

The Mobile Robot Programming Lab (MRPL) at Carnegie Mellon University's Robotics Institute has published the first in a planned series of open, educational robotics designs. The Linux-based "Qwerkbot" can be built in two hours from detailed online instructions, at a cost of $550, the Lab says.
(Click for slightly larger view of the Qwerkbot)
The Qwerkbot was developed by an MRPL project called "Telepresence Robot Kit," or TeRK for short. The TeRK Project and the Qwerkbot design were unveiled at a "Science Foo" camp held at Google's "GooglePlex" headquarters August 11-12.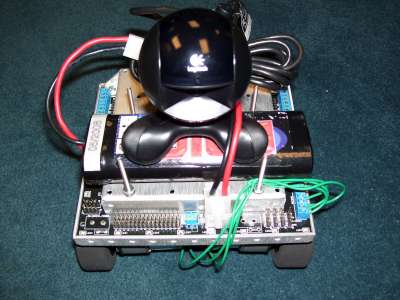 The Qwerkbot
Launched a year ago, the TeRK project spent much of its first year designing its robotic controller board, which it calls "Qwerk." The Qwerk board (described further, below) was designed in collaboration with board supplier CharmedLabs, which is now shipping the product direct from its website, priced at $330.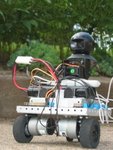 Qwerkbot+
(Click to enlarge)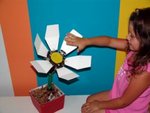 Qwerk-based
flower
(Click to enlarge)
Now that the Qwerk board is available, the TeRK project plans to publish additional "recipes" for Qwerk-based educational robots. So far, it has published the initial Qwerkbot design, described as "the simplest mobile robot that you can build" using the Qwerk board, along with a Qwerkbot+ variation (pictured at left) that adds a pan-and-tilt head, "to allow independent motion of the camera and robot base," at an added cost of $50 and two hours more build time.
Next on the agenda appears to be a robotic flower (pictured above-right), said to be capable of blossoming, wilting, tracking objects, and catching a ball.
In addition to new Qwerk-based robot recipes, the project intends to release an open cross-development toolchain for firmware development, as well as "infrastructure to enable direct, point-to-point communication between TeRK robots and client computers," it says.
Support for "telepresence" and "teleoperation" using Microsoft's Robotics Studio is also planned.
The Qwerk board
Qwerk is the official TeRK project board, but is also suitable and available for general robotics and mechatronics applications. Its low cost, powerful processor, and rich I/O feature set make it especially suited to high school and university robotics projects, according to CharmedLabs. The board comes pre-installed with a 2.6-series Linux kernel said to support WiFi and webcams.

The Qwerk board has an integrated aluminum chassis/case
The Qwerk is powered by a 200MHz ARM9 RISC processor, along with a Xilinx Spartan 3E FPGA (field-programmable gate array) "for custom I/O peripherals," CharmedLabs says. The board has 32MB of SDRAM and 8MB of flash memory.
Qwerk I/O listed by CharmedLabs includes:
4 x closed-loop 2.0 Amp motor controllers (supports both quadrature encoder and back-EMF "sensorless" feedback)
16 x RC-servo controllers
16 x programmable digital I/Os
8 x 12-bit analog inputs
2 x RS-232 ports
USB 2.0 host ports for connecting standard USB PC peripherals
10/100 Ethernet port
Built-in audio amp for playing MP3 and WAV files
The Qwerk comes with a 4-amp switching power supply that accepts inputs from 7-30 Volts. It is housed in a rugged aluminum enclosure, and measures 5.1 x 5.8 x 1.3 inches.
Availability
Several TeRK project recipes are available now, here. The Qwerk board is also available now, direct from CharmedLabs, priced at $330.
---

This article was originally published on LinuxDevices.com and has been donated to the open source community by QuinStreet Inc. Please visit LinuxToday.com for up-to-date news and articles about Linux and open source.