Apr 2, 2008 — by Eric Brown — from the LinuxDevices Archive — 24 views

Accompanied by two dozen partners with prototype designs based on its new chips, Intel today announced five models in its new "Centrino Atom" line of mobile and embedded processors. The Z500-series chips, formerly "Silverthorne," range from 800MHz to 1.8GHz, with TDPs between 0.65W and 2.4W.
(Click for larger view of Atom and it's large SCH companion chip)
Announced at the Intel Developer Forum (IDF) in Shanghai, China, the new Intel parts are priced initially between $45 and $160 in 1,000-unit quantities. They are accompanied to market by a comparatively large "SCH" (system controller hub) built on 130nm process technology. As the only chipset available currently for the Atom parts, the Poulsbo SCH is included for free in Atom's list price. However, it's large size (the initial package seems to be about 485 square millimeters, or 22mm square) could limit Atom's appeal in small devices, such as mobile phones, at least initially.
Hope may be around the corner, however, as Intel also announced in Shanghai a system-on-chip (SoC) Atom model codenamed "Moorestown." "Moore" about that below.
No.
SKU
MHz
Power (W)
FSB
Features
L2
Cache
Die
Size
Kit
(CPU+SCH)
Pricing
(per 1000
units)
TDP Power
Ave. Power
Idle Power
(C6)
1.
Z500
800MHz
0.65W
160mW
80mW
400MHz
512K
7.8mm
x
3.1mm
$45
2.
Z510
1.1GHz
2W
220mW
100mW
400MHz
$45
3.
Z520
1.33GHz
2W
220mW
100mW
533MHz
$65
4.
Z530
1.6GHz
2W
220mW
100mW
533MHz
$95
5.
Z540
1.86GHz
2.4W
220mW
100mW
533MHz
$160
Initial Atom SKUs
(Source: Intel)
Two of the five SKUs — the Z530 (1.6GHz) and the Z510 (1.1GHz) — are embedded platform designs with seven-year lifecycle support. "Average" power benchmarking in the chart above was done on Windows XP, except for the low-end part, which was tested with MIDLinux.
Atom is meant to compete with ARM in inexpensive computing appliances, low-cost laptops, ultra-mobile PCs, and especially MIDs (mobile Internet devices). Over the last three-to-four years, ARM has surpassed x86 as the most popular embedded architecture, according to LinuxDevices.com's annual reader survey. More power-efficient x86 chips could help Intel stay relevant, as spending on mobile devices begins to overtake spending on traditional servers and desktops in the years to come.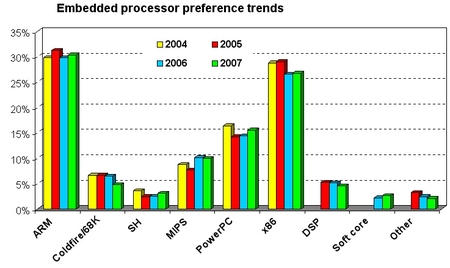 What CPU(s) have been/will be in your (company's) embedded designs during the past/next 2 years?
(Click to enlarge)
The Centrino Atom processors maintain compatibility with Intel's Core 2 Duo instruction set, says Intel, and include support for hyper-threading, virtualization, and Intel Digital Media Boost (SSE3) technologies. The SSE4 multimedia extensions are not supported, however.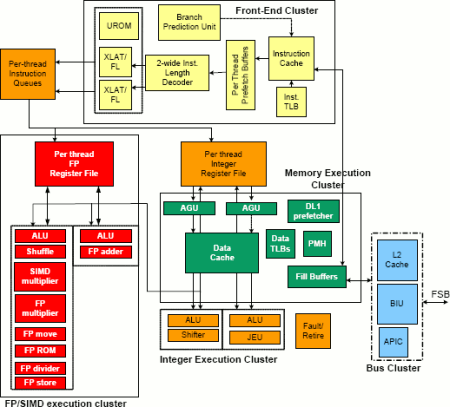 Low power Intel architecture (lpia) function diagram
Atom was reportedly designed at Intel's Austin, Tex.-based facility, rather than at the Israel-based facility where Pentium M — and hence Core and Core2 — were designed. Based on a new dual-issue micro-architecure with in-order execution and a 16-stage pipeline, the Atom is Intel's first in-order part since the original Pentium.
Whereas the Pentium 60 had 3.1 million transisters, and a die size of nearly 300 square millimeters, Atom chips have 47 million transistors on a die area of 25 square mm (although the initial package appears to be larger — about 13 x 14mm). Intel says Atom offers an "80 percent reduction" in footprint compared to previous three-chip packages based on the Celeron M-based Ultra Low Voltage 423 with Mobile Intel 945GME Express. They also use a tenth the power of Intel's mobile Core2 Duo "ULV" chips, which have TDPs of 35 watts and up, according to Intel figures.
Atom's SCH companion chip integrates northbridge and southbridge along with OpenGL 3D graphics, support for DirectX 9L, and hardware-accelerated 720p and 1080i video decode. The IDE controller has a parallel rather than a relatively more power-hungry serial ATA interface. I/O options included PCI Express, SDIO, and USB Host and Client, says Intel. Supporting both Linux and Windows, the chipsets come with 400MHz or 533MHz FSB buses and support up to 1GB of RAM. The "Centrino Atom" silicon family also includes optional WiFi, WiMax, and other peripheral components, including a penny-sized, 16GB solid state disk option.
Intel says it plans to publish software drivers for Atom and the SCH in July. Currently, about 20 companies are designing boards and systems based on the parts. Early adopters in the embedded space according to Intel include Beckhoff Automation, Applied Data Systems, and RadiSys.
Also today, MontaVista Software announced the availability of a MontaVista embedded Linux software platform that supports the Z500 series. The optimized MontaVista Linux release provides programmable power management for long battery life, 802.11n WiFi, Bluetooth, and fast boot for speedy device start-up, says MontaVista.
MIDs on the march
A variety of MID devices based on the Centrino Atom platform were on hand at the Shanghai event, at least in concept form. Intel announced that Centrino Atom-based MIDs should arrive starting later this quarter, with more models shipping later in the year. The MID vendors include Aigo, Asus, BenQ, Clarion, Fujitsu, Gigabyte, Hanbit, KJS, Lenovo, LG-E, NEC, Panasonic, Samsung, Sharp, Sophia Systems, Tabletkoisk, Toshiba, USI, WiBrain, and Yuk Yung. Intel also announced that the following service providers have agreed to deploy Centrino Atom-based MIDs on their networks: China Mobile, China Unicom, Clearwire, Korea Telecom, NTT DoCoMo, SK Telecom, Sprint, T-Mobile, UQ Communications, and Willcom.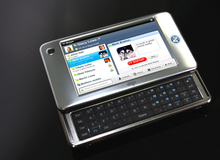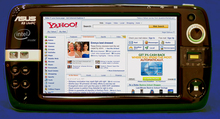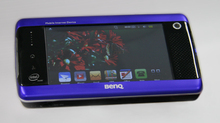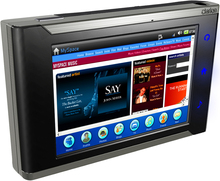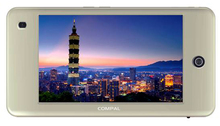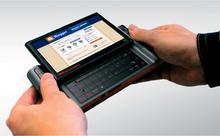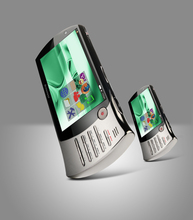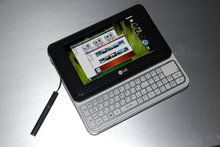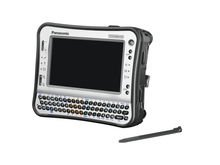 Centrino Atom devices from…
(L-R, from top) Aigo, Asus, BenQ, Clarion, Compal, Electrobit, Lenovo, LG, Panasonic
(Click any to enlarge)
Meanwhile, Adobe, which recently announced an alpha version of a Linux-based Adobe AIR (and joined the Linux Foundation) announced that its web 2.0 multimedia technology will be available for Linux-based MIDs later this year. RealNetworks made a similar announcement regarding its "RealPlayer for MID" digital media player, which uses Moblin-compliant Linux. Finally, Maxim Integrated Products announced PMIC (power management integrated circuit) products for MIDs, similar to previously announced PMIC-for-MID technology from Freescale Semiconductor and NEC.
"Moore" on Moorestown
At the IDF event, Intel announced that its next generation "Moorestown" ultra mini PC (UMPC) platform is targeted to launch in 2009/10. Moorestown can be considered the heir to the Centrino Atom designs, and consists of a system-on-chip (SoC) and an I/O hub. Codenamed "Lincroft," the SoC will integrate a 45nm core, graphics, video, and memory controller on to a single chip, says Intel, greatly decreasing size and power consumption. The I/O hub, codenamed "Langwell," is said to support a range of I/O blocks such as storage and display, and to provide interfaces to third-party PMICs and wireless products.
Other pre-announcements and sneak peeks from Intel included upcoming anti-theft technology for laptops, details on the Intel Centrino 2 processor, and a look at the "Calpella" notebook design. Calpella will include a processor based on Intel's energy-efficient "Nehalem" technology, which is said to offer four times the memory bandwidth of the fastest Intel Xeon processor systems. Additional presentations covered the upcoming six-core, 45nm Dunnington processor, the four-core Tukwila Itanium processor, Intel's massively parallel Larrabee architecture for visual computing, and the Intel AVX (Advanced Vector Extensions) specification.
Stated Intel EVP Sean Maloney, of Atom, "[Atom] is our smallest processor built with the world's smallest transistors. We believe it will unleash new innovation across the industry."
---

This article was originally published on LinuxDevices.com and has been donated to the open source community by QuinStreet Inc. Please visit LinuxToday.com for up-to-date news and articles about Linux and open source.