Mar 5, 2009 — by LinuxDevices Staff — from the LinuxDevices Archive — 8 views

Kontron has joined with Aaeon, Adlink, and Advantech to propose the new "COM Express Ultra" standard for COMs (computer-on-modules). Compatible with the COM Express Type I pinouts and connector location, the 84 x 55mm form factor adds a separate connector for SDVO (serial digital video out).
(Click here for a larger image of Kontron's original nanoETXexpress concept)
Aaeon, Adlink, Advantech, and Kontron jointly released revision 1.0 of the nanoETXexpress specification, and said they are presenting it to the PICMG (PCI Industrial Computer Manufacturers Group) under the proposed neutral name, COM Express Ultra. Rev. 1.0 of the spec now enables SDVO signal transport via a separate flat-foil connector (see later in this story), which can be used alongside the LVDS output already provided by the COM Express connector, according to the companies.
The four module vendors also proposed that the slightly larger, 95 x 95mm microETXexpress format be standardized under the name "COM Express Compact." This moniker is already used informally by various vendors as a term for the mid-sized modules.
The nanoETXexpress design derives from 2003's ETXexpress, created by Kontron and later adopted as the PICMG COM Express standard. In 2006, Kontron introduced the cut-down version of COM Express known as microETXexpress, and nanoETXexpress followed in July 2007.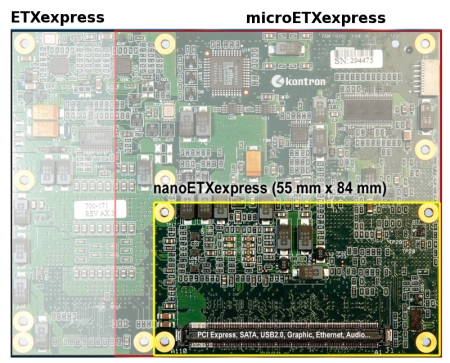 Comparison of COM form-factors
(Click to enlarge)
All three COMs share the same baseboard interface connector design and pinout, and have overlapping mechanical assemblies, as illustrated above. Footprints vary, as follows:
COM Express (formerly ETXexpress):

basic form-factor — 125 x 95mm (4.9 x 3.7 inches)
extended form-factor — 155 x 110mm (6.1 x 4.33 inches)

microETXexpress (now proposed as COM Express Compact) — 95 x 95mm (3.7 x 3.7 inches)

nanoETXexpress (now proposed as COM Express Ultra) — 84 x 55mm (3.3 x 2.16 inches)



Kontron's nanoETXexpress-SP
(Click image for further information)
When Kontron announced nanoETXexpress and proposed it as a standard, it touted the form factor as being ideal for housing future processors based on 45nm technology. In April 2008, the company showed what it had in mind by releasing its first nanoETXexpress COM, the nanoETXexpress-SP. This module made its debut with an Intel's Atom Z5xx processor, 4GB of flash on board, and HD video support.
Since that time, other board vendors have adopted the nanoETXexpress format. For example, Toradex used it on the Robin, a COM the company announced just last week. The photo below shows the nanoETXexpress-sized Robin at right, and the company's earlier, microETXexpress-sized Woodpecker at left, providing a further illustration of how the COM Express format is shrinking.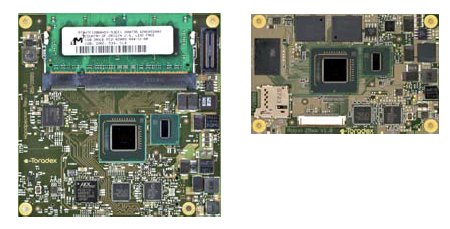 A microETXexpress (COM Express Compact) module (left) and nanoETXexpress (COM Express Ultra) module (right), shown to scale
Source: Toradex
According to the newly published revision 1.0, the nanoETXexpress specification uses a Type I COM Express pinout, sending almost all its signals over a single 220-pin connector (below left). Optionally, a 30-pin Hirose FH12-compatible connector can be located on the side of a module (below right), providing access to SDVO signals.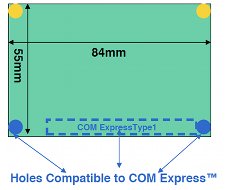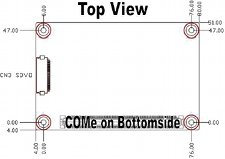 COM Express Ultra (left), aka nanoETXexpress, allows for an add-on SDVO connector (right)
(Click either to enlarge)
Dirk Finstel, CTO of Kontron, said, "The support of three other major COM vendors underlines the fact that nanoETXexpress is a safe investment. In addition, the market for the COM Express Type 1 interconnects is very strong with an expected CAGR of 70 percent up to 2010, according to VDC. This is why we expect the 'Ultra' specification to become the de facto standard for small form factor designs."
Background
COM Express is a PICMG standard for small single-board computers (SBCs) that integrate processor, DRAM, and flash functions into a component-like "computer-on-module" (COM). COMs reduce the engineering effort required to build embedded electronics by supplying subsystems as a simple super-component. Supported operating systems typically include Windows XP, Windows XP Embedded, Windows CE, Linux, and a number of specialized real-time operating systems (RTOSes).
No doubt, COM Express has felt pressure from the growing presence in the embedded market of the small form-factor mini-ITX (6.7 x 6.7 in.) motherboard standard, popularized by Via Technologies. Over the past several years, Via has introduced successive shrinks of that standard, including nano-ITX (4.7 x 4.7 in.), pico-ITX (3.9 x 2.8 in.), and mobile-ITX (3.0 x 1.8 in).
Further information
Revision 1.0 of the nanoETXexpress specification, proposed as COM Express Ultra, can be downloaded here.
---

This article was originally published on LinuxDevices.com and has been donated to the open source community by QuinStreet Inc. Please visit LinuxToday.com for up-to-date news and articles about Linux and open source.