Dec 18, 2008 — by Eric Brown — from the LinuxDevices Archive — 3 views

An open source project has released a new, more "hackable" Debian-based Linux distribution for the Openmoko NeoFreerunner phone. The Hackable:1 group hopes to build a well-maintained, developer-friendly codebase for use by VARs (value-added resellers) building products on top of Openmoko's open hardware… designs.
(Click for larger view of Hackable:1 running TangoGPS)
Hackable:1 joins a growing list of Linux distributions tailored for Openmoko's open source Neo FreeRunner smartphone. (See below, for some others, including a Koolu version of Android). Sponsored by French development house and FreeRunner reseller Bearstech, the project has achieved a "beta" release of its Hackable:1 distro. The stack buids on the work of the DebianOnFreerunner project, while integrating GNOME Mobile components well.
Hackable:1 packages Openmoko's OM2007.2 applications as .deb packages for a GNOME Mobile environment. The distro extends and bugfixes applications including the Dialer, SMS, Contacts, Neod, Phone-kit, GSMD, Matchbox, and panel applets, says the group. The distribution runs from 2GB SD cards, in order to avoid the need to "fiddle with the restrictions of the limited space of the built-in flash," says the Hackable:1 team. The group adds that it will "soon provide a flash image for those of you who need the space on the SD card for other things," and a full LAMP (Linux-Apache-MySQL-PHP/perl/python) stack is also said to be available.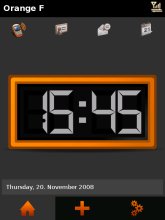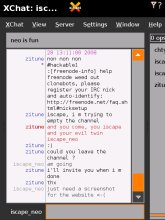 Hackable:1's main GSM interface and its implementation of XChat IM
(Click on either to enlarge)
Highlights of the beta release of Hackable:1 are said to include:
Improved sound quality, with fixes for GSMD for echo cancellation
GSMD fixed to suppress reregistering of some phones
Extends AUX and Power menus to easily switch between USB modes, or connect Bluetooth keyboard
Onscreen keyboard with all hacker characters on a short press via AUX button
GPS works out of the box
Switch on and off accelerometer-based autorotate
Fixed Matchbox/WindowManager crash/bug
Error dialog now offered for SMS send failures
Many GPRS providers pre-configured for easy use
Matchbox-stroke included
Preconfigured for GSM multiplexing
X2x works out of the box for mouse and keyboard connections
Battery applet improved
The many flavors of FreeRunner
Hackable:1 joins a growing list of phone stacks available for Openmoko's fully open source Neo FreeRunner. In addition to the default Openmoko 2008.9, which uses the GNOME/GTK+ stack, there's a newer April Software Update (ASU) stack based on Qt Software's Qt for Embedded (formerly Qtopia), which may be more "production-ready," at the cost of requiring a commercial license when redistributed commercially. There's also the FreeSmartphone.org (FSO) framework initiative, which is still fairly early in the development process. In addition, Canadian development firm Koolu is porting the Google Android stack to the FreeRunner, and plans to sell a pre-integrated Android version of the phone.


FDOM interface
(Click for details)
More recently, Spanish resellers Tuxbrain released the application-rich Fat and Dirty OpenMoko (FDOM). Based on Openmoko 2008.9 Linux, FDOM (pictured) offers a KDE environment, and is billed as "a combination of apps and fixes to demo the capabilities of the Freerunner."
Meanwhile, Bearstech is also sponsoring another distribution for the FreeRunner and other hackable mobile devices called RunningBear. Currently in pre-alpha, Running Bear is a bare-bones distribution designed "from the ground up," for hackable mobile devices. Bearstech is aligned with FaberNovel, a Parisian design firm that is distributing the Neo FreeRunner in the U.S. via its San Francisco office.
Openmoko spun out from Taiwanese PC and phone manufacturing giant FIC (First International Computer). It's business model involves selling open hardware reference designs that can be easily adapted by open source developers. It recently launched a Lab in Taiwan where software is developed for its devices.
Availability
A beta version of Hackable:1 is available now for free tarball download, here. It requires a 2GB SD card for install. The group's Openmoko release announcement is here. The group says it is actively seeking community participation with the project.
---

This article was originally published on LinuxDevices.com and has been donated to the open source community by QuinStreet Inc. Please visit LinuxToday.com for up-to-date news and articles about Linux and open source.