Sep 10, 2008 — by Eric Brown — from the LinuxDevices Archive — 12 views

The Communications Research Center Canada (CRC) has created a prototype handset that can receive datacasting signals. Its Linux-based "Openmokast" phone is built atop OpenMoko's open-source Neo FreeRunner phone platform, and along with typical smartphone functions, supports reception of live digital radio, video,… and data broadcasts.
(Click for larger view of the Openmokast phone)
Using the highly hackable OpenMoko Neo FreeRunner phone as a foundation, the CRC's Mobile Multimedia Broadcasting (MMB) team added a receiver to decode wireless mediacasting services including DAB, DAB+, DMB, Slideshow, Visual Radio, and Journaline. It fit the USB-based receiver and its antenna into the device by enlarging the FreeRunners case with a spacer, shown below.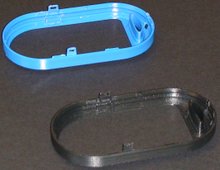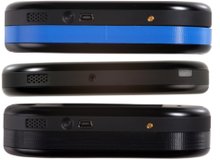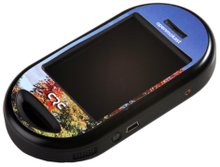 Openmocast spacers in two colors; two Openmokast phones next to a standard Neo FreeRunner; and Openmokast's CRC "skin"
(Click any image to enlarge)
The CRC's MMB team used a 3D printing device to manufacture the spacer, expanding the room inside the device to fit the receiver. The extension is designed to allow the USB receiver to be powered by the internal battery while the external USB power supply can be used to recharge the battery, says the group. The prototype uses a DAB receiver, but the design appears to be extendable to other formats.
Manufactured by FIC Inc., OpenMoko's Neo FreeRunner incorporates a 400MHz Samsung S3C2442 (ARM9 core), 128MB of RAM, 256MB of flash, and a 2.8-inch 640 x 480 TFT display. Additional features include WiFi, Bluetooth, GPS, accelerometers, and a 2.5G tri-band GPRS/GSM cellular modem.
OpenMoko not only opened the phone's source code for all to share, but also posted schematics for the phone, enabling users such as CRC to modify the physical device, as with the Openmokast prototype.
Openmokast software
The Openmokast software was based on an earlier project called CRC-DABRMS which was used to control PC-based DAB receivers. The software can control receivers, decode broadcast bit streams, and present users applications, says the CRC.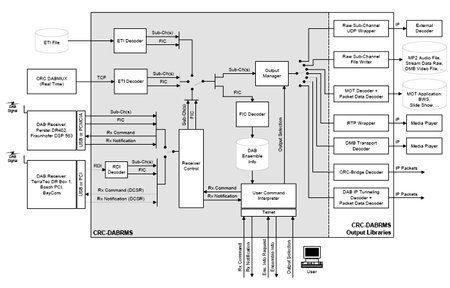 DABRMS structure
(Click to enlarge)
Using DABRMS, the following DAB applications are said to be decodable in real-time:
DAB MUSICAM audio services
DAB+ audio services
Packet-mode Slideshow
Journaline decoding
Simultaneous decoding of DAB+ with Slideshow





Openmokast screenshots
(Click any to enlarge)
With Openmokast, developers can access raw bit streams from the broadcast chipset to create applications that are not possible with current broadcast-enabled handsets for wireless mediacasting standards such as DAB/DMB, DVB-H or MediaFlo, says the CRC. This is because "their application sets are pre-determined by manufacturers or mobile operators, and can be modified only by them or authorized developers," says the research organization. OpenMokast, however, makes such applications possible thanks to "the extreme level of openness provided by the openmoko platform, the many open source software building blocks available from its growing community of developers, and broadcast standards that are accessible and open," says the group.
The DAB (Digital Audio Broadcasting) format is said to be the leading digital audio broadcast format in the UK, and is now spreading throughout Europe. DAB is being pushed by Pure, a division of UK-based a division of Imagination Technologies, which recently released a Linux-based internet radio called the Evoke Flow that also includes a DAB receiver.
The Digital Multimedia Broadcasting (DMB) technology is used extensively in South Korea, and is one of three major competing standards for wireless TV broadcast to portable devices. The other two are DVB-H (digital video broadcast, handhelds), an offshoot of the terrestrial DVB-T and the satellite DVB-S standards that is supported in devices including the Motorola MobileTV DH02 smartphone/portable media player (PMP), and QualComm's MediaFlo, which is being tested by Verizon Wireless in the U.S.


Gumstix Verdex
(Click for details)
Known for its work with software defined radio (SDR) technology, the CRC has previously customized another Linux-based platform called the Gumstix Verdex. The CRC designed a tiny SDR using "Gumstix Audio" version of the PXA270-based Verdex single-board-computer (SBC), which measures only 0.8 by 3.9 inches. The SDR is based on the CRC's SCARI++ SCA Core Framework, which is said to comply with the Software Communications Architecture (SCA) SDR standard developed by the U.S. Department of Defense.
Availability
The CRC is demonstrating its prototype at IBC 2008 in Amsterdam, on Sept 12-16, at the EBU Village, stand 10.D21. More information on the project may be found here, and more on the CRC's MMB group and related work can be found here and here.
---

This article was originally published on LinuxDevices.com and has been donated to the open source community by QuinStreet Inc. Please visit LinuxToday.com for up-to-date news and articles about Linux and open source.