Oct 3, 2003 — by LinuxDevices Staff — from the LinuxDevices Archive — 4 views
Updated Oct. 3, 2002, 8 AM —

Wind River, by far the world's largest embedded software company, today launched its first official support for embedded Linux. For its initial foray into the embedded Linux market, the company is targeting its $4,000 visionProbe II hardware bring-up tool at embedded Linux system-level… software development. Company officials say they plan a step-by-step approach toward embedded Linux, suggesting more Linux-related announcements lie ahead for the embedded software giant.
Wind River currently owns roughly 30% of the embedded software market, according to Gartner Dataquest Principal Analyst Daya Nadamuni, as quoted by the San Jose Mercury News, a staggering figure considering that as much as half of all embedded OS and kernel development is handled in-house and never outsourced at all. The company counts 350 embedded developers among its 1,140 employees world-wide, and a services group of 130. Wind River's operating system division brings in more than $200M annually, while its hardware-assisted developer tools division (that makes the visionProbe II) pulls in over $30M.
Winds of change
Late July of 2003 brought the first hints that Wind River might be planning a strategic shift toward Linux, when Wind River Chairman Jerry Fiddler was quoted in the San Jose Mercury News as saying, "Far from running from Linux, most commercial companies like Wind River are trying to figure out how to embrace it and provide the long-term support that mainstream customers require."
Wind River had taken a "pretty absolute stance" against Linux, admits Senior VP of Products Dave Fraser (see this news item). "But, after much analysis, the conclusion is that there's a business opportunity, that Linux is a massive force, and it's here to stay in the embedded market."
Fraser's conclusion appears more sound than ever in light of the many embedded advances in the new stable Linux kernel version expected this Fall.
Recent market research confirms the opportunity in the Linux tools market. An EDC study in March of 2003 concluded that Linux had retained the #1 position, with more than 50% of respondents indicating that they would be targeting embedded Linux on their current project, their next project, or both. However, despite the large and growing popularity of embedded Linux among developers, the new EDC survey found that fewer than 20% of developers rated Embedded Linux toolsets "good" and only 5% rated them "excellent". More than 60% indicated that their toolsets are "not very good" or "adequate" thus showing a need for better tools.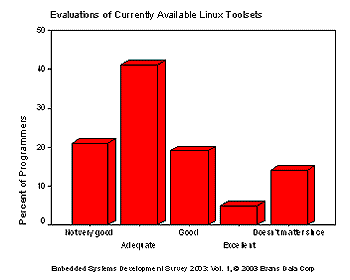 Challenges, as well as opportunities
It's been no secret that Wind River has fallen on tough financial times, reporting a net loss of $107 million on sales of $249 million in 2002. Linux seems likely to have played a role in that shortfall, although there's no arguing that the past two years have been a challenging period for companies throughout the embedded market.
Part of Wind River's standalone tools (SAT) customers served by products such as the visionProbe II have historically been those working on do-it-yourself operating system projects, a shrinking percentage of the market being replaced by Linux-based solutions, according to LinuxDevices Editor-in-Chief Rick Lehrbaum in his article, "Snapshot of the Embedded Linux market – May, 2003." Fraser agrees: "We see Linux as 'the new in-house.'"
The chart below shows the trend away from home-grown embedded OSes and kernels, accompanied by a concurrent rise of embedded Linux.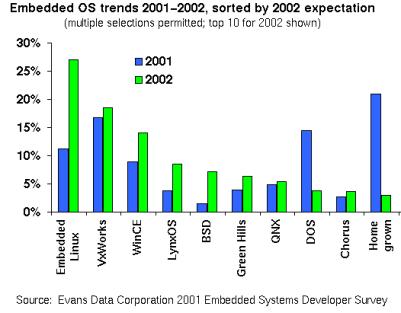 Another speculation is that a growing number of Wind River's customers may be using SAT tools such as the visionProbe II to bring up Linux, rather than purely home-grown code, resulting in an increased Linux-related support load which made it worth it for Wind River to invest in ready-made Linux-specific support.
Indeed, it was Wind River's customers who pressured the company to provide Linux support for tools such as the visionPROBE II, acknowledges Fraser. "We modified our position around Linux over the last several years because customers have asked for solutions in our traditional markets (such as hardware bring-up) that worked with various Linux distributions."
Fraser says Linux is not an easy OS to bring up on embedded devices at the present time. "We decided to enter the market because we want to play a role in making Linux a more usable technology for embedded. We have a lot of embedded experience, and we think we can help."
Analyst and industry reactions
Embedded Market Forecasters Analyst Jerry Krasner agrees that Wind River's Linux tools strategy makes sense. "VisionProbe is an interesting development tool and is very appropriate for Linux developers," he says. "It's a welcome addition to a Linux developer's toolbox."
"The growth and use of embedded Linux will be enhanced by bringing proven and traditional development tools to focus specifically on Linux developments," Krasner adds. "While some traditional embedded tools vendors are reluctant to market their tools towards Linux developers, Wind River has chosen to support Linux development in a positive manner."
Krasner's recently published report, "Total Cost of Development: A comprehensive cost estimation framework for evaluating embedded development platforms," examines the Total Cost of Development (TCD) for embedded development using Linux in comparison to that using Microsoft's Windows Embedded and finds as much as a 4:1 advantage in favor of Windows. Krasner suggests that much of that is likely due to superior tools available from Microsoft.
"Small steps are very significant," commented Paul Zorfass, senior analyst with International Data Corp./FTI. "With its Linux tools support for hardware bring-up, Wind River demonstrates responsiveness to a market in transition. This action lets the company gain further insight into how Linux tools will affect present Wind River tool suites and business practices. It signals the potential for follow-up Linux strategies. It is an important step for both the leading embedded supplier and the Linux community and may be viewed as Linux crossing the threshold into the next stage of product maturity for embedded solutions."
Venture Development Corp. (VDC) analysts Chris Lanfear and Steve Balacco say that "VDC believes this signals some significant shifts within Wind River, from Wind River being a commercial OS vendor to being a supplier of embedded technologies for developers. This might be the final step in moving from an inwardly focused technology company to responding to the way developers are actually working." They add that it may also be a "realization of the value of their stand-alone tools extending beyond being a premium level of tools for VxWorks." Read more VDC analysis.
Joe Samagond, MontaVista director of marketing, says his company for one will welcome Wind River's tools. "We work with several companies in the area of hardware assisted tools for a very broad range of processor architectures, including Abatron, American Arium, Embedded Performance, and Macraigor Systems. We expect that customer demand will drive Wind River to support visionProbe II and other hardware assisted tools on MontaVista Linux."
The founder and CEO of MontaVista, Jim Ready, says, "Obviously, we are very positive about support for Linux, especially from companies like Wind River who have been pummeling Linux and questioning its validity for years. It seems they have finally accepted the reality of Linux as a viable alternative for legions of software developers."
"Wind blinked!" Ready adds.
Wind River's visionProbe II — a kernel bring-up power tool
Wind River calls its visionProbe II "the industry's most feature-rich tool for board bring-up, Flash programming, and production/test," and claims the tool will address several "pain points" for embedded Linux developers that no other tool can.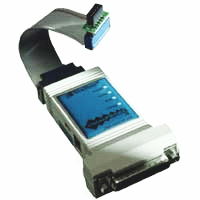 Wind River will release visionProbe II initially with support for IBM's PowerPC 405 processor family, with support for several MIPS and Motorola processors within the quarter and other architectures to follow. Additionally, the company claims visionProbe II should work with any Linux kernel distribution, and has been tested with those from kernel.org, MontaVista, and others.
Previously, according to Wind River, developers could use KGDB to debug kernel configuration and GDB to debug application code, but no suitable debugging tools were available for board bring-up or for OS initialization and driver debugging. visionProbe gives the developer access to the target device's resources and memory even when the kernel is not yet running, enabling the debugging of hardware initialization, kernel boot, I/O, and mounting the filesystem.
Through its fast parallel interface, visionProbe II connects the on-chip debugging services embedded in microprocessors directly to a host system running visionProbe's software debugger.
"Using the probe, for the first time you can download an unmodified Linux system image to a board via its JTAG interface without any working code on the board," notes Michel Genard, general manager of Wind River's Hardware Assisted Tools Division.
Wind River lists the following capabilities for visionProbe:
JTAG capabilities:

Run control
Access to physical and virtual memory
Register files
JTAG commands
Interface via JTAG port, freeing Ethernet and serial ports for other uses

Kernel level debugging:

Scheduling
Memory allocation
Interrupt handler

Support for breakpoints in virtual memory

Software and internal hardware breakpoints
Genard says he believes the tool will be of tremendous use to developers because, "We have monitored embedded Linux user groups, and over and over have seen problems we can fix."
Long-term strategy?
Fraser says Wind River has yet to determine the extent of its investment in embedded Linux tools and support. For example, the company has not made a decision whether to port its popular Tornado tools for embedded software development to Linux, he said. But, "while Linux and VxWorks are fundamentally different, we're absolutely determined that we will play in the Linux market," he emphasized.
"We want to build a sustainable and profitable business with respect to Linux," the Senior VP said. "We have some valuable products and embedded expertise. We're sorting through business opportunities, and will see what will be most useful for our customers."
"This is just the first step," Fraser repeated.
— Henry Kingman, Editor
---
Additional coverage from around the Web . . .
---
Talk back!
Do you have comments or questions on this story? talkback here
---

This article was originally published on LinuxDevices.com and has been donated to the open source community by QuinStreet Inc. Please visit LinuxToday.com for up-to-date news and articles about Linux and open source.