Jun 30, 2006 — by LinuxDevices Staff — from the LinuxDevices Archive — 10 views

Following a beta release on June 9, Nokia has released a highly anticipated Linux operating system update for the 770 Internet Tablet. The "Tablet OS 2006" update is now available for download by 770 owners on Nokia's website.
Earlier this month, the company released a beta version of the 2006 OS SDK (software developer kit). The most significant changes in the OS are a new EABI (embedded application binary interface) toolchain and several API (application programming interface) changes that require Maemo 1.1 applications to be ported to Maemo 2.0, Nokia said at the time of the beta release. The beta release was intended to give developers time to port applications to Maemo 2.0 prior to the debut of Tablet OS 2006.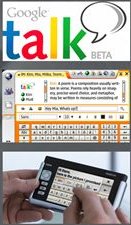 Nokia announced its plans for Tablet OS 2006 in mid-May. In addition to VoIP capabilities — the top feature requested by early users, Nokia said — Tablet OS 2006 was expected to bring better memory performance and a "refreshed look," along with a Google Talk client, and a full-screen "finger" keyboard.
VoWiFi (voice over WiFi) support was not included in the beta release, but is now present, along with Google talk and chat. However, there is No BlueTooth headset support at this time, according to Ari Jaaksi, Nokia's director of open source software operations. Calls are accomplished using the built-in microphone (inside the tiny hole beside the power jack) in conjunction with either the built-in speaker or a headphone plugged into the headphone jack on the bottom.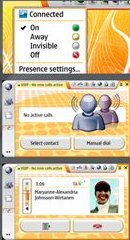 The new OS also adds a finger-keyboard option, in addition to the smaller stylus-keyboard of the original OS. Two methods of switching from stylus- to finger-keyboard mode are provided.
Other key enhancements implemented in OS 2006 include:
Improved memory performance
A refreshed look, with user-selectable themes
Improved home view desktop applets for fast access to Internet services, such as searching Google
Additionally, WiFi support appears to be much more reliable and even seems to have substantially greater range, based on LinuxDevices.com's initial impressions of the latest release.
Early reviews of the June 9 Tablet OS 2006 beta drew mixed reviews.
All new applications
The Tablet OS 2006 upgrade apparently completely wipes out all Tablet OS 2005 applications. Specifically, the Nokia 770 upgrade page states, "Installed applications designed for OS 2005 will not be compatible with OS 2006 edition and will not be restored even from backup."
Nokia 770 Internet Tablet owners can download Tablet OS 2006 here.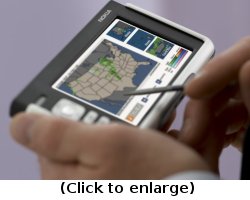 About the Nokia 770 Internet Tablet
The Linux-powered Nokia 770 Internet Tablet offers convenient Internet browsing and email through built-in WiFi, or via a Bluetooth connection to a compatible mobile phone. The device boasts a 4.3-inch, 800 x 480 pixel touch-screen, plus integrated WiFi, Bluetooth, and a reduced-size MMC (RS-MMC) card slot.
Although positioned as an "Internet tablet," the 770 has much wider applicability. Bundled software currently includes: web browser, email client, Internet radio, news reader, media players, image viewer, file manager, search, calculator, world clock, PDF-viewer, notes, sketch, and games. Additionally, a broad and growing range of software can be downloaded and installed onto the device from the 770's Maemo.org community website.
For more details about the Nokia 770 Internet Tablet, click here to read our complete device profile:
Device Profile: Nokia 770 Internet tablet
---
Talk Back!
---
Do you have questions or comments on this story? Join the discussion here:
Nokia 770 Internet Tablet discussion forum
---

This article was originally published on LinuxDevices.com and has been donated to the open source community by QuinStreet Inc. Please visit LinuxToday.com for up-to-date news and articles about Linux and open source.