Jun 30, 2009 — by Eric Brown — from the LinuxDevices Archive — 1 views

Dell is developing a smartphone-like, ARM-based MID, while Nokia is readying an ARM-based netbook, both based on the Google-sponsored Android, according to reports. Meanwhile, another story claims that the HTC Hero's "Sense" UI for Android won't be available on HTC Magic and G1 phones.
The rumors that Dell might get into the smartphone or mobile Internet device (MID) business began earlier this year, with Michael Dell himself noting that his company was interested in entering the handheld device market. By May, evidence surfaced to support a separate rumor that the PC manufacturer was working on an Android-based netbook.
Shake those stories together, add a few inside sources, and out pops a new rumor of an Android-driven MID.
According to a Wall Street Journal story by Justin Scheck, two unnamed individuals reported that they've seen early prototypes of a MID-like device from Dell that's slightly larger than an Apple iPod Touch. The story quotes another person who claims to have been briefed on the product as saying that Dell may launch the device later this year. The source also noted, however, that the device could be "delayed or scrapped entirely," the story says.
The Wall Street Journal added that a Dell spokeperson declined to comment on its plans, adds the Wall Street Journal. Dell did confirm, however, that earlier this year it appointed one of its executives, Ain McKendrick, to be in charge of a MID group, "looking at future products in play for future consideration," says the story.
It seems likely that Dell's netbook, smartphone, and MID projects are all separate entities, with the netbook project the most likely to quickly reach market. According to various sources, the Dell smartphone prototype appears to have been shelved, at least temporarily.
Nokia, Nokia, who's there?
A separate story by Stacey Higginbotham in Gigaom reports that Lazard Capital Markets analyst Daniel Amir claims Nokia is preparing an ARM-based Android netbook for release by wireless carriers in 2010. Amir was said to further noted in a research note that Nokia "could face an uphill battle to succeed in this market." The note predicted netbook sales would reach 25 million in 2009 vs. 10 million in 2008, but that the majority would be Intel-based machines running Windows.
The story speculates that Nokia's Android netbook project was hatched before the recent partnership with Intel, and that it might possibly be shelved in favor of an Intel-based design. Details of the Intel/Nokia partnership are still vague, but it appears to be aimed at developing cellular telephony-enabled MID-like devices or large smartphones using a combination of Intel's upcoming Moorestown processors and Nokia's baseband modem IP.
Since the partnership calls for collaboration between the Intel-backed Moblin and the Nokia-sponsored Maemo MID/tablet Linux distribution projects, with a special focus on adding telephony via new oFono technology, one might presume that Nokia would pursue Maemo-based devices instead of encouraging Android. Android-based phones, after all, compete with Nokia's Symbian-based smartphones. On the other hand, the Maemo 5.0 version due to be released this year does not yet appear to be suitable for porting to either a netbook or a smartphone.


Nokia N810
(Click for details)
Nokia's N900
In April, rumors popped up that Nokia would be releasing a Foxconn-manufactured Nokia netbook, although Android was not mentioned. Other rumors at the time indicated a new touchscreen-based Internet Tablet for the fourth quarter, as well as a Nokia haptic touchscreen-based smartphone due in the third quarter, followed by a "Nautilus" touchscreen phone shipping in 2010. None of these stories was confirmed by Nokia, however.
Last month, MobileCrunch released what it claims are leaked specs of a large, tablet-like tablet/smartphone code-named "Rover." According to the technology site, the Maemo Linux-based device, which offers a slide-out keyboard, is as similar in design to Nokia's Symbian-based N97 smartphone as it is to Nokia's Maemo-based N810 Internet Tablet (pictured).
Given the name, the N900 is likely to be the widely expected update to Nokia's N810 device. The surprising aspect is MobileCrunch's assertion that the device offers cellular voice, as well as WiFi-based VoIP service. While Maemo 5 and the next Nokia Internet Tablet were both expected to support cellular 3G data connectivity, voice telephony was scheduled for a later Maemo release. In fact, that would seem to be the mission of the oFono technology, which appears to be slated for a voice-enabled tablet arriving next year.
Other features mentioned by MobileCrunch include a Texas Instruments (TI) OMAP3430 500/600Mhz processor, which is the same as that used in the Palm Pre smartphone. In addition, the N900 is said to offer 1GB total virtual runtime memory (256MB physical RAM and 768MB virtual memory), and 32GB internal flash storage, expandable to 48GB.
Apparently angling for more of a smartphone feel, the device is said to be smaller (59.7 x 111 x 18.2mm) than the N810 and offers a smaller 3.5-inch, 800 × 480 (WVGA) touchscreen. Communications support is said to include WiFi, HSPA 3G, and quad-band GSM and WCDMA cellular service. Other features mentioned include a 5-megapixel camera and GPS. The device will be offered by T-Mobile starting in July, says the story, and will be released around the world in staggered releases, including an August/September U.S. launch.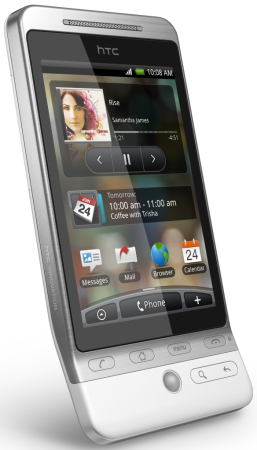 HTC Hero
HTC Sense not available for Magic or G1 phones?
Meanwhile, the Linux-based, Google-sponsored Android is still commercially available only on smartphones, with HTC recently announcing its third Android model, the HTC Hero (pictured above), which features a new UI sitting atop Android called HTC Sense. Positively reviewed by several early-look evaluators, the HTC Sense UI offers more extensive customization capabilities than the normal Android UI stack, as well as unified messaging features.
HTC Sense, however, will not be made available on the other two HTC Android devices, the HTC Magic and the G1, according to a story on MobileTopSoft. (Presumably, the new T-Mobile version of the Magic, the MyTouch 3G, will also be left Sense-less.)
The MobileTopSoft story reports that an HTC executive made it clear that "Android phones which bear the Google Logo will never get the Touch Sense UI." In fact, even handsets without Google branding might not receive the Sense UI due to costs and licensing, says the story.
Further information
The Wall Street Journal story on Dell's Android plans may be found here.
The Gigaom story on Nokia's Android-based netbook should be here.
The MobileTopSoft item on HTC Sense may be found here.
Last month's MobileCrunch story on the Nokia N900 may be found here.
---

This article was originally published on LinuxDevices.com and has been donated to the open source community by QuinStreet Inc. Please visit LinuxToday.com for up-to-date news and articles about Linux and open source.