Jun 23, 2009 — by Eric Brown — from the LinuxDevices Archive — 3 views
Intel Corp. and Nokia announced a long-term partnership to develop "a new class of Intel Architecture-based mobile computing device and chipset architectures." In the near term, the deal calls for collaboration between the Linux-based Moblin and Maemo mobile platforms, and Intel's acquisition of a Nokia HSPA/3G modem IP license.
The long-term goal of the alliance between the largest semiconductor company in the world and the largest mobile handset manufacturer is to collaborate on a new mobile platform that will "combine the performance of powerful computers with high-bandwidth mobile broadband communications and ubiquitous Internet connectivity," say the companies.
The new mobile platform will go "beyond today's smartphones, notebooks and netbooks, enabling the development of a variety of innovative hardware, software, and mobile Internet services," add the partners. The jointly developed future devices are said to feature "a user-friendly pocketable form factor." In addition, the companies will "explore new ideas in designs, materials and displays that will go far beyond devices and services on the market today," the partners say.
In other words, watch out Microsoft, Google, Apple, RIM, and other mobile powers: The mobile landscape is about to shift.
In the press conference announcing the partnership, Kai Oistamo, EVP, Devices, Nokia, seemed to suggest a clear Linux direction for the company. "Linux is undoubtedly an important part of the brave new world in combining the mobile and computing worlds together, and the two companies have very strong capabilities in this area," said Oistamo. "It's very natural for us to … collaborate and coordinate the technology work in the Linux field."
While the deal may possibly bring Intel a major new customer in the mobile realm for its Atom and upcoming Moorestown system-on-chips (SoCs), the immediate development is Intel's licensing of Nokia's HSPA/3G modem technologies. This "best-in-class 3GPP modem technology" will "complement" Intel's broadband wireless technologies, says Intel, enabling it to "extend chipset solutions incorporating Nokia's modem technologies across its mobility offerings in the future."
"M&M" open source Linux stacks get cozy
In the short term, the big news for the Linux world is the collaboration between the two major open source, mobile Linux projects aimed at mobile Internet devices (MIDs and netbooks: the Intel-backed Moblin, and the Nokia-sponsored Maemo. As these platforms cross-collaborate and move into cellular telephony, they could prove to be formidable competition for the Linux-based Google Android, the LiMo Foundation platform, and Palm's WebOS, not to mention proprietary high-end smartphone offerings from Apple, RIM, and Microsoft's Windows Mobile smartphone partners.
The budding partnership was tipped last month when the Moblin and Maemo communities announced their collaboration on a new "oFono" open source project to develop a mobile telephony stack. The oFono stack is based on open source Linux and a high-level D-Bus interconnection API, and targets the development of GSM/UMTS applications.
Now Intel and Nokia list oFono along with several other open source projects for which the companies plan to jointly develop common technologies for use with Moblin and Maemo. The ultimate goal is to deploy the technologies on their upcoming mobile platforms based on Linux, say the companies.
The partners plan to coordinate open source "technology selection and development investments" on projects including oFono, ConnMan, Mozilla, X.Org, BlueZ, D-Bus, Tracker, GStreamer, and PulseAudio. The companies also noted that the projects will continue to be governed using the best practices of the open source development model.
Moving toward cellular-enabled MIDs


Nokia N810
(Click for details)
Nokia is expected to soon announce a N900 heir to its Maemo Linux-based Nokia N810 Internet Tablet, expected to be built around a Texas Instruments (TI) ARM Cortex-A8-based OMAP3x system-on-chip (SoC). The new Intel partnership would suggest that TI could end up being muscled out of future Nokia tablet and smartphone devices, however.
At the press conference Oistamo said that, "This announcement has no impact on our long-term partnerships with several of the ARM partners, and that [ARM] continues to be an important part of Nokia's future." The use of "several" suggests that some ARM suppliers might be shown the door.
Meanwhile, Anand Chandrasekher, Intel SVP and GM, Ultra Mobility Group, said at the announcement that, "this relationship is not exclusive either on the Intel side or the Nokia side."
Nokia's Linux-based tablet business represents just a fraction of Nokia's device portfolio, almost all of which are ARM-based phones running the Symbian OS. Most of the current lineup of phones, however, would not seem to be suitable candidates for Intel's Moorestown or Atom mobile processors. (Intel sold its XScale-based PXAxxx applications processor and 3G baseband processor businesses to Marvell for $600 million three years ago.)
The partnership news further suggests that the rumors that Nokia is moving forward with Linux — and not, it seems, Symbian — devices that combine MID and smartphone characteristics, are true. It also appears that Nokia will likely focus on Linux for its future high-end smartphones, while leaving a soon to be open-sourced Symbian to handle less powerful smartphones and feature phones.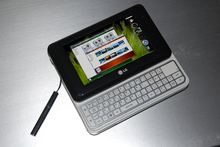 LG's Moorestown MID prototype
(Click for details)
Meanwhile, Intel appears serious about moving forward as a major player in cellular voice-enabled MID/smartphone hybrids. With the Nokia modem IP, the company now has the missing piece of the puzzle they need to make x86 smartphones and voice-enabled MIDs.
In February, Intel and LG announced a MID due in 2010 that will run Moblin on Intel's next-generation Moorestown platform, expected to be a more power-efficient heir to the Intel Atom. The MID is hyped as being capable of cellular voice communications.
Moblin will presumably be upgraded to support the voice telephony capability, and while the alpha-stage Maemo 5 does not support cellular voice, the following release is expected to make the leap as well. Moblin is officially supported by the Linux Foundation, in a transfer of authority that occurred earlier this year, but Intel is still clearly the major player behind the Moblin stack.
Stated Intel's Chandrasekher, "This Intel and Nokia collaboration unites and focuses many of the brightest computing and communications minds in the world, and will ultimately deliver open and standards-based technologies."
Stated Nokia's Oistamo, "Today's announcement represents a significant commitment to work together on the future of mobile computing."
---

This article was originally published on LinuxDevices.com and has been donated to the open source community by QuinStreet Inc. Please visit LinuxToday.com for up-to-date news and articles about Linux and open source.