Jan 30, 2002 — by LinuxDevices Staff — from the LinuxDevices Archive — views
The 22-member non-profit Open Source Development Lab (OSDL) today announced a pair of technical working groups aimed at enhancing the suitability of Linux for telecommunications and datacenter infrastructure applications. The two groups, called the Carrier Grade Linux Working Group and the Data Center Linux Working Group, will provide "vision and guidance" to "encourage the development of whatever… commercial and open standard components are needed on top of Linux to implement required platform functionality" for their respective market segments. The Carrier Grade Linux working group has already been created and the Data Center Linux working group is in the process of being formed.
OSDL has articulated several reasons why the telecommunications industry needs a new standards-based "carrier grade" operating system platform, and why Linux is ideal to serve as its basis:
Networks are converging for multimedia communication services

More bandwidth and new architectures are needed

Open standards based off-the-shelf software components are needed to improve time-to-market of new services

An open standards based approach reduces development cost/risk of products for the new architectures

Linux is the fastest growing general purpose server operating system

Fragmentation of the Linux kernel must be avoided for both data center and communications market segments
Member companies of the Carrier Grade Linux working group currently include Alcatel, Cisco, HP, IBM, Intel, MontaVista Software, Nokia, Red Hat, and SuSE. The group's current objectives are to collect market requirements and specify an appropriate architecture for a Carrier Grade Linux platform (see figure below), as well as to encourage the development of commercial and open standard components on top of Linux which will implement the required functionality of the platform. Areas of initial focus include service availability, architecture, validation, and requirements.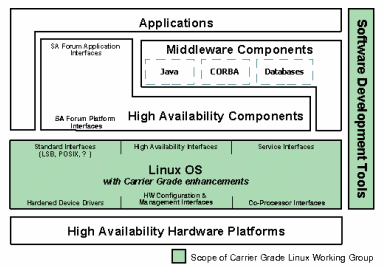 The OSDL's working groups will work within the environment of commercial suppliers and open source projects to guide and influence the development of the new software features and components that are needed, according to OSDL director Timothy Witham. For example, the Carrier Grade Linux working group plans to coordinate closely with the
Linux Standard Base
(LSB) and the
Service Availability Forum
(SAForum). The working groups are not in the business of creating the required software, although small software development projects could be conducted directly under the auspices of the OSDL if it turns out to be necessary, Witham said.
Ari Virtanen, vice president, Nokia Networks, described his company's interest in Carrier Grade Linux this way: "Since Linux will be the basis for our next generation All-IP network infrastructure, we want to ensure that Linux continues to support efficiently and in a uniform way the features required in carrier grade environments."
What is the competition for Carrier Grade Linux within the telecom sector? "The number one 'carrier grade' operating system in use today is something called 'other' — not any commercial off-the-shelf OS," explained Witham. The large equipment and infrastructure providers have traditionally developed their own proprietary software platforms — which is why the OSDL's Linux-based initiative is so important, particularly in light of the rapidly evolving demands of new technologies such as multimedia communication services, Witham said.
In providing "vision and guidance" on these projects, the OSDL is "doing for Linux what you do for most corporations," said Witham, adding "Linux in itself doesn't have this." Indeed, the OSDL has set an aggressive pace for the Carrier Grade Linux working group's progress — a version 1.0 specification is slated for completion by August of this year, with the intention of having compliant products begin to be available by year end.
Today, five new members announced that they have joined the OSDL: Alcatel, Cisco, MontaVista Software, Nokia, and Toshiba. These are in addition to seventeen previous members: Caldera, Computer Associates, Covalent, Dell, Fujitsu, Hewlett-Packard Company, Hitachi, IBM, Intel, Linuxcare, Miracle Linux Corporation, Mitsubishi Electric, NEC Corporation, Red Hat, SuSE, TurboLinux, and VA Software. OSDL is an independent, vendor-neutral, non-profit organization dedicated to enabling and guiding Linux and Linux-based development for enterprise and carrier grade functionality worldwide. The organization's funds currently exceed $24 million per year, according to Witham.
Note: the above figure is Copyright © 2002 Open Source Development Labs. Reproduced here with permission.
---

This article was originally published on LinuxDevices.com and has been donated to the open source community by QuinStreet Inc. Please visit LinuxToday.com for up-to-date news and articles about Linux and open source.