Dec 12, 2011 — by Eric Brown — from the LinuxDevices Archive — 1 views
Barnes & Noble announced a major update to its Nook Color e-reader, adding over 100 feature enhancements that begin to blur the lines with the more advanced Nook Tablet — including Netflix and Flixter support. Meanwhile, Amazon is readying a software update to the Kindle Fire, hoping to stem some of the growing complaints over the tablet, says The New York Times.
The Nook Color (pictured) has been lost in the shuffle with last month's arrival of the similar-looking, but more powerful and feature-rich Nook Tablet. Although both tablets are built on Android and a custom Barnes & Noble (B&N) interface, the $249 Tablet model has a faster processor and brings more Android features to the fore.
The Nook Color, which was discounted to $199 when the Nook Tablet was released, is still pitched as more of a straightforward e-reader like the $99, monochrome Simple Touch. Yet with the latest update, it's looking more and more like a more affordable version of the Nook Tablet.
The popular, seven-inch Nook Color has been heading in this direction since it received a version 1.2 update in April that added email and Adobe Flash support. Last month in conjunction with the Nook Tablet release, it got pre-loaded Pandora software, plus free trials of Rhapsody, MOG, and Grooveshark, among other new features.
With version 1.4 (pictured) — available now for manual download, and soon to be rolled out via an OTA (over-the-air) update — the Nook Tablet dives head first into video with Netflix and Flixster support. More media services are coming in the future, says B&N, although it did not mention the Hulu Plus support that was promised last month.
A new Nook Comics offering, meanwhile, provides "the largest digital collection of Marvel's graphic novels available through a third party," says the company. Functional enhancements are said to include in-line dictionary support, as well as a landscape reading option.
The color e-reader now provides more font size choices, PDF thumbnail page views, and the ability to pinch, zoom, and pan images in books and PDFs, says B&N. On the back end, meanwhile, the Nook Store has been redesigned to provide faster and easier access to content, says the company.
Amazon preps Kindle Fire update amid growing criticism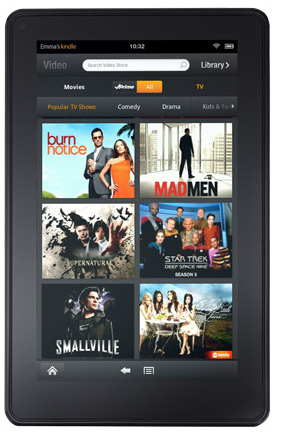 Amazon will release a software update for its Kindle Fire tablet (pictured) within the next two weeks, according to a report in The New York Times. Improvements will be made to performance and multitouch navigation, and customers will be able to edit their browsing history, says the story.
The Kindle Fire offers a seven-inch, 1024 x 600, IPS (in-plane switching), a dual-core processor, 8GB of flash storage, and a "cloud-accelerated" Silk web browser. Its most notable feature, though, may be its $200 price tag, which has created new pricing pressures on tablets across the pricing spectrum.
Amazon claims the Kindle Fire is already its best selling product, without revealing details, and Piper Jaffray has projected that fourth quarter sales will fall somewhere between 2.5 million units and four million units. Analysts are now saying that strong early sales could cut into sales of the Apple iPad, according to eWEEK.
Yet, according to the Times, more than a few of those sales are likely to end up as returns. Amazon's Kindle Fire site is bulging with customer complaints about the tablet. Slightly more than a third of the 4,500 Fire reviews posted on Amazon.com have given it mixed to negative reviews, with three stars or fewer, says the Times. By comparison, only 22 percent of reviews for the iPad 2 and 11 percent of reviews for the original Kindle were under four stars.
Reviews by tech publications and the mainstream media have been mixed at best. For example, a fairly negative eWEEK review criticized it for its so-so performance and lack of customization features. Author Nicholas Kolakowski called the Kindle Fire "the world's smallest vending machine disguised as a tablet."
Reviewers on Amazon.com have dinged the tablet for slow web page loading, as well as the lack of an external volume control, according to The New York Times. The on/off switch is too easy to hit by accident, some say, and there are reports that the touchscreen is "frequently hesitant and sometimes downright balky."
Users have also complained about the lack of private browsing and history options, a flaw that will be addressed in the upcoming OTA update. The hardware problems are not likely to be fixed until a new version ships, which will be spring at the earliest, according to the story.
The Times quotes usability expert Jakob Nielsen of the Nielsen Norman Group as saying, "I feel the Fire is going to be a failure. I can't recommend buying it." According to Nielsen, the only thing that works really well is shopping on Amazon. "If I were given to conspiracy theories, I'd say that Amazon deliberately designed a poor Web browsing user experience to keep Fire users from shopping on competing sites," Nielsen was quoted as saying.
Availability
The Nook Color update to version 1.4 may be downloaded for free at the Nook Color update page. A free over-the-air (OTA) update will begin rolling out to customers via Wi-Fi next week. More information on the Nook Color 1.4 release may be found on the Nook Color product page.
Amazon's Kindle Fire update is said to be coming within the next two weeks.
---
This article was originally published on LinuxDevices.com and has been donated to the open source community by QuinStreet Inc. Please visit LinuxToday.com for up-to-date news and articles about Linux and open source.