Sep 28, 2011 — by LinuxDevices Staff — from the LinuxDevices Archive — 2 views
[Updated, 10:55 a.m.] — Amazon was widely expected to announce a Kindle-branded tablet today, and it did — also revealing three additional Kindles, two breaking the magical $100 price barrier. The $200 Kindle Fire has a seven-inch color IPS (in-plane switching display), "cloud-accelerated" Silk browser, dual-core processor, and 8GB of flash storage, while the $150 Kindle Touch 3G, $99 Kindle Touch, and $79 Kindle all include six-inch E Ink screens and either 2GB or 4GB of flash.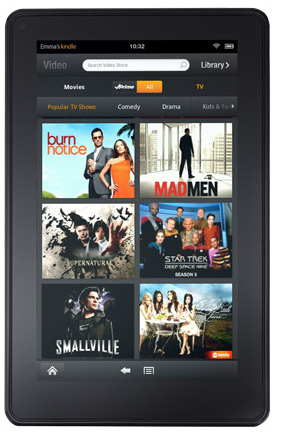 At a Sept. 28 event in New York, Amazon unveiled the Kindle-branded color tablet that observers have expected for some months, as well as three additional Kindles that stick with monochrome E Ink displays. The color device — the Kindle Fire (pictured) — is positioned both as an e-reader and a low-cost tablet, and can be seen as a riposte to Barnes & Noble's Nook Color
Compared to the Nook Color, however, the Kindle Fire is both cheaper ($199 instead of $249) and more powerful. The Barnes & Noble device has a single-core, 800MHz ARM Cortex-A8 processor, whereas the Fire has a dual-core processor, according to Amazon.
In fact, a variety of reports claim the Fire inherited its underlying hardware, including a dual-core TI OMAP4 CPU, from RIM's PlayBook tablet. Instead of running RIM's BlackBerry Tablet OS, however, the Amazon tablet uses a highly customized version of Android.
Customized Android and a cloud-savvy browser
The Fire also includes Silk, a mobile web browser created by Amazon and powered by the company's AWS (Amazon Web Services) platform. "All of the browser subsystems are present on your Kindle Fire as well as on the AWS cloud computing platform. Each time you load a web page, Silk makes a dynamic decision about which of these subsystems will run locally and which will execute remotely," the company says.

A discussion of the Silk browser
Source: Amazon
(click to play)
Obviously hoping that the Kindle Fire will justify its — presumably subsidized — price by spurring content sales, Amazon said the device will allow users to play over 100,000 movies and TV shows from its Instant Video service, and over 17,000 songs from the Amazon MP3 service. The Fire will also run "all the most popular Android apps and games, such as Angry Birds, Plants vs. Zombies, Cut the Rope, and more," the company added.
Of course, the Fire will also support Amazon's "over 1,000,000 Kindle books," "100 exclusive graphic novels," and "hundreds of magazines and newspapers," just as the company's monochrome Kindles do. It's said purchasers will receive a free three-month subscription to 17 Conde Nast magazines, plus a free month's worth of Amazon Prime (which provides free two-day shipping and access to streaming movies).
Like other Kindles, the Fire provides "Whispersync" technology, synchronizing a user's Kindle library, last page read, bookmarks, notes, and highlights across the devices and platforms. With the introduction of the Fire, this has been expanded to video, according to Amazon: "Start streaming a movie on your Kindle Fire, and when you get home, you can resume streaming right where you left off on your TV – avoid the frustration of needing to find your spot."
Though the putative OMAP4 is perhaps the Fire's greatest hardware advantage, the Fire also includes a capacitive touchscreen that uses a seven-inch IPS panel. Offering a resolution of 1024 x 600 pixels, the screen is "anti-reflective" and "30 times harder than plastic, making it extra-durable and resistant to accidental bumps and scrapes."
Lacking 3G connectivity, at least in this first version, the Fire includes 802.11b/g/n wireless networking, a Micro-USB port, top-mounted stereo speakers, and a stereo headphone jack. When wireless is turned off, the Fire's battery will last for up to eight hours of continuous reading or 7.5 hours of video playback, according to Amazon.
The Kindle Fire apparently lacks a microSD or SD slot, but includes 8GB of internal flash storage. Measuring 7.5 x 4.7 x 0.45 inches, the device weighs 14.6 ounces, according to the company.
New monochrome Kindles, too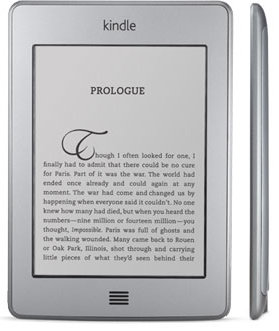 While the color Kindle Fire may have garnered the most attention, Amazon also announced three new Kindles for those who prefer monochrome E Ink displays. They're the $149 Kindle Touch 3G (right), the $99 Kindle Touch, and the $79 Kindle.
All three models use six-inch screens, similar to all previous Kindles except the 9.7-inch Kindle DX, and we can safely assume they remain Linux-based. However, they're lighter and smaller — 6.8 x 4.7 x 0.4 inches for the Touch models, 6.5 x 4.5 x 0.34 for the basic Kindle — because there are no hardware keyboards.
On the 3G-equipped Touch 3G and Wi-Fi-only Touch, users can move through books using their fingers, and search, shop, or take notes with the aid of a soft keyboard (below). The devices also include X-Ray, touted as "a new feature that lets customers explore 'the bones of the book'."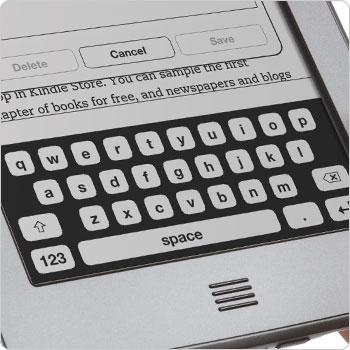 The Kindle Touch 3G and Kindle Touch offer a software keyboard
Amazon says a single tap will allow readers to see all the passages across a book that mention ideas, fictional characters, historical figures, places or topics that interest them, as well as more detailed descriptions from Wikipedia and Shelfari, Amazon's community-powered encyclopedia for book lovers. X-Ray was built using Amazon's "expertise in language processing and machine learning, access to significant storage and computing resources with Amazon S3 and EC2, and a deep library of book and character information," the company stated.
The $79 Kindle (below left), meanwhile, has four hardware buttons and a five-way controller. Users must enter text by scrolling through an on-screen keyboard (below right).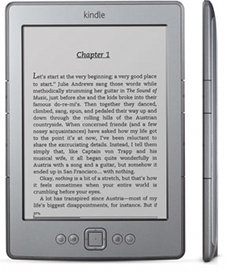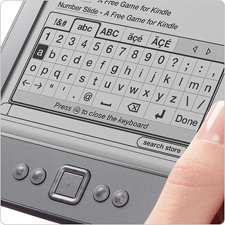 The $79 Kindle (left) and its on-screen keyboard (right)
(Click to enlarge)
According to Amazon, the Kindle Touch and Touch 3G each include 4GB of storage and operate up to two months on a battery charge. The basic Kindle lasts one month on a charge and includes 2GB of storage, the company adds.
Availability
According to Amazon, the redesigned Kindle is available now; the Kindle Fire will be released on Nov. 15, and the Kindle Touch and Touch 3G will be released on Nov. 21. Meanwhile, the company's previous, keyboard-equipped Kindles remain available but have now been branded the Kindle Keyboard and Kindle Keyboard 3G.
For more information and pre-ordering, see the Kindle product page, Kindle Touch product page, Kindle Touch 3G product page, and Kindle Fire product page.
Jonathan Angel can be reached at [email protected] and followed at www.twitter.com/gadgetsense.
---
This article was originally published on LinuxDevices.com and has been donated to the open source community by QuinStreet Inc. Please visit LinuxToday.com for up-to-date news and articles about Linux and open source.