Jan 7, 2010 — by Eric Brown — from the LinuxDevices Archive — 1 views
MSI and Novell will soon ship MSI's new Intel Atom N450-based MSI U135 netbook with SUSE Moblin Linux v2.1. Loaded with the netbook-focused Moblin UI, the U135 offers up to 2GB RAM, a 10.1-inch screen, WiFi, Bluetooth, and 160GB or 250GB hard disk drives, say the companies.
According to MSI and Novell, the U135 with SUSE Linux "marks the first original equipment manufacturer (OEM) to sell a fully-supported Intel Atom processor-based netbook running Moblin-based technology to consumers."
Novell announced that it was developing a Moblin version of SUSE last May. By the launch of the Moblin v2.0 beta several weeks later, it became clear that MSI would be the first to offer SUSE Moblin on its Wind netbooks. Backed by Intel, and optimized for the Intel Atom-based netbooks, the open source Moblin Linux stack can run on its own or be integrated with existing Linux distributions, such as SUSE. (See farther below for more background on Moblin v.2.1, as well as SUSE Moblin.)
The MSI U135 was announced for Windows in December along with a similar U130 model, but with no mention of a Linux version being in the works. The SUSE Moblin version is designed for both the consumer and the enterprise, and offers integrated email, multimedia and web browsing capabilities, says MSI. Based on the open source Moblin operating system, and "hardened by Novell and Intel," the MSI U135 netbook "gives customers nearly all-day computing capabilities with long battery life," says MSI.
Intel touts the new N450 ("Pineview") Atom processor and the accompanying NM10 I/O controller found in the U135 as saving 60 percent in circuit board space, compared to previous equivalents. Power consumption is touted as being 20 percent lower.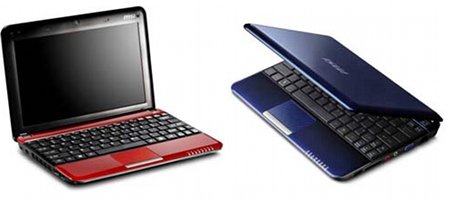 MSI's Wind U13x series
MSI claims battery life on its Wind U135 can be "all-day, uninterrupted, ultra-long," though this duration presumably requires a six-cell battery instead of the three-cell one that comes standard. The U130 and U135 are apparently identical except that the former only comes in "angelic white" and "wind dancer black," whereas the latter comes in the "cherry red" and "trendy blue" pictured above, along with "refined silver" and the "wind dancer black."
According to MSI, the U13x devices have 10.1-inch screens with typical netbook resolution of 1024 x 600 pixels, plus usual ancillaries such as a 1.3 megapixel webcam and a four-in-1 (SD/MMC/Memory Stick/Memory Stick Pro) card reader. Storage is via a 2.5-inch SATA hard disk drive, which comes in 160GB and 250GB versions
Like previous MSI Wind netbooks, the new models come with three USB 2.0 ports, a microphone input and headphone output, a 10/100 Ethernet port, and a VGA output. The U13x includes both 802.11b/g and Bluetooth 2.0, MSI says.
Features and specifications listed by MSI for the Windows version of the Wind U13x include:
Processor — Intel N450 clocked at 1.66GHz
Chipset — NM10
Memory — Up to 2GB of RAM via single DIMM slot
Display — 10.1-inch screen with 1024 x 600 resolution
Storage — 160GB or 250GB hard disk drive
Expansion — SD/MMC/Memory Stick/Memory Stick Pro card reader
Networking:

LAN — 10/100 Ethernet
WLAN — 802.11b/g
PAN — Bluetooth 2.0

Other I/O:

1 x VGA
3 x USB 2.0
Audio — mic in and headphone out

Battery — 3- or 6-cell (capacity not specified)
Dimensions — 10.23 x 7.08 x 1.24 inches (260 x 180 x 31.5mm)
Weight:

2.65 pounds (1.2kg) with three-cell battery
3.1 (1.4kg) pounds with six-cell battery
Moblin finally ready to roll?
MSI had previously offered SUSE Linux on some of its netbooks before backing away from Linux for an all-Windows focus. In June, Acer also expressed interest in SUSE Moblin for its Aspire netbooks. According to a ComputerWorld story on the announcement (see link below), the Acer Aspire with SUSE Linux is due early this year, and Ubuntu, Linpus, Red Flag, and Xandros are also working on developing shipping Moblin versions of their Linux distributions. This fall, Fedora, Mandriva, OpenSUSE, and Ubuntu, among others, have all been released in versions that support Moblin v2.0 by varying degrees.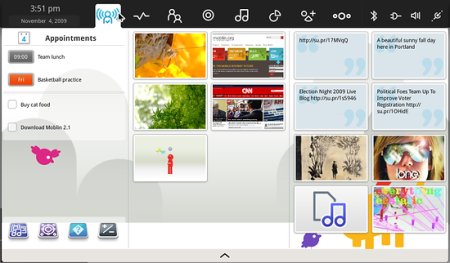 Myzone interface on Moblin v2.1 beta
When
Moblin v2.0 shipped
in final form in September, MSI's netbook with SUSE Moblin was nowhere to be seen, but Dell offered a developer's version of the Ubuntu Moblin Remix Developer Edition, which was criticized in some reviews for being buggy.
In November, the open source Moblin project released the beta of Moblin v2.1, which cleaned up many of the bugs, and added a faster browser with plugin support, Bluetooth discovery, higher screen resolution support, and an enhanced connection manager.
Stated Ram Peddibhotla, Open Source Business Director, Intel Software and Services Group, "We have worked closely with Novell in refining the current Moblin version 2.1 for the netbook. We are pleased to see companies like MSI and Novell embracing the technology, contributing to its development and bringing it fully-supported to customers."
Stated Markus Rex, GM, Novell Open Platform Solutions, "Novell is pleased to be working with MSI, a leading hardware vendor, to make SUSE Moblin the most user-friendly Linux netbook option for consumers."
Availability
The MSI U135 running SUSE Moblin Linux will be generally available in February, says MSI. The company had earlier announced that the Windows version of the U135 would sell for approximately $330.
A "first impressions" review of the Windows version of the U135 may be found on the Laptop website, here.
More information on SUSE Moblin from Novell may be found here. The MSI U135 running SUSE Moblin will be on display this week in the MSI booth #30651 at the International Consumer Electronics Show (CES) at the Las Vegas Convention Center South Hall 3.
The ComputerWorld story on MSI's first SUSE Moblin netbook should be here.
---
This article was originally published on LinuxDevices.com and has been donated to the open source community by QuinStreet Inc. Please visit LinuxToday.com for up-to-date news and articles about Linux and open source.