Jun 25, 2009 — by Eric Brown — from the LinuxDevices Archive — views

The OSCON (Open Source Convention) conference will present over 200 sessions between July 20-24 in San Jose, Calif., covering a variety of desktop and embedded Linux topics. Meanwhile, SourceForge.net has opened voting for its 2009 Community Choice Awards, with winners to be announced at OSCON.
Like the more enterprise-focused OpenSource World (formerly LinuxWorld), which occurs several weeks later in San Francisco, OSCON discusses enterprise issues, with a special focus on the elephant in the room that no one can quite fully describe: the Cloud. OSCON, however, has a more alternative, techie, and community-driven flavor, and appears to cover more issues that appeal to a wider range of desktop and embedded Linux developers and enthusiasts.
Last year's Tenth Annual OSCON in Portland, Oregon, gathered more than 3,000 attendees. OSCON is the oldest and largest of the many technical conferences now held by book publisher O'Reilly.
The Eleventh Annual event moves to the heart of Silicon Valley at the San Jose Convention Center, and once again expects to draw some 3,000 "experts, visionaries, and hackers in the trenches to explore all that open source has to offer." OSCON will offer tracks for Linux, PHP, Perl, Python, Ruby, Java, Mobile, Databases, Desktop Applications, Web Applications, Administration, Security, People, Business, and Emerging Topics.



Google's Chris DiBona (left) and Intel's Imad Sousou
Keynotes include, among many others, talks by:
Chris DiBona (Google) — Your Work in Open Source, The Numbers
Imad Sousou (Intel) — Intel and Open Source: Innovation and Leadership for Continued Growth
Mark Surman (Mozilla) — Where Next for Openness?
Simon Wardley (Canonical) — Cloud Computing – Why IT Matters



Mozilla's Mark Surman (right) and Canonical's Simon Wardley
OSCON will also feature an "Expo Hall" with dozens of the tools, projects, services, and products. A "hallway track" will enable attendees, speakers, journalists, and vendors to debate and discuss open source issues, and an OSCamp "unconference" will be open to all, offering a spontaneous program created on the spot by participants. Other events include evening events and receptions, Birds of a Feather sessions, awards ceremonies, and late night parties, says O'Reilly.
Linux, from Btrfs to Ubuntu
While most of OSCON's presentations touch upon Linux in one way or another, a subset has been listed under the "Linux track." Of special note should be Linux Foundation insider Ted Ts'o and his Linux filesystem discussion. Ts'o has been particularly critical of Ext4 in recent comments. Other presentations of note cover Ksplice, Btrfs, netbook optimization, a look at open source software in genomics, and Ubuntu's new Ubuntu One cloud service.
The "Linux" presentations are as follows:
Internet Programming with Python — Wesley Chun (CyberWeb Consulting)
Linux System and Network Performance Monitoring — Darren Hoch (StrongMail Systems)
Practical Erlang Programming Tutorial — Francesco Cesarini (Erlang Training and Consulting Ltd)
Open-Source Solutions for Cameras in the Digital Age — Tom Christiansen (TCPC)
Building Applications Using Ubuntu One — Stuart Langridge (Canonical)
Btrfs: A new Linux file system — Valerie Aurora (formerly Henson) (Red Hat, Inc.)
The Future of Filesystems and Storage — Theodore Ts'o (Linux Foundation)
Simplify Packaging with openSUSE Build Service — Joe Brockmeier (Novell)
Building a Private Cloud with Ubuntu Server — Rick Clark and Soren Hansen (Canonical USA)
GNOME Mobile — Dave Neary (Neary Consulting)
Tracking Package Freshness — Scott Shawcroft (University of Washington)
Where'd my Files Go? A guide to Modern Ubuntu Distributions — Kyle Rankin (QuinStreet, Inc.)
Hacking your Portable Linux Server — Federico Lucifredi (SUSE team, Novell)
Featherweight Linux: How to turn a netbook or older laptop into a Ferrari — Akkana Peck
Getting It Out There: Distribute Your Software For Ubuntu With Launchpad — Josh Cronemeyer (ThoughtWorks)
Introduction to Forensics — Kyle Rankin (QuinStreet, Inc.)
The Google Open Source Update — Chris DiBona (Google, Inc.)
Building Custom Linux Images for Amazon EC2 — Eric Hammond (Campus Explorer, Inc.)
Does Working with Free Software Have to be so Hard? — Dave Neary (Neary Consulting)
Use LINA to Reach Your Users on all Platforms — Saill White and Paul Honis (Lina Software)
The Freedom to Cure Cancer: Open Source Software in Genomics — David Dooling (The Genome Center at Washington University in St. Louis)
Security Without Disruption: Ksplice Kernel Updates — Jeff Arnold (Ksplice, Inc.)
Automating the Cloud with Chef — Adam Jacob (Opscode)
The Art of Klingon Programming — Paul Fenwick (okay, so it's not listed under "Linux," but do you really think a Klingon would use Windows? Now as for the Romulans…)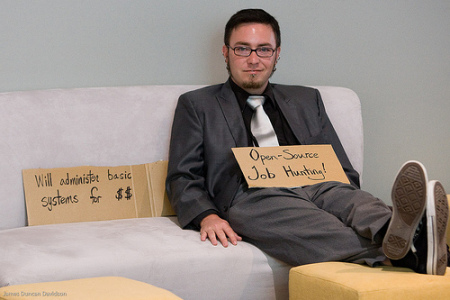 Job seeker at the 2008 Open Source Convention in Portland, Oregon. Presented by O'Reilly Media. Produced by Good Company Communications. Photograph copyright by James Duncan Davidson (Source image here.)
SourceForge.net opens voting on Community Choice Awards
SourceForge.net has selected 85 finalists out of 47,887 nominations for 4,875 distinct projects for its Community Choice Awards honoring the best open source projects. Voting is now open to the public through July 20 to select the winners, who will be announced at the Agenda Lounge in San Jose during OSCON on July 23.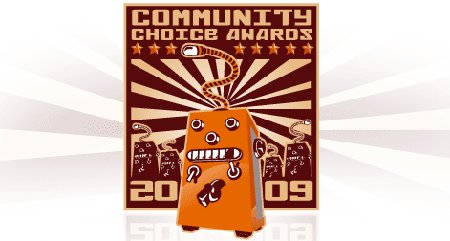 Community Choice Awards logo
Some of the more unusual finalists include Sahana, a disaster management framework; TriSano, an outbreak management application for infectious disease; and AgepaBase, a tool that helps governments plan infrastructure for clean drinking water, says SourceForge.net. Last year's winners included the OpenOffice.org office suite, the VLC media player (formerly called VideoLAN Client), and three-time winner phpMyAdmin, a MySQL administration tool.
Availability
General information and links to registration for O'Reilly OSCON 2009 may be found here, and the list of Linux sessions may be found here. Voting for SourceForge.net's Community Choice Awards may be found here.
---

This article was originally published on LinuxDevices.com and has been donated to the open source community by QuinStreet Inc. Please visit LinuxToday.com for up-to-date news and articles about Linux and open source.