Aug 5, 2009 — by Eric Brown — from the LinuxDevices Archive — 2 views
Palm filed a complaint with the USB Implementers Forum over Apple's attempts to block Palm Pre users from syncing to iTunes, says eWEEK. In other Pre news, the Linux-based smartphone is being sold by Amazon, hackers have developed a MiFi-like 3G tethering app, and a blogger accuses Palm of "anti-anti-Tivo-ization."
In the latest episode of this summer's entertaining dust-up between Apple and Palm over Palm Pre access to iTunes, the smartphone's manufacturer has issued a complaint to the USB Implementers Forum, charging that Apple is infringing on its trade, writes Nathan Eddy in eWEEK. Palm further alleged to the nonprofit corporation, which oversees the Universal Serial Bus (USB) specification, that Apple is "hampering competition" by locking out the Pre from the music service, writes Eddy, citing an original story in the New York Times.
The key to the USB angle is that Palm is arguing that Apple is illegitimately using its USB vendor ID as a lockout code, says the story. Palm is alleging that Apple's use of the USB ID is contrary to the spirit of the USB charter for interoperability.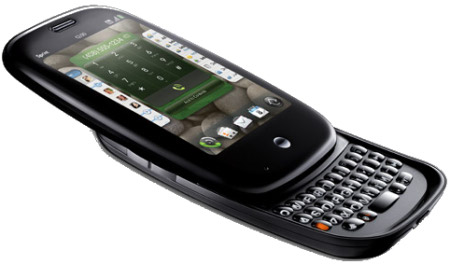 Palm Pre
Over the last week, Palm Pre users have once again been able to access iTunes, after Palm released a
version 1.1 update
to the Pre's Linux-based WebOS software. The update works around an earlier revision to iTunes by Apple, which locked out the Pre. Yet another update from Apple is expected soon, with the possibility of additional legal warnings from Apple, if not an actual lawsuit.
It is unclear what, if anything, the USB Implementers Forum could do in the matter, even if it cared to. However, the complaint does allow Palm to go on the offensive a bit before the next inevitable response from Apple. Stay (i)Tuned.
Palm Pre available on Amazon
The Palm Pre can now be ordered on Amazon.com, freeing the user from the hassle of sending in a rebate, writes Michelle Maisto in another eWEEK story. Amazon is selling the Pre for $200 with a two-year Sprint commitment, or for $500 without a service contract. So far, the Pre has been available in Sprint stores, Radio Shack, Best Buy, and at some Wal-Mart locations, says the story.
The decision by Amazon to carry the phone would appear to suggest that more strong Pre sales are in the offing, according to the story. Maisto quotes analyst Roger Kay, president of Endpoint Technologies, as saying, "[The numbers are] a lot smaller than the iPhone sales, but they're respectable enough numbers that Palm can hold its head up. There aren't a lot of companies that can give Apple a run for its money, so this is pretty good."
Tethering app comes to Pre
Using smartphones as a tethering device that can broadcast 3G bandwidth via WiFi seems to be all the rage these days, as are full-fledged 3G/WiFi mobile routers like the Novatel Wireless MiFi. Now, some hackers have developed an app that taps into the Palm Pre to spread the 3G goodness around the immediate vicinity.
My Tether for Palm Pre, which was just released in version 2.0, turns the Pre into a WiFi hotspot that can share a Sprint EVDO connection,which is said to be useful on the road, or in the case of a land-line broadband outage at home. My Tether can also share an EVDO or WiFi connection to tether over USB or Bluetooth, says the developer, Raja Kapur. The app is said to enable DHCP as well as LCD timer settings.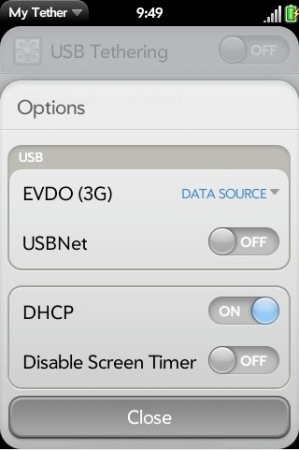 My Tether 2.0
Version 2.0 of My Tether for Palm Pre is said to add the following features:
Adds WiFi network name and WEP key customization options
Adds option to disable sleep mode
Can now turn off the LCD only, doesn't put the device into sleep
Removes dependence on webosinternals.services
Remembers last tether option and opens it
Now sets screen timeout timer setting back to what it was before it was disabled
Adds checks on WiFi tether screen to existing WiFi connection and prompt with option to disable WiFi
Adds dashboard notifications on status of WiFi tethering
When WiFi tethering is turned off, old WiFi connection is automatically re-enabled
The developer asks for a $10 voluntary donation for My Tether 2.0, but the more bleeding-edge version 1.5 is offered for free.

Will Palm be the next TiVo?
Future Palm Pre hacking projects such as My Tether could be in danger, judging by a new patch that Palm issued to the Palm Pre's WebOS code. The patch excises the license text that allows the use of the source code under GPLv3, says a blog post by "Josh" on Curiously Nerdy.
According to the post, Palm's recent, under-the-radar release of the patch may be intended to protect itself from "anti-TiVoization" efforts. TiVoization was a term coined by GPL author Richard Stallman, describing how DVR pioneer TiVo protected the DRM in its Linux-based operating system (digital rights management) by refusing to release portions of the source code. TiVo realized that a loophole in the widely used GPLv2 open source license would allow it to keep portions of its open source Linux code impervious to modification, adding code that locked down hardware so that changes to certain features could not be effected.
The subsequent GPLv3 license fixed the loophole to prohibit Tivoization, but since arriving on the scene two years ago, the new license has been slow to be adopted.
While there is no indication that Palm has locked any of its GPL-licensed code, Josh noted that Palm has now excised the license text that allowed the use of its source code under GPLv3. Instead, it specifically allows only GPLv2.
Coincidentally, Josh mentions tethering apps (such as the aforementioned My Tether) as a potential endangered app when he notes that GPLv3 and its anti-TiVoization code would "cause weak DRM to be ineffective, and possibly allow networks to be abused or be used in such a way as to deprive the provider of fees (think a free tethering application which is usually a monthly charge)."
Josh holds out hope that the license text change "was just an accident/misunderstanding that will be rectified," but appears to suggest that the Linux community has yet another "another poor-sport manufacturer" on its hands. He continues, "It really would be great to see a manufacturer embrace the hacker subculture, kind of like id's early games. But maybe having a device be too open takes some of the excitement out of the game for hackers (see the lackluster response to the openmoko)."
Availability
Nathan Eddy's eWEEK story about Palm's USB complaint may be found here. Michelle Maisto's eWEEK story on Palm Pre availability on Amazon should be here.
The My Tether for Palm Pre 2.0 app is available for download here, and step-by-step installation instructions, as well as a YouTube video, should be here.
The Curiously Nerdy post on Palm's anti-anti-TiVoization patch may be found here.
---
This article was originally published on LinuxDevices.com and has been donated to the open source community by QuinStreet Inc. Please visit LinuxToday.com for up-to-date news and articles about Linux and open source.