Apr 6, 2009 — by Eric Brown — from the LinuxDevices Archive — 7 views

[Updated: 3PM] — Openmoko has halved its staff and shelved its next-generation "GTA03" phone in favor of a "non-smartphone" device called "Plan B." Yet, contrary to industry reports, the company has no plans to discontinue the Neo FreeRunner, and is manufacturing more units,… it claims.
Openmoko was forced to make some tough choices, and the GTA03 phone came up holding the short stick, says an official statement by Steve Mosher, VP Marketing at Openmoko. The statement was released after an announcement by Openmoko CEO Sean Moss-Pultz at the OpenExpo in Bern, Switzerland, that revealed the company's strategic shift. Openmoko came to the conclusion that it could only achieve two of the following three goals, says Mosher: continuing to support its Neo FreeRunner phone (pictured), launch the GTA03, and launch Plan B. It was then decided that the troubled GTA03 project would be shelved.
While several reports have said the Taiwan-based embedded firm will discontinue the FreeRunner, Mosher says the phone is still for sale and will continue to be supported with software updates. A spokesperson added that "the FreeRunner continues" and will "continue to be improved." In fact, renewed interest after the recent Embedded Systems Conference (ESC) led to the FreeRunner inventory being "wiped out," and a new production run has been ordered, says the spokesperson. Although the FreeRunner has sold over 10,000 units, according to Openmoko, there have been problems with the device, including an audible buzz issue that the company is working to fix.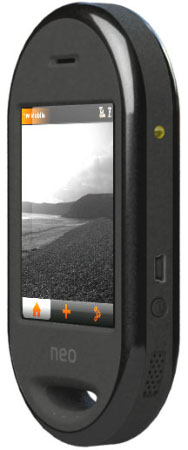 Openmoko Neo FreeRunner
Slippage and flux
In explaining why it chose to shelve the GTA03, Openmoko mentioned project schedule slippages and the fact that the design was "in constant flux." However, lack of resources in a tough recession appeared to be the final determining factor. According to the company's estimates, the GTA03 project would require three times the resources of the mysterious Plan B (also referred to as Project B). Other factors, including the rise of better funded open-source smartphone mobile stacks like the Google-sponsored Android, may have also played a part (see farther below for analysis).
The decision "entailed putting GTA03 on hold and rethinking how we do that product and that business in a better way: learning from our mistakes and building on our success," says the Openmoko statement. The company specifically mentions two mistakes it hopes to learn from: "Open Product design is very hard as there is a tendency to make too many changes. Our culture is not authoritarian. We also tended to view hardware with a "software" mentality, as something that could be easily changed or patched."
According to Openmoko, the shift in focus has resulted in "restructuring engineering and sales and marketing." According to a PhoneNews report based on the OpenExpo announcement, the company has cut about half its staff, but plans to continue to support development of new applications with a reduced workforce. The report also suggested that Moss-Pultz indicated that the FreeRunner was being discontinued. Meanwhile, a Heise Online item makes a similar claim, and reports that the Plan B device will be announced in the coming months. The story adds that "software development will continue and Moss-Pultz says that they hope that the community will continue to write new programs for the platform."
Openmoko's long and open road
Openmoko is a hardware-focused spin-off and subsidiary of FIC (First International Computer), but is associated with the similarly named Openmoko.org, which develops open source Linux mobile phone software for the FreeRunner, as well as the earlier Neo 1973, which shipped in 2007. While the FreeRunner project was delayed several times, there was considerable interest last July when the phone shipped to developers.
As with the Neo 1973, the Freerunner is billed as a completely open, hackable hardware platform, meaning that users are free to install and run new operating system firmware, for example in order to add native Linux software applications of their own choosing. The company even released schematics to encourage open source hardware development. Compared to the similar-looking Neo 1973, the FreeRunner added WiFi, 3D accelerometers, improved graphics, and a faster 500MHz Samsung S3C2442 system-on-chip (SoC).


Koolu's W.E. Phone
version of the FreeRunner
(Click for details)
The FreeRunner was targeted for a potential consumer release at some undetermined point in the future, but it was essentially aimed at the open source development community. Canadian embedded development firm Koolu endorsed the platform and spun off its own "W.E. Phone version" (pictured at left) preloaded with the company's Google Apps-based software, and then followed up by announcing it would produce an Android version of the phone. The Communications Research Center Canada (CRC), meanwhile, created a prototype "Openmokast" handset based on the FreeRunner that can receive datacasting signals. Its Linux-based phone managed to fit USB-based receiver and antenna into the device by enlarging the FreeRunner's case with a spacer.
Even before the FreeRunner hit the streets, a preliminary version of its basic reference design and software was ported to Dash Navigation's Dash Express in-car navigation device. In November, however, the company announced that it was pulling out of the hardware business to focus on offering its navigation and traffic monitoring software for use on third party devices.
Too good of an idea?
In addition to the pressures of a dismal economy, as well as the impact of delays, Openmoko appears to have suffered from helping to pioneer a product category that was perhaps too popular for the company's own good. The appeal of an open source Linux smartphone lured Google into the market, and its open source Android stack will soon run on a variety of smartphone handsets, including the HTC Magic.

FreeRunner-based
Dash Express
(Click for details)
The LiMo Foundation, meanwhile, recently announced that six major carriers will ship phones from various vendors that adhere to its Linux-based LiMo spec this year. Palm is reloading with its own Linux-based Palm Pre this summer, and Garmin and Asus are teaming up on the navigation-oriented Nuvifone G60.
None of these projects are quite as "open" as the FreeRunner project, and in the case of Palm and Garmin-Asus, the platforms may not end up being very open at all. Yet, all these projects have far greater resources, and especially with Google's Android, greater focus on achieving concrete goals. The very openness of Openmoko's platform was both a blessing and a source of confusion and delays. Even at launch it offered developers a choice of three separate mobile stacks in various stages of completion, and more software spinoffs have appeared since. While offering a rich environment for trying out new ideas, the complexity of the software, the profusion of choices, and the poor organization of the development sites have turned off some developers. Meanwhile, Android and other platforms have continued to suck up all the oxygen with more compelling and more potentially lucrative alternatives.
Yet, there's always a Plan B as they say. There may still be a need of a truly open platform such as Openmoko in the Linux ecosystem. Perhaps both the hardware Openmoko business and open-source Openmoko.org community can indeed learn from earlier mistakes and keep the dream alive. They have certainly both been instrumental in making the open source mobile Linux dream a reality in the first place.
To help keep the Openmoko community alive, Openmoko encourages developers to do the following:
Move FreeRunner code upstream.
Stay involved or get involved.
Continue work on applications and distributions.
Buy a FreeRunner.
Get involved in GTA03 discussions. The mailing list will appear on Openmoko.org in the forthcoming days.
Availability
The PhoneNews report, "Openmoko FreeRunner Discontinued Along with Massive Staff Reduction," should be here. The Heise Online story may be found here.
---

This article was originally published on LinuxDevices.com and has been donated to the open source community by QuinStreet Inc. Please visit LinuxToday.com for up-to-date news and articles about Linux and open source.