May 5, 2009 — by Eric Brown — from the LinuxDevices Archive — 1 views

Open Kernel Labs (OK Labs) and Citrix say they will deliver the "Citrix Receiver" virtualization client on the OKL4 microkernel-based mobile hypervisor. The partnership should let smartphones running Linux, Android, Symbian, and Windows Mobile display secure, virtualized Windows desktop images… by the end of the year.
The partnership's "mobile-to-enterprise virtualization" offering will arrive in the form of a new version of the Citrix Receiver virtualization client, designed to run on the existing OKL4 version 3.0 embedded hypervisor. OKL4 is available on mobile phones such as the Linux-based Motorola Evoke QA4 (pictured above). The solution "will provide easily deployed and securely managed access to enterprise and desktop applications from wireless devices," according to OK Labs.
The OKL4 version of Citrix Receiver will be targeted primarily at corporate IT departments and their users, who want to access secure corporate data on consumer smartphones, says OK Labs. The company announced the results of a survey IT professionals and corporate users that it commissioned with Applied Research West, suggesting there is a growing demand for such a solution (see farther below).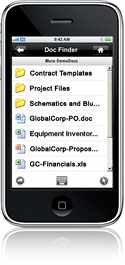 Citrix's current Receiver on Apple's iPhone
(Click image to enlarge)
Currently offered in a version for Apple's iPhone, Citrix Receiver (right) provides remote access to Windows applications and documents hosted using Citrix's XenApp technology. The Receiver delivers data over a secure, encrypted link, provides Windows-style file navigation tailored for a smartphone form factor, and can display multimedia content including websites built using Adobe Flash and Microsoft Silverlight technology, says Citrix.
When Citrix Receiver is run in an OKL4 hypervisor "compartment," users will be able to engage in personal communications and Internet access without risk of cross-contamination, says OK Labs (see diagram below). By using separate virtual machines, the technology offers security, isolation, and concurrency of multiple uses on one device, claims the company. The technology is said to enable a "bring your own device" (BYOD) scenario, in which corporations won't need to furnish their employees with restricted, corporate-issue phones that lack personalization features, and employees won't be forced to juggle two phones.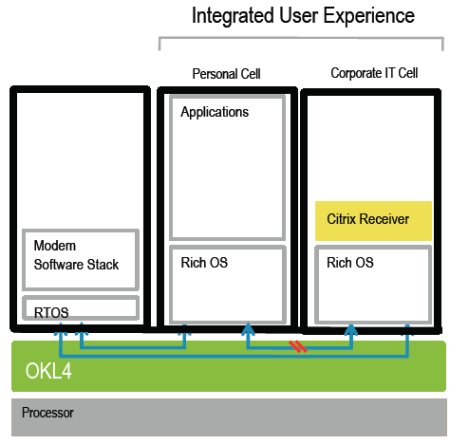 Citrix Receiver running in OKL4 hypervisor

Steve Subar
"This is the first step of the coming together of mobile phone and enterprise virtualization," said OK Labs CEO Steve Subar (pictured) in an interview. "This solution can easily deliver applications to mobile users, including delivering Windows applications on phones that don't run Windows."
"Corporate users only want to carry one mobile device, so there needs to be an easy interface to open and manage content," Subar added. "The corporate world is arbitrarily secure, and the personal world is arbitrarily insecure, and this solution enables them to coexist on a single device. This meets corporate requirements for security because if someone leaves their cellphone behind in a cab, the IT department can remotely wipe all the corporate data."
The partnership between OK Labs and Citrix was announced in general terms in January. At the same time, OK Labs announced that virtualization software giant Citrix, which racked up $1.6 billion in revenues in 2008, was part of a $7.6 million round of venture capital funding in the company along with VC firms Chrysalis Ventures and Neo Technology Ventures.
Inside OKL4
The Linux-ready OKL4 microkernel is deployed in 300 million handsets and other mobile and embedded devices, says OK Labs. A microkernel OS that runs almost everything in userspace, OKL4 includes a thin hardware abstraction layer that can support Linux, Windows Mobile, Windows CE, Symbian, and/or other guest OSes. It also includes a minimal POSIX-compliant execution environment, enabling multiple applications and device drivers to run in separate, isolated partitions. In December, OK Labs announced that OKL4 would support devices using ARM Cortex-A8 and Cortex-A9 MP Core multi-core CPUs.

OKL4 3.0 architecture
OKL4 provides for decreased bill-of-materials (BOM) costs, as well as the separation of GPL and proprietary software code as required by companies' IP policies, claims OK Labs. The hypervisor provides sufficient CPU performance to support a Linux environment with a rich GUI in one virtualized compartment while concurrently supporting real-time phone modem processing software in a separate compartment, all using a single-core ARM processor, says the company. For example, the new Motorola Evoke QA-4 (pictured at top) uses OKL4 to deploy two simultaneously running OSes. According to OK Labs, the Evoke QA-4 is the first commercially available handset to offer a virtualization solution that enables Linux and a real-time operating system (RTOS) to run simultaneously on a single ARM processor.
Citrix reaches out to embedded world
Working from the enterprise side of the partnership is Citrix, which pioneered the market for thin-client networking stacks. According to Subar, the OKL4 version of the software will be able to deliver Windows desktops and other enterprise data to mobile users, and will take advantage of the different smartphone platforms' approaches to UI. "The Citrix Receiver will know about the user interface, the size of the screen, and the type of navigation, whether touch or scroll-wheel," said Subar. "It understands device characteristics and the way the images appear."
After acquiring desktop hypervisor vendor XenSource, Citrix last year released the Linux-ready XenDesktop, which competes with VMware's thin client virtualization products. The partnership with and investment in OK Labs followed the October acquisition of another mobile virtualization company, Trango Virtual Processors, by Citrix competitor VMware. After the acquisition, VMware quickly announced a Linux-compatible Mobile Virtualization Platform (MVP) solution based on the Trango technology. In February, the company demonstrated MVP hosting both Windows CE and Google's Linux-based Android stack running side by side on a single mobile device. Meanwhile, another OK Labs competitor, VirtualLogix, recently announced virtualization support for low-end Android phones.
Survey points to rising interest in hybrid corporate/consumer phones
In addition to announcing the Citrix/OKL4 product, OK Labs also announced the results of a study it commissioned from Applied Research West called the "2009 Mobile Access to Enterprise Applications Research." Conducted in February, the study polled more than 500 IT professionals and corporate end-users from the United States and the United Kingdom on mobile access to enterprise applications.
According to the report, growth of mobile-to-enterprise solutions using secure virtualized environments is expected to outpace the growth of mobile email over the next two years. Both corporate end users and IT professionals are frustrated with the usability of current enterprise application delivery software for mobile phones, says the survey. Some 76 percent of IT respondents are said to believe that inadequate virtualization interfaces represent a major barrier to adoption. While 62 percent of IT professionals believe mobile access to corporate desktop applications was important two years ago, 84 percent project that it will be important in the next two years, a 22 percent increase, says the study.
The study found several interesting gaps between the views of IT professionals and corporate users. For example, more IT professionals preferred their mobile virtualization solutions to offer web-based interfaces rather than traditional desktop interfaces, while corporate end users were more likely to want desktop interfaces.
In addition, 26 percent of corporate users were said to have stated that virtualization solutions should be provided by mobile carriers, while 18 percent believe they should be offered by handset manufacturers. By contrast, only 18 percent of IT professionals believed carriers should offer the solutions, compared to 31 percent who said handset manufacturers should lead the way.
Stated Martin Duursma, VP, Citrix Labs, "End users are looking for more intuitive ways to get access to their corporate desktops and applications from mobile devices. Today's announcement broadens the Citrix vision of Project Independence for local desktop virtualization and desktop computing and applies it to enterprise application and desktop delivery into mobile devices."
Availability
The Citrix Receiver for OKL4 should be available for major smartphone platforms by the fourth quarter, says OK Labs. Information about the current version of the program may be found at the Citrix website, here.
---

This article was originally published on LinuxDevices.com and has been donated to the open source community by QuinStreet Inc. Please visit LinuxToday.com for up-to-date news and articles about Linux and open source.