Nov 10, 2008 — by Eric Brown — from the LinuxDevices Archive — 3 views
Enterprise virtualization software giant VMware has launched its first virtualization product aimed at mobile phones. The Linux-compatible Mobile Virtualization Platform (MVP) is based on technology that VMware acquired last month when it quietly bought French virtualization vendor Trango Virtual Processors.
Due to ship in 2009, VMware MVP is a thin layer of software optimized to run efficiently on low-power, memory-constrained mobile phones, says the company. VMware did not provide technical details about MVP, except to say that VMware MVP will support guest OSes that include Linux 2.6.x, Symbian 9.x, and Windows CE 5.0 and 6.0. It will also support a variety of real-time OSes, including eCos, uITron Norti, and uC/OS-II.
The initial VMware MVP appears to be based closely on Trango's Trango Hypervisor which first shipped in late 2005. The Trango virtualization technology supports PowerPC, ARM (including Cortex-A8), and MIPS (including Cavium Octeon) platforms, with target devices ranging from mobile phones to networking equipment.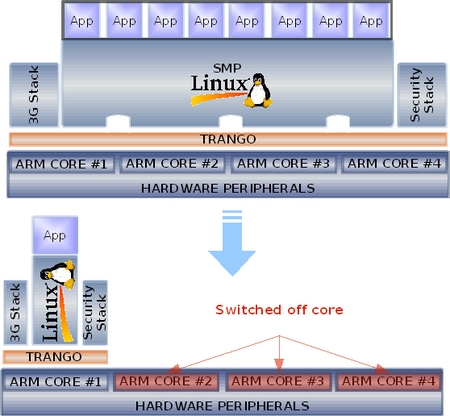 Trango Hypervisor on an ARM11 platform
(Click to enlarge)
Trango Hypervisor comprises a 20KB microkernel capable of hosting two or more guest OSes per processor core (see diagram above). Because the hypervisor runs the guest OSes in CPU user mode, rather than protected mode, it offers improved security compared to other virtualization products, claimed Trango. Another touted advantage is license separation; the guest OSes run in separate partitions, allowing proprietary code and open source software to share the same processor.
Touted benefits of VMware MVP include:
Eases development costs because handset vendors can deploy the same stack on a variety of phones without addressing underlying hardware differences.
Handset vendors can further reduce porting costs because device drivers are isolated from the OS.
Enables vendors to isolate trusted services such as digital rights management, authentication, and billing from an open OS, and run them in isolated and tamper-proof virtual machines.
Enables deployment of a standard "corporate phone personality" that can run alongside the employee's personal phone on the same device.
Eases migration to new phones by saving a person's phone "persona" (applications, media, email, PIM, etc.) as a set of manageable files.
Trango's history
Trango debuted its virtualization technology in Nov. of 2005. Positioned at the time as a competitor to virtualization products from VirtualLogix (then known as Jaluna), it drew criticism for being a "technology" rather than a fully polished product. Trango admitted as much, but also provided engineering services, including customization and integration, and proprietary or commercial OS porting.
Trango went on to achieve several design wins in the market for high-security PIN (personal ID number) entry pads and credit card readers. It also produced a mobile phone-targeted version of its technology, but as far as we know was not able to commercialize it. Competitor VirtualLogix (formerly Jaluna) also found the phone market tough sailing. To date, Open Kernel Labs appears to be the sole "embedded virtualization" product vendor with significant mobile phone shipments.
VMware gets embedded
VMware is known as a leader in x86 virtualization software for enterprise server systems, but has yet to play a major role in the embedded industry, unless you count thin clients. In recent years, several thin client vendors, including Wyse and Igel, have introduced Linux-compatible thin clients supporting VMware's Virtual Desktop Infrastructure (VDI). The technology is said to divide the host's physical resources — memory, storage, processor cycles, etc — into multiple virtual machines (VMs) that are made remotely accessible to thin clients. The goal is to make thin clients work more like full desktop PCs, while still offering some of the advantages of thin clients, such as centralized administration and lower electricity usage.
In May 2007, VMWare contributed its "VMI" (virtual machine interface) to the 2.6.21 Linux kernel as a paravirtualization ABI (application binary interface). The ABI aims to let Linux modify itself for faster performance when run under a hypervisor.
Stated Paul Maritz, President and CEO of VMware, "By abstracting the applications and data from the hardware itself, we expect that virtualization will not only enable handset vendors to accelerate time to market but can also pave the way for innovative applications and services for phone users."
Stated Monica Basso, research VP, at Gartner, "Gartner sees virtualization in the mobile space as a very promising and potentially a fast emerging market. We predict that by 2012, more than 50% of new smart phones shipped will be virtualized."
Availability
VMware did not provide additional pricing or availability information about VMware Mobile Virtualization Platform. However, a story in our sister publication, eWEEK, reported that the company expects to release the product in late 2009, mentioning only ARM as a target platform. It also quoted a VMware exec as stating that the company hoped to initially target smartphones, and planned to add support for Google's Linux- and Java-based Android stack. The story also notes that VMware did not release financial details of the Trango acquisition, and in fact kept the deal quiet until today's announcement.
Some fairly limited information on VMware MVP may be found here,
---

This article was originally published on LinuxDevices.com and has been donated to the open source community by QuinStreet Inc. Please visit LinuxToday.com for up-to-date news and articles about Linux and open source.