Jul 28, 2011 — by LinuxDevices Staff — from the LinuxDevices Archive — 1 views
Who wants to buy a PMP (portable media player), PND (portable navigation device), or digital camera when their smartphone can already handle all those functions? Fewer and fewer people, according to findings released July 28 by research firm IHS iSuppli.
The notion that smartphones and tablets are taking over from more specialized pieces of portable equipment might seem obvious to longtime LinuxDevices.com readers, who have seen what was once a flood of PMPs and PNDs get reduced to a mere trickle. But it actually runs counter to another recent trend in which tasks that once required a PC — serving up web pages, playing Internet radio, or streaming Netflix video, for example — have been taken over by embedded devices.
"The success of multipurpose electronic equipment, often coming at the expense of devices dedicated to a single task, is reshaping the landscape of the consumer electronics industry, says Jordan Selburn, principal analyst, consumer platforms, for IHS.
"For example, the once-ultra-hot MP3 player market has commenced an irreversible decline, not because consumers are no longer interested in music, but because other systems, primarily smartphones like the iPhone, also include audio functionality as part of a much broader suite of features," Selburn adds.
According to iSuppli, shipments of smartphones and media tablets will rise at compound annual growth rates (CAGRs) of 28.5 percent and 72.1 percent, respectively, for the years 2010 to 2015. In contrast, shipments of PNDs, PMPs, and DSCs (digital still cameras) will either decline or remain flat during the same period of time, the firm adds.
More specifically, it's predicted that shipments of media tablets will rise to 262.1 million units in 2015, up from 17.4 million in 2010. Smartphone shipments will increase to more than 1 billion units in 2015, up from 294.3 million in 2010.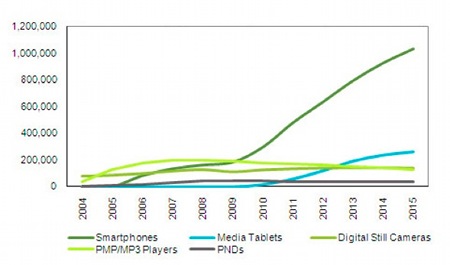 Global electronic equipment unit shipment forecast (thousands of units)
Source: IHS iSuppli
(Click to enlarge)
In contrast, global PMP/MP3 shipments are set to fall to 126.8 million units in 2015, declining at a CAGR of negative 6.8 percent from 180.1 million in 2010. Showing how dramatically market conditions have changed, PMP/MP3 shipments rose at a CAGR of 38.7 percent during the previous five-year period from 2004 through 2009, iSuppli notes.
For their part, PND shipments will decline to 37.2 million units in 2015, with a CAGR of negative 2.2 percent from 41.5 million units in 2010. iSuppli compares this to a booming 88.9 percent CAGR for PNDs from 2004 to 2009.
"Media tablets, predominantly the Apple iPad at present, are truly a jack of all trades — and master of most," Selburn said. Although not directly acting as a replacement for pocket-sized equipment, the tablet will increasingly play more roles for consumers, acting as an e-book reader, media player, browser, calendar, alarm clock, gaming platform, PND, and camera all in one box, he added.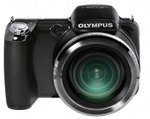 iSuppli didn't spell out how single-purpose portable devices will evolve to survive in a dwindling market, but it's clear they'll have to gain more specialized features. As one example, on July 27 Olympus announced a riposte to smartphone cameras in the form of its SP-810UZ (pictured), a compact with a 36x optical zoom range.
Ironically, the programmable, versatile desktop PC was responsible for marginalizing any number of special-purpose devices, including typewriters, dedicated word processors, and electronic calculators. Now, smartphones and tablets — which are merely very portable PCs, after all — are causing yet another round of disruption.
When's the last time you saw someone wearing a wrist watch for any reason other than fashion?
Jonathan Angel can be reached at [email protected] and followed at www.twitter.com/gadgetsense.
---
This article was originally published on LinuxDevices.com and has been donated to the open source community by QuinStreet Inc. Please visit LinuxToday.com for up-to-date news and articles about Linux and open source.