Apr 6, 2009 — by Eric Brown — from the LinuxDevices Archive — 43 views

Nuvation announced a Power-over-Ethernet (PoE) IP camera reference design based on the Texas Instruments (TI) DaVinci-architecture TMS320DM365 system-on-chip (SoC). Nuvation's PoE-WDR DM365 design compresses real-time, full-color 720×480 (D1) video over Ethernet at up to 30fps, and incorporates a real-time Linux… implementation, says the company.
(Click for larger view of Nuvation's PoE-WDR DM365)
The Nuvation announcement follows up on TI's announcement last week of new surveillance camera and DVR designs based on the same DM365 processor. Nuvation has offered Linux-ready reference designs for several DaVinci platforms aimed at video security, including its Multichannel Video Front-End (McVFE), which mates a TI TMS320DM6467 SoC with a Xilinx Spartan 3A FPGA, and its IP Camera and Intelligent Video Server (IVS), both of which use TI's TMS320DM644x SoC. As with all these designs, the new PoE-WDR DM365 is said to run a "real-time" version of MontaVista Linux 2.6.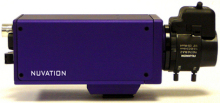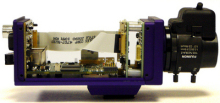 PoE-WDR DM365 IP camera design
(Click on either to enlarge)
Nuvation's PoE-WDR DM365 IP camera supports "production-qualified" H.264, MPEG-4, MPEG-2, MJPEG, and VC1/WMV9 codecs, says Nuvation. The five-board, 4.3 x 1.7 x 1.8-inch design is said to offer a browser-configurable codec, imager, and network settings, as well as remote upgrades.
The PoE-WDR DM365 reference design comprises five components, says Nuvation:
TI DaVinci DM365 encoder board
Pixim Orca processor board
Pixim D11 Orca CMOS sensor board
PoE board
I/O Board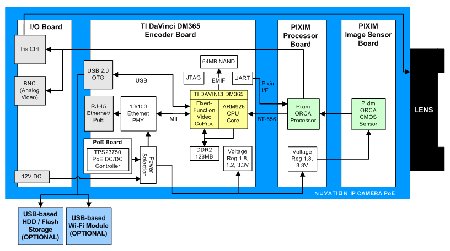 PoE-WDR DM365 hardware diagram
(Click to enlarge)
TI's TMS320DM365 began sampling in March, billed as a higher-end version of TI's sub-$10, 720p-capable TMS320DM355. Aimed at media playback and camera-driven applications, the DM365 is touted as displaying 1080p video, even with the demanding H264 codec. It supports H.264 high, main, or base profiles at D1 rates (720p at 30fps or 1080p at reduced frame rate) with tri-streaming support, says TI.
Equipped with a 300MHz ARM926EJ-S core, plus multiple on-board peripherals, the DM365 also offers TI's fifth-generation ISP (image signal processor), which is said to enable video stabilization, face detection, and other video quality enhancements. As usual with DaVinci processors, the SoC is available with a Linux-ready evaluation kit.
The Nuvation camera design also provides Wide Dynamic Range (WDR) imaging (120dB max.), thanks to the use of Pixim's Orca D1600 or D2500 chipset, says the company. Other camera features derived from the Orca processor and CMOS sensor, are said to include "excellent" low light performance (0.5 lux in color), a progressive scan imager with global shutter for minimizing motion artifacts and reducing compression bit rates, and high Signal-to-Noise Ratio (SNR), even at high temperature.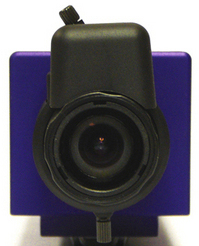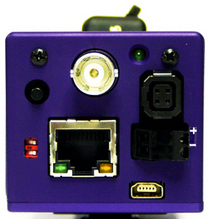 PoE-WDR DM365 (front and rear views)
Specifications listed for the PoE-WDR DM365 IP camera design include:
Processor — TI DaVinci TMS320DM365 with 300MHz ARM926EJ-S core
Memory — 1 x bank of DDR2 for 128MB (167MHz)
Flash — 256MB NAND
Camera/imaging chipset — Pixim Orca D1600 or D2500 with WDR (102 dB typical and 120 dB Max.)
Sensor — Pixim D1100 ORCA CMOS sensor
Networking — Ethernet (RJ-45) MAC routed to Ethernet PHY board, with POE support
USB — USB 2.0 OTG
Other I/O:

UART port
JTAG port
NTSC/PAL
Auto-iris
Joystick for Pixim settings navigation
2 x dip switches

Other features — RTP/RTSP over UDP; Unicast or Multicast; decodes to any networked PC
Power — 12V DC or PoE, 3W max.; PoE support via PoE 802.3af-compliant PD controller with integrated DC/DC controller
Dimensions — 4.3 x 1.7 x 1.8 inches (108 x 43 x 47mm)
Operating system — MontaVista Linux 2.6.18 with TI DaVinci/Nuvation board support package (BSP)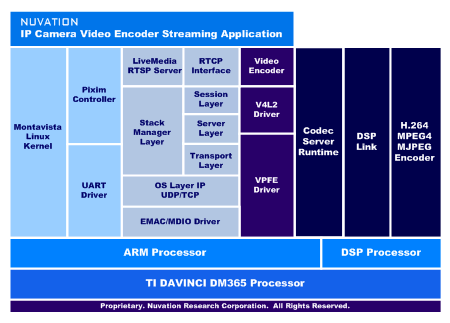 PoE-WDR DM365 software architecture
Nuvation OEM licensee packages include specification documents, executables, and Linux firmware source code. The packages are also said to include schematics and layout files, bills of material, mechanical CAD files, test utilities, manufacturing diagrams, and other design source files.
Availability
The Nuvation PoE-WDR DM365 IP camera reference design appears to be available now for $4,000. More information may be found here.
---

This article was originally published on LinuxDevices.com and has been donated to the open source community by QuinStreet Inc. Please visit LinuxToday.com for up-to-date news and articles about Linux and open source.