Apr 4, 2011 — by Eric Brown — from the LinuxDevices Archive — 77 views
Applied Micro Circuits (AppliedMicro) announced two new Linux-ready members of its "PacketPro" family of PowerPC system-on-a-chips (SoCs). The single-core "Diamondback" APM86291 and dual-core APM86292 can be clocked from 600MHz to 1GHz, offer PCIe, gigabit Ethernet, USB 2.0, and SATA connectivity, and feature a SlimPro stack offering power management and asymmetric multiprocessing capabilities, says the company.
According to an AppliedMicro spokesperson, who confirmed Linux support for the "Diamondback" APM86392 and APM86391, the new processors are very similar to the "Mamba" dual-core APM86292 and single-core APM86291 system-on-chips (SoCs) announced in December, but offer a somewhat scaled-down feature set.
The SoCs support a wide range of embedded applications in networking, storage, printing, imaging, and multimedia access systems, says AppliedMicro (formerly AMCC). AppliedMicro's Diamondback APM86391 single-core and APM86292 dual-core processors feature PowerPC 465 processing cores, but they're clocked at 600MHz to 1.0GHz rather than the 800MHz to 1.5GHz speeds offered by the Mamba APM8629x SoCs, says the company.
Other major differences between the Diamondback and Mamba SoCs include only 32-bit DDR3 memory support for the Diamondbacks, instead of the 32- and 64-bit support offered by the Mamba SoCs There is also a slightly different PCI Express (PCIe) Gen 2 complement: The new Diamondback models offer three x1 interfaces instead of two x1 and one x4 interfaces, says AppliedMicro.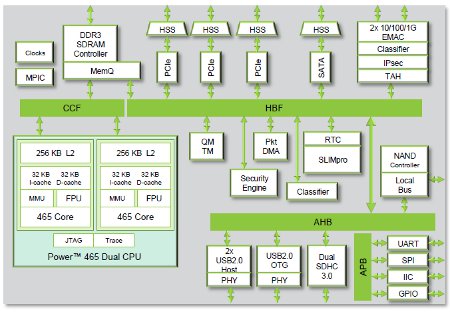 APM86392 block diagram
(Click to enlarge)
Otherwise, the processors appear to be almost identical, with floating point units, 32KB I- and 32KB D-caches, as well as 256KB L2 cache per processor. The SoCs all offer a SATA 2.0 port and dual gigabit Ethernet interfaces, with the latter offering in-line classification, security, and TCP/IP offload, says AppliedMicro.
The APM86291 and APM86292 also offer dual USB 2.0 host ports and a single USB 2.0 OTG port with integrated PHYs, says the company. SDHC, I2C, SPI, and UART interfaces are also said to be available.
Like the Mamba processors, the new Diamondback models offer AppliedMicro's Scalable Lightweight Intelligent Management Processor (SlimPro) coprocessor, which provides advanced power management, security, and concurrency features, according to the company. SlimPro is also said to enable true asymmetric multiprocessing, with partitions created on each processing core running multiple operating systems independently.
Each partition is said to have its own on-chip resources for I/O, memory, and processing bandwidth and is protected from interference from other partitions. If a partition crashes, a recovering reboot starts while other partitions continue to operate normally, says the company.
With SlimPro, Mamba devices can scale down the frequency of one or both cores into doze, nap, sleep, and deep sleep states, with the latter dropping power to as little as 200mW, says AppliedMicro. Typical full operating power consumption is estimated to be less than 10 Watts. (See our previous Mamba APM8629x coverage for more on SlimPro, as well as AppliedMicro background.)
A Linux-ready Serengeti evaluation platform is available now running at up to 1GHz and exposing all interfaces available on the SoC, says AppliedMicro, which did not offer further details on the board. The PacketPro family is said to be supported by third-party OS platforms including Linux, VxWorks, Free BSD, NetBSD, Enea OSe, and others.
Stated Jim Johnston, senior director of Marketing at AppliedMicro, "In instances of a system fail requiring complete reboot, the PacketPro allows the decoupling of cores without interruption or impact of other subsystems running on the same embedded SoC device."
Availability
Sample quantities of AppliedMicro's Diamondback APM8639x SoCs are available now with production quantities expected later this year, says the company. More information may eventually appear on AppliedMicro's PacketPro page.
---
This article was originally published on LinuxDevices.com and has been donated to the open source community by QuinStreet Inc. Please visit LinuxToday.com for up-to-date news and articles about Linux and open source.