Oct 17, 2011 — by Eric Brown — from the LinuxDevices Archive — 10 views
The Puppy Linux project announced version 5.2 of the legacy-PC friendly "Wary" version of its small-footprint Linux distribution. Puppy Linux 5.2 ("Wary") features an SMP-optimized version of the Linux 2.6.32.45 kernel, an upgrade path to Xorg 7.6, an updated PuppyPhone 1.1 VoIP app, and a new PupCamera app for automatically detecting digital cameras, says the project.
As with previous Puppy Linux releases — including Puppy Linux 5.0 and Puppy Linux 4.3 — Puppy Linux 5.2 is a fairly "minimalist" distro designed for those who like their operating systems fast and lean. It is available in a 123MB ISO image, and can load entirely into RAM for faster performance, according to the project. The distro can boot off a flash card or USB device, as well as CD-ROMs and other media.
In order to fit that footprint, you won't find many big-name applications built in. Most are minimalist apps developed by the Puppy community.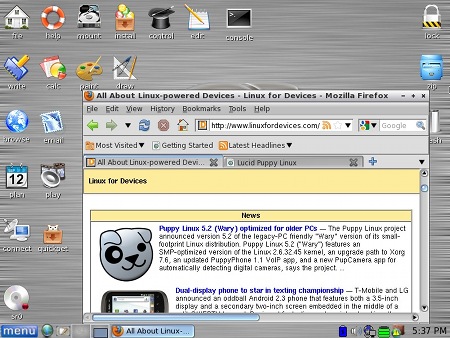 Puppy Linux 5.2
(Click to enlarge)
Puppy Linux 5.2 is one of many Puppy variants built on the project's "Woof" build system, including Lucid, Racy, FatDog, and Slacko. Introduced in November 2008, and joined in 2009 with a related Puppy Package Manager (PPM), Woof can build a Puppy variant from the packages of any Linux distro, including Debian, Ubuntu, Arch, Slackware, and T2, the foundation used by this latest Wary release.
In addition to "Wary," the other major variant is called Lucid Puppy (Lupu"), which was released in its 5.2.8 version in August. Based on Ubuntu 10.04 LTS, Lucid Puppy offers Ubuntu compatibility and more cutting-edge features. For example, the latest release added C and FFmpeg libraries optimized for i686 computers rather than the older i386 computers, thereby improving performance, says the project.
"Massive upgrade" supports newer video hardware
Puppy Linux 5.2 is a "massive upgrade relative to the 5.1.x series," according to the Puppy project. All of its base packages were recompiled in the T2 System Development Environment open source build kit, says the project.
Although the default "Wary" system offers Xorg 7.3, the T2 repackaging enabled this windowing environment to be upgraded to Xorg 7.6 by installing a single "PET" package, says the project. This enables the distro to support older video hardware with Xorg 7.3, as well as move up to Xorg 7.6 to support newer hardware.
While many recent Linux distros have advanced to Linux 3.0, the 5.2 release is said to use the 2.6.32.45 kernel, configured with SMP (symmetrical multiprocessing) support enabled. Plans for developing a uniprocessor kernel were scrapped when it was found that the SMP version seems to work fine on uniprocessor systems, says the project.
New features include a PupCamera application that automatically detects digital cameras, as well as an updated PuppyPhone 1.1 digital VoIP/SIP phone app that replaces PSIP, says the project. There's also a new gHasher checksum generator.
One subtraction is that Adobe Flash Player is no longer pre-installed, although it's still said to be readily available. Among other changes, GTK has been upgraded from 2.21.1 to 2.24.5, and Gtksourceview and Nicoedit have been removed, says the project. In addition, USB 3G modem support is said to have been upgraded and bug-fixed.
Availability
Puppy Linux 5.2 ("Wary") is available now for free download. More information, including links to downloads, may be found in this blog announcement, as well as these release notes.
---
This article was originally published on LinuxDevices.com and has been donated to the open source community by QuinStreet Inc. Please visit LinuxToday.com for up-to-date news and articles about Linux and open source.