May 24, 2010 — by Eric Brown — from the LinuxDevices Archive — 1 views
The Puppy Linux project has released version 5.0 of its fast, small-footprint Linux distro, basing it on Ubuntu for the first time. Puppy Linux 5.0 is built from Ubuntu 10.04 Lucid Lynx binary packages, offers a new "Quickpet" application suite, introduces a choice of web browsers, and can now boot to the desktop, say the developers.
Code-named "Lup," or "Lucid Puppy," Puppy Linux 5.0 is "typically Puppy, lean and fast, friendly and fun," claims the project. The project made no size claims about Lucid Puppy as far as we could see, but last fall's Puppy Linux 4.3 was small enough to fit in RAM, taking up about 105MB to 110MB. Puppy is widely admired by those who like their Linux distros fast and lean.
Puppy Linux 5.0 is the mainstream member of a growing family of Puppy Linux variations built on the project's "Woof" build system. Introduced in November 2008, and joined last year with a related Puppy Package Manager (PPM), Woof can build a Puppy variant from the packages of any Linux distro, including Debian, Ubuntu, Arch, Slackware, and T2, according to the project.
Other recently released Puppy variants include a Quirky 1.0 release intended as an experimental sandbox for new Puppy ideas. There is also a FatDog64 version, which is said to be optimized for Intel 64-bit x86 and compatible CPUs (see diagram below).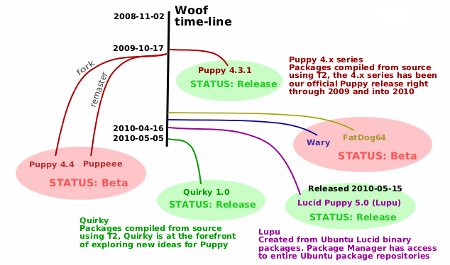 Puppy Linux 5.0 is the latest of a number of Puppy variations built from the Woof build system.


(Click to enlarge)
Aside from adding the new
Ubuntu Linux 10.04
("Lucid Lynx") foundation, Puppy Linux 5.0 debuts a new Quickpet collection of Linux productivity and entertainment program. The applications, which include Gimp (image editor), Kompozer (Web development), Songbird music player (which will soon lose official support for the Linux version), are "configured and tested, available with a single click," says the project.
For the first time, Puppy users get a choice in web browsers, says the project. Available for one-click installation are Firefox, Seamonkey, Chromium, and Opera, and users can load and install other browsers, as well.
Puppy Linux 5.0 is also said to be the first version of Puppy to boot directly to the desktop. In addition it offers new tools to personalize the distribution, including language and locale customizations. Pre-installed applications that open immediately in the user's language of choice, include Abiword (word processor), Gnumeric (spreadsheet), Geany (text editor, and the Chromium browser , says the project.
A "Simple Network Setup" config tool for connecting to the Internet via wired and wireless devices is now available, says the project. Version 5.0 is also said to debut a streamlined bugfix updating function.
Other new features and major fixes that are available in Puppy Linux 5.0, and most of the new Woof-based Puppy variants since Puppy 4.3, are said to include:
Improvements in the implementation of the Aufs layered filesystem
Improved automatic detection and configuration of analog and 3G modems
Samba printing issues resolved
Xorg Wizard enhanced with improved detection and configurability options
Improvements and bugfixes for bootup and shutdown scripts
Recovery after improper shutdown (such as power failure)
Single location for GPL licenses
Integrated handling of all network setup tools
New small GUI utilities
Improved PET package creation and package management tools
Some system utility scripts improved
System services can now be enabled or disabled
Improved hardware detection and localization in the initramfs
Woof hosted on Bones version management system
Major enhancements to the Woof build scripts, plus new Woof GUI and logo
Version 4.3 release featured a brief return of Puppy Linux creator Barry Kauler to an active coordinator role. Yet after overseeing the development of version 4.3, as well as Woof and PPM, Kauler has retreated to the background. Instead, chief developer Mick Amadio and coordinator Larry Short led the way on Lucid Puppy with the help of "the entire Puppy community," says the project.
Availability
The Puppy Linux 5.0 announcement and release notes may be found here, and Barry Kauler's blog announcement should be here.
---
This article was originally published on LinuxDevices.com and has been donated to the open source community by QuinStreet Inc. Please visit LinuxToday.com for up-to-date news and articles about Linux and open source.