Oct 9, 2009 — by Eric Brown — from the LinuxDevices Archive — 19 views
Nokia has ported its cross-platform Qt development framework to the Linux-based Maemo 5 mobile device distribution. The Qt for Maemo preview release enables developers to port Qt applications to the Maemo-based Nokia N900 phone or write N900 apps with Qt and port them to Maemo 6, Symbian, or Windows Mobile.
An initial "Technology Preview" release of Qt for Maemo, based on the upcoming Qt 4.6, is available now, and a final release of the port is due in the first quarter of 2010, says Nokia, which reported the news on the eve of the Maemo Summit in Amsterdam. By switching to the Qt development framework, developers can more easily write applications for both Maemo and for other Qt-supported platforms, says the Finland-based mobile phone giant.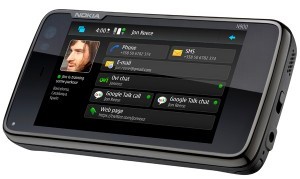 Nokia N900
Nokia. which earlier this year entered a broad-based
partnership
with Intel that in part, brings Maemo in closer alignment with the Intel-backed Moblin Linux distribution, is keen on using the port to help boost app development for its first Maemo-based smartphone, the
N900
. Nokia also wants to increase app development for its industry leading Symbian operating system (OS). Symbian is in the process of transitioning to an open source OS, yet it
continues to lose market share
, especially in the high-end smartphone arena, where its N97 phone has not fared as well as hoped.
The switch to Qt also expands Maemo to support the Qt-supported KDE desktop environment, in addition to Maemo's GTK+, opening up the platform to more developers. Qt (pronounced "cute") is the dominant open source C++ GUI toolkit, whereas GTK+, which has been adopted by Maemo, is the dominant C GUI toolkit.
Qt, which integrated the WebKit browser in version 4.4, has been especially strong in embedded Linux, but also supports Windows, Mac OS ("Carbon"), and Java VMs, adding recent support for Windows CE/Mobile and Nokia's Symbian-based S60. Nokia did not mention the Mac, however, in the Qt for Maemo announcement.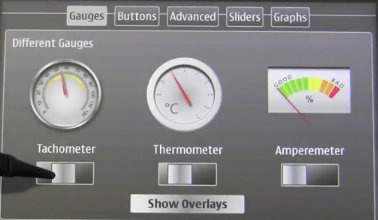 Qt 4.6 on Maemo 5.0, showing widgets styled with scalable vector graphics
The integration of Qt and Maemo has been speculated ever since Nokia acquired Qt developer Trolltech and announced plans for an open source Symbian in June, 2008. The Nokia-sponsored Maemo.org community project announced plans for the Qt port in July of this year, stating that Qt would be available for Maemo 6 ("Harmattan"). Now, it appears, the project has proceeded quickly enough to enable developers to apply a preview release of the port to the soon-to-ship Maemo 5-based N900.
The Qt port incorporates the community-driven 'Qt for Maemo' project that was created "as result of substantial contributions and enhancements," says Nokia. Since May, Nokia has received over 400 contributions into Qt and Qt-related projects, says the company.
According to a Maemo blog at the time of the July announcement, although Maemo Harmattan will base its application framework on Qt, it will maintain most of the "Fremantle" (Maemo 5) middleware based on GNOME technologies. Maemo will continue to be a GNOME contributor and provide support for GTK+ libraries, the group said at the time.
Nokia released a YouTube video, shown below, of Qt 4.6 running on a Nokia N900 "device." (Nokia refuses to call it a phone, perhaps to assuage Symbian true believers or to continue the N8xx Internet Tablet tradition, yet by all accounts it offers full cellular telephony support.)
The demo shows input method integration, integration with native windows, widgets, and dialogs, as well as widgets styled with scalable vector graphics (see image above). The video also features OpenGL ES 2.0 hardware acceleration support, scrolling support, and map viewer integration.
Qt 4.6 on Maemo 5, running on a Nokia N900
(Source: YouTube, Nokia)
Stated Sebastian Nystrom, VP of Application Services and Frameworks at Nokia, "With this announcement and our upcoming port of Qt to the Symbian platform, we will quickly see Qt established as a leading framework for mobile application development. Developers will be able to use Qt as a framework to create powerful native applications and with Qt's Webkit integration, it also provides them with a platform for creating web applications and services."
Availability
More information on the Qt port to Maemo may be found here, and a Nokia blog on the subject may be found here.
---
This article was originally published on LinuxDevices.com and has been donated to the open source community by QuinStreet Inc. Please visit LinuxToday.com for up-to-date news and articles about Linux and open source.