May 3, 2011 — by LinuxDevices Staff — from the LinuxDevices Archive — 1 views
Quanta has received OEM orders from Amazon.com to build its much-rumored Android tablet, expected to sell in quantities of 700,000 to 800,000 units per month, DigiTimes claims. The tablet is said to use Fringe Field Switching display technology from E Ink — presumably a version of E Ink's Triton color e-reader display.
E-reader leader Amazon.com is reportedly moving ahead with plans to offer an iPad-battling, Android-running tablet. According to a May 3 report from Taipei-based DigiTimes, Amazon expects sales of the device to reach 700,000 to 800,000 units a month during the "peak season," contributing approximately $3.5 billion to the coffers of notebook manufacturer Quanta.
Quanta has received OEM orders from Amazon for a tablet that will "receive full support from Taiwan-based electrophoretic display (EPD) maker E Ink Holdings for supplying touch panel as well as providing its Fringe Field Switching (FFS) technology," the site reported, citing sources from "upstream component makers."
According to GadgetNewsUpdate, FFS technology, which is similar to the IPS displays used by the Apple iPad2, is developed by E Ink subsidiary Hydis. Presumably, an Amazon Android tablet would tap E Ink's new FFS-enabled Triton color e-reader displays. E Ink touts Triton for offering low power consumption, resolution better than 200 dpi, support for up to 12-inch displays, and a contrast ratio of at least 10:1.
Yesterday, CNET quoted Sri Peruvemba, vice president of global sales and marketing at E Ink, as saying E Ink would announce no more new monochrome displays until at least 2012. However, Triton appears to be on schedule.

The DigiTimes report added that Quanta is an OEM partner to Research In Motion for its PlayBook tablet, and Sony, for its planned tablets — currently known officially as S1 and S2 (pictured) and less officially as the wedge and the squashed burrito. Quanta is also said to be angling to work with Lenovo on its planned LePad Android/Windows tablet/notebook.
"Amazon's Kindle still has strong sales, but the e-book reader is currently still unable to successfully cut into the markets outside of North America and Europe," said the story, again citing unnamed sources. "Therefore, Amazon internally plans to reduce Kindle's market price to attract consumer demand from the education and consumer market, while … using its advantage in software and content resources to challenge iPad2."
Other reports have said that Samsung was making the Amazon tablet, not Quanta, although it's possible the order would be so large that more than one vendor would be involved. In late April, Peter Rojas blogged on Gdgt that Amazon.com's long-rumored Android tablet was a sure thing. Without citing sources, Rojas wrote that he was almost certain that Samsung was building the much-anticipated tablet for the online retailer.
Amazon has been gradually bringing together components that some say could make it Apple's first real competitor. In addition to building a sales platform that helped its Linux-based Kindle monochrome e-readers (pictured below) enjoy gangbuster sales, Amazon has been working on the ecosystem necessary for Apple-level success.
In March it launched the Amazon Appstore for Android. The online store one-ups Google's Android Market with a number of features including try-before-you-buy purchases.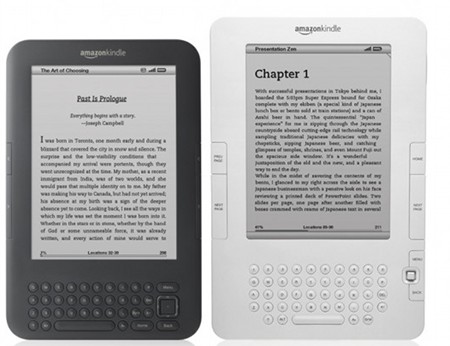 The 2010 Amazon Kindle (left) next to original version (right)
In April, Amazon also
updated its Kindle for Android app
, optimizing it to run the tablet-ready Android 3.0 or "Honeycomb." Amazon also recently launched its cloud-based service,
Cloud Drive
, which enables customers to store photos, videos and documents online, and to play music via Amazon's "Cloud Player."
Forrester Research analyst Sarah Rotman Epps has said her firm expects Apple to hold on to at least 80 percent of the U.S. consumer tablet market this year.
"It would be easy to call the game for Apple as the second inning is starting, but we won't, because we see a market that's ripe for disruption by Amazon in particular," Rotman Epps wrote in a March 10 blog post. "Amazon could create a compelling Android- or Linux-based tablet offering easy access to Amazon's storefront (including its … Android app store) and unique Amazon features like one-click purchasing, Amazon Prime service, and its recommendations engine."
Analyst Jack Gold, with J. Gold Associates, has agreed, writing in a March research note that a "Kindle-Android device could prove popular, building on the large installed base of Kindle users." Drawing on that base could prove particularly useful, as consumer attention diverts from e-readers to tablets.
Michelle Maisto is a writer for eWEEK.
---
This article was originally published on LinuxDevices.com and has been donated to the open source community by QuinStreet Inc. Please visit LinuxToday.com for up-to-date news and articles about Linux and open source.