Nov 12, 2010 — by LinuxDevices Staff — from the LinuxDevices Archive — 59 views
E Ink announced its first color displays for e-readers, touting low power consumption, resolution better than 200 dpi, and a contrast ratio of at least 10:1. The "Triton" displays add a thin transparent colored filter array to the underlying monochrome screen, support sizes ranging from two to 12 inches, and will first appear in a Hanvon "WISEreader" tablet, says the company.
Electrophorescent (EPD) displays sourced from E Ink have been used in the majority of e-readers to date. Examples include Amazon's market-leading, Linux-based Kindle — reecently updated to become smaller and lighter.
EPD displays offer a relatively bright, high-contrast, thin, lightweight display technology that remains legible under "any lighting condition" — much like newsprint. Once an image has been "printed," no power is needed to hold it, reducing energy requirements by 99 percent compared to LCDs, E Ink claims.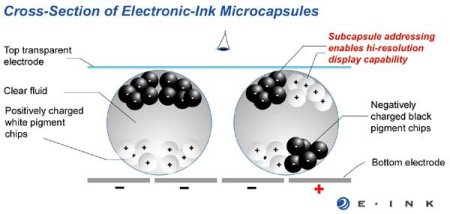 E Ink's electronic paper requires no power to hold images
Up to this point, no E Ink displays have offered color — but that's now history, according to the company. Offered to OEMs in sizes ranging from two to 12 inches, the new "Triton" screens add a thin transparent colored filter array (CFA) to the underlying monochrome screen, E Ink says.
It's said the CFA consists of four sub-pixels — red, green, blue, and white — that are combined to create one full-color pixel. As a result, the Triton displays use no more power than their monochrome counterparts, yet can display up to 4,096 colors, the company says.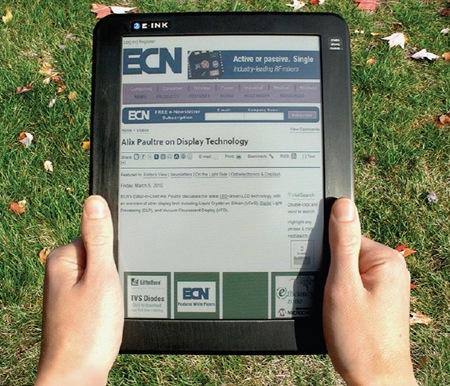 E Ink's Triton
Reflectivity of the Triton screens is apparently reduced somewhat by the CFA. However, E Ink rates it at a minimum of 40 percent, while the minimum contrast ratio is rated at 10:1, and viewing angle is said to approach 180 degrees.
As ever, rapidly moving images are not E Ink's forte, but the Triton screens are said to respond quickly enough to show animations and to respond fluidly to pen input. Image update time is said to range from 120ms to 980ms, while potential resolution exceeds 200dpi.
According to E Ink, companies producing controllers compatible with the Triton displays will include Epson, Freescale, Marvell, Maxim Semiconductor, and Texas Instruments.
The pending debut of color E Ink screens had already been tipped by the first two of these companies: Freescale mentioned color in a fact sheet for its i.MX508, which includes an 800MHz ARM Cortex-A8 core and an E Ink controller, and Epson touted color support for displays up to 2560 x 2048 pixels when it announced its S1D13524 controller chip in July.

The Triton display
Source: E Ink
(click to play)
E Ink adds that its Triton displays incorporate the "Pearl" enhancements that were announced at the beginning of July, and which were claimed to take the screens from a contrast ratio typical of newspapers to a higher ratio that's typical of paperback books. Touted as offering "the whitest reflective displays in the industry," Pearl made its debut in an improved version of Amazon's 9.7-inch Kindle DX, and may now also be found in the third-generation, six-inch Kindle mentioned earlier in this story.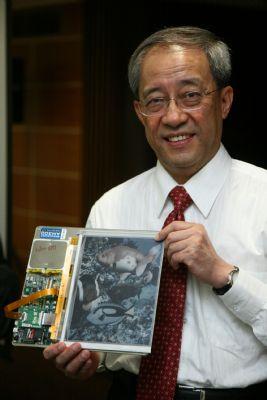 E Ink's chairman Scott Liu with a prototype of Hanvon's color e-reader
Source: DigiTimes
In an August article, DigiTimes quoted E Ink chairman Scott Liu — pictured above — as saying he expects color e-readers to account for 10 percent of the global market in 2011.
Originally based in Massachusetts, E Ink Corporation was acquired last year by Taiwanese display manufacturer Prime View International (PVI), also known as Yuan Tai Technologies, for about $450 million. In June, PVI announced it was changing the international version of its name from PVI to E Ink Holdings, "reaffirming its strong commitment to e-paper."
Hanvon's color e-reader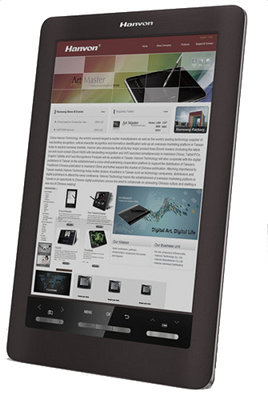 The technology will be available first in a Windows CE-powered "WISEreader" from Hanvon, featuring a 9.7-inch touchscreen, text-to-speech capabilities, and a Freescale CPU. Hanvon is using the ongoing FPD International 2010 show in Japan to show off the WISEreader (right). The device includes a 9.7-inch Triton display, with touchscreen capabilities that may be utilized either via fingers or with a supplied electromagnetic pen, the company says.
Hanvon's release did not include additional technical details, but according to an item that appeared today on the AkhihabaraNews website, the device, known as the WISEreader, runs Windows CE on a Freescale CPU — the earlier-mentioned i.MX508, we presume — with 2GB of storage and a microSD expansion slot.
Further information
Further information about E Ink's Triton displays may be found on the company's website, here.
---
This article was originally published on LinuxDevices.com and has been donated to the open source community by QuinStreet Inc. Please visit LinuxToday.com for up-to-date news and articles about Linux and open source.