Dec 9, 2011 — by Eric Brown — from the LinuxDevices Archive — 27 views
Renault announced an in-vehicle infotainment (IVI) system that will arrive in its Renault Clio 4 and Zoe cars in 2012. R-Link is built around a seven-inch touchscreen tablet — reportedly running Android on a Texas Instruments ARM processor — and will feature TomTom navigation, telematics controls, multimedia, speech recognition, and an open SDK for third-party app developers.
Renault announced the R-Link at the LeWeb'11 exhibition held in Paris, Dec 7-9. The system will debut in the "New Clio" (Clio 4) and the upcoming Zoe electric car (pictured below) in 2012, before spreading to all other Renault vehicles, says the French automaker.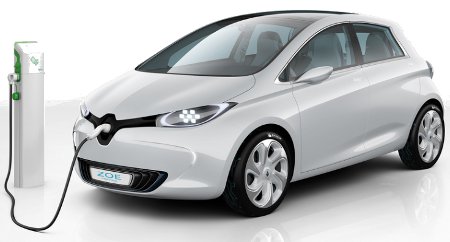 Renault Zoe
(Click to enlarge)
The R-Link will feature an 18cm (seven-inch) touchscreen, and offers steering wheel-mounted controls and speech recognition, says Renault. The in-vehicle infotainment (IVI) computer hooks into the car's telematics system while also offering infotainament, TomTom Live GPS navigation, and connections to mobile devices, says the automotive manufacturer.

TomTom Live on R-Link
(Click to enlarge)
The company released some screenshots and a
YouTube
video (see farther below), but offered few other details, making no mention of the operating system or processor. Renault did say that it will initially have 50 applications available for the IVI device, described as being "useful and community applications already available on smartphones." Users will be able to customize their homepages and download apps from an R-Link Store, the company adds.
Several publications report that R-Link is running a modified version of Android. Telematics News also says the device is using a Texas Instruments (TI) ARM processor and will integrate EDGE (2.75Gbps) cellular connectivity.
According to TabTimes, meanwhile, the R-Link is based on Android 2.2, and will first appear in the Clio 4 and Zoe cars in late 2012. The system was developed by personal navigation device (PND) vendor TomTom, which built Renault's earlier navigation systems, says the story.
TomTom has long offered Linux-based PNDs, and famously stood up to a Microsoft patent lawsuit over Linux technology, only to settle with the Redmond-based litigation specialist in March 2009.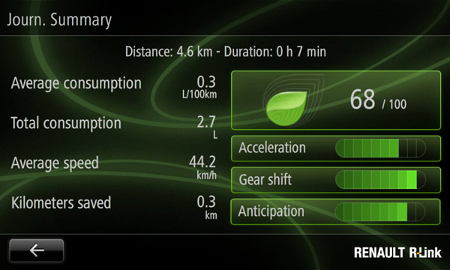 R-Link telematics information
(Click to enlarge)
According to
TabTimes
, the R-Link touchscreen is resistive, and is slightly larger than on earlier TomTom/Renault systems, It's also the first to offer EDGE connectivity, which Renault chose because it's cheaper and more reliable than 3G in France, according to the story. Renault was said to have noted, however, that 3G will also be available "either via an external 3G stick or through phone tethering."
The R-Link is the first TomTom/Renault system to offer a development platform open to third party apps, reports TabTimes. In a related announcement, Renault said it was working with Laboratoire Paris Région Innovation (Paris Region Lab) to encourage the creation of a start-up ecosystem to focus on mobility-related connected services. A start-up incubator related to this effort will be launched in March 2012, says the company.
Is Renault's installed base enough to attract devs?
A Wall Street Journal report — which notes that despite Renault calling the R-Link a tablet, it's not actually removable — quoted Patrick Hoffstetter, Renault's chief digital officer, as saying the company expects to sell about three million cars in 2012. About 50 percent of those will be sold outside Europe, he added.
Although Renault made no mention of it, there is certainly the potential that the R-Link could migrate to the company's Nissan affiliate, which is better-established in the U.S.
Hoffstetter went on to acknowledge that it may be difficult to attract enough app developers with such a relatively small installed base, according to the Journal. "The car industry is where the mobile industry was 10 years ago," he was quoted as saying. "In the next three to four years, there will be talks together about developing."
In fact, Renault is already a "Core" member of the Genivi Alliance, which offers a partial solution to the auto technology fragmentation problem. The Genivi spec is a common open source middleware platform for IVI systems based on Linux. Assuming the reports about Android are true, however, Renault would not appear to be using any Genivi code in the R-Link system.
Genivi counts BMW, Jaguar/Land Rover, and PSA Peugeot Citroen among its founding members. It also includes Hyundai and Mitsubishi as Core members along with Renault, as well as General Motors (GM) and Honda as "Associate" members. In addition, the alliance includes a host of automotive equipment OEMs and technology companies, including Intel and TI, which offer the major x86 and ARM reference platforms for Genivi, respectively.
It will be interesting to see if Genivi expands to support an Android platform, or if Google gathers together other car manufacturers to establish its own Android-based IVI platform. Several Android-based IVI systems have been announced, including the Saab IQon, the Parrot Asteroid, and VizuaLogic's SmartLogic Android Rear Seat Entertainment Package.
R-Link demo on YouTube


Source: Renault
(Click to play)
Availability
The R-Link system will debut in the "New Clio" (Clio 4) and the upcoming Zoe electric car in 2012, before spreading to all other Renault vehicles, says Renault. More information may be found at Renault's R-Link product page.
---
This article was originally published on LinuxDevices.com and has been donated to the open source community by QuinStreet Inc. Please visit LinuxToday.com for up-to-date news and articles about Linux and open source.