Nov 4, 2011 — by LinuxDevices Staff — from the LinuxDevices Archive — 1 views
Verizon Wireless' Samsung Stratosphere offers 4G LTE support, a four-inch Super AMOLED display, and a QWERTY sliding keyboard for just $150. It's a great deal for business users, if they can tolerate its heft and modest cameras, according to this eWEEK review.
Among the many permutations of Android phones to meet the needs of the majority of consumers, one style has been missing. That would be a smartphone for business equipped with a full QWERTY sliding keyboard, but powered by a 4G LTE (Long Term Evolution) network.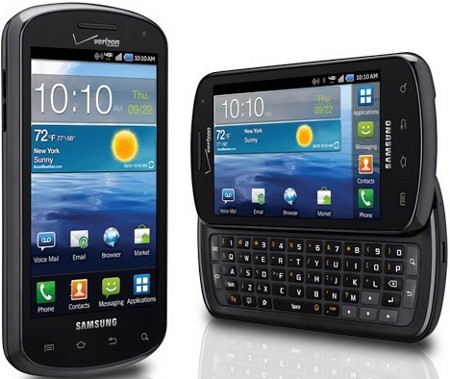 Samsung Stratosphere
The Samsung Stratosphere, available from Verizon Wireless for $149, fits the bill. Powered by a 1GHz processor and Verizon's 4G LTE pipes, the Android 2.3 "Gingerbread" handset has a 4-inch Super AMOLED screen (800 x 480 pixels) for bright, crisp colors in daylight and night.
Never before have I tested such a fast, powerful Android handset with a QWERTY keyboard.
Here in Fairfield County, Conn., multiple tests with Ookla's Speedtest app for Android revealed an average of 12 megabits per second download and 8 Mbps upload times, which I'll take any day of the week. With speed like that, YouTube clips and Netflix for Android videos and movies played well.
The five-row QWERTY keyboard stood up well to that of the Motorola Droid 3, which when it launched was hailed as the premier Android QWERTY slider.
I've tried my hand at plenty of Android phones with QWERTY keyboards, including Motorola's Droid, Dro Port and XPRT gadgets. Yet this phone's five-row keyboard is beyond adequate for long-form typing messages, even small document composition with Google Docs or Microsoft Word via QuickOffice.
In fact, I even prefer it to the Droid 3 keyboard. Here's why.
The Droid 3 is rectangular, so when you turn it to landscape mode, it's boxy. That's a fine shape when you're typing with all 10 fingers, but more unwieldy when you're using two thumbs to bang away at the keys. The Stratosphere sports Samsung's typical rounded shape, so it contours to your forefinger and thumb as you hold it in position for typing.
Moreover, Samsung has framed the Stratosphere's letter and number keys with four physical Android control buttons — settings and home on the left side, and the search and back buttons on the right. Really smart and intuitive.
I'm not a big hardware QWERTY guy and have gotten totally comfortable to the 4.3-inch display of my personal Droid X and the other larger screened phones I've tested. But using the Stratosphere was a pure pleasure and easy to get accustomed to.
The Stratosphere is loaded with enterprise-tailored tools, chief among them support for Microsoft Exchange ActiveSync to enable push e-mail, contacts and calendar, and encryption to let IT managers remotely wipe the phone's data in case it's lost.
These business-focused perks make the Stratosphere a good alternative to Motorola's Droid Pro line, as well as Motorola's XPRT and Photon 4G and other business-tailored Android gadgets. The battery, which is actually one of the more impressive power sources for a 4G LTE phone, offered 8 hours of continuous usage. The phone only has 4GB of internal memory, expandable to 32GB with a microSD card.
It's not all good …
Now the bad details. At a time when most premium smartphones — such as Samsung's Galaxy S II line — sport excellent 8 megapixel cameras, the Stratosphere comes with a modest 5-megapixel rear-facing camera, paired with a 1.3MP front camera for video chat.
These features were serviceable, but nothing to brag about. The video camera also supports 720p HD playback, but only 480p recording. Those capabilities crumble in comparison to the with 1080p HD capture and playback for the S IIs from AT&T, Sprint and T-Mobile I've tested.
Like most QWERTY sliders, the Stratosphere is both heavy and thick: 5.8 ounces and 0.55 inches. While call quality was solid as per usual on Verizon in my neck of the suburbs, the phone felt clunky held up next to my ear. Not tablet clunky, but not as comfortable as some of the other phones I've tested that were less than .4 inches thin.
Still, the heft of the phone made me want to use it in landscape mode with the slider as much as possible, rather than in portrait mode. If you prize thinness, the S II phones (or Verizon's forthcoming, 7.1mm thin Motorola Droid Razr) will be more your speed.
For those who need a fast, enterprise-oriented device with a full QWERTY keyboard, however, the Stratosphere will be a breath of fresh air.
Availability
The Samsung Stratosphere is available for $150 after a $50 mail-in rebate and two-year data contract, says Verizon Wireless. Customers need to purchase a Verizon Wireless Nationwide Talk plan beginning at $40 for monthly access, as well as a smartphone data package starting at $30 a month for 2GB of data.
More information is available on Verizon's Stratosphere product page.
Clint Boulton is a writer for eWEEK.
---
This article was originally published on LinuxDevices.com and has been donated to the open source community by QuinStreet Inc. Please visit LinuxToday.com for up-to-date news and articles about Linux and open source.