Nov 8, 2010 — by Eric Brown — from the LinuxDevices Archive — 3 views
Roku has begun licensing the hardware and software for its popular, Linux-based set-top boxes (STB), including the recently announced Roku HD ($60) along with the 1080p-enabled Roku XD ($80) and Roku XDS ($100). Netgear will be the first Roku licensee, and will soon offer a version of the Roku XD at Best Buy, Fry's, and Radio Shack stores, says Roku.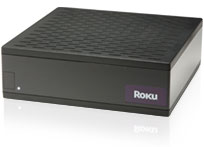 Roku announced its hackable, Linux-based Roku-HD1000 IP set-top player in Jan. 2004, shipping the device soon thereafter. In 2008, the company recast the player as a much smaller (and not so hackable) $100 Roku NetFlix Player (pictured at right), co-branded with the NetFlix movie service. A year ago, Roku announced a scaled-down $80, DVD-quality Roku SD, as well as the 802.11b/g/n-enabled $130 Roku HD-XR.
The Roku XD player that Netgear is licensing is one of three new models announced in September, which also included a high-end Roku XDS model and a smaller, cheaper ($60) version of the 720p-capable HD-XR called the Roku HD.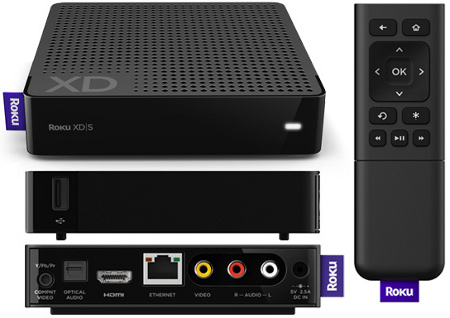 Roku XDS


(Click to enlarge)
All three devices ship with composite and HDMI ports and offer 802.11b/g/n Wi-Fi, says Roku. In addition, they consume six Watts at peak operation and four Watts on standby, and measure just 4.9 x 4.9 x 1.2 inches, says the company.
The $80 Roku XD and $100 Roku XDS models both provide 1080p video playback, says Roku. In addition, both the XD and XDS feature what Roku claims is an industry first for streaming IP STBs: an Instant Replay button on the remote that instantly skips back in 10 second increments "without having to wait for a rebuffering delay."
The XDS model provides more extensive connectivity options, says Roku. The device is said to provide component video output, optical audio output, and a USB port. Customers "will be able to play stored music, photos, and up to 1080p video using a USB player channel, available as a free upgrade to XDS owners available in November, the company said in September.
In addition, the XDS model provides dual-band (2.4Ghz and 5Ghz) Wireless-N extensions to 802.11b/g/n, says Roku. The Wireless-N capability is said to offer higher quality video streaming over a home network.
DeviceGuru: A Roku counterattack against Google TV?
A story in DeviceGuru about the licensing announcement and new XD players speculates that the devices incorporate a MIPS-based SoC (system-on-chip), such as the NXP PNX8935 SoC used in the original model. The site — which specializes in A/V equipment and is written by former LinuxDevices Executive Editor Rick Lehrbaum — also quotes Brian Jaquet, Roku's corporate communications director, as saying that the licensing program is available with various options.
These range from the option chosen by NetGear, which is "to slap their brand on it and sell it in their channels," according to Jaquet, to a license that permits the licensee to tweak the hardware and/or software portions of the design, "thereby producing products that could potentially compete against Roku's own boxes," writes Lehrbaum. Alternatively, the platform's software can be licensed independently.

Lehrbaum speculates that the licensing move was a strategic response to the recent announcement of the first Google TV devices, including Logitech's Revue STB (pictured) and Sony's Internet TV.
"The Roku player's cost, size, power consumption, and sheer simplicity of installation and operation clearly place it in a different league from Logitech's $300 Google TV player," writes Lehrbaum. "Priced as low as $60, Roku's tiny entertainment-rich Internet media player is practically irresistible. Death by Google TV? We think not!"
Lehrbaum added in a subsequent comment that according to Logitech, the peak power consumption of its Revue STB is 36 Watts. This is more than 20 Watts more than the Roku player, though respective figures for standby consumption are not available, he writes.
On the other hand, Google TV offers some additional functionality, including an integrated search feature that spans the Internet and regular TV programming. Soon, the platform will offer numerous TV-optimized Android apps, as well as the ability to use an Android phone as a remote. It will be interesting to see if these features prove compelling enough to make up for the platform's higher price and greater set-up complexity.
Availability
The Roku HD ($60), the Roku XD ($80) and Roku XDS ($100) are available now, says Roku. More information may be found here.
The Netgear version of the Roku XD will soon be available at Best Buy, Fry's, and Radio Shack stores, says Roku. More information may eventually be found at Netgear, here.
The DeviceGuru story on Roku's new licensing and new player devices should be here.
---
This article was originally published on LinuxDevices.com and has been donated to the open source community by QuinStreet Inc. Please visit LinuxToday.com for up-to-date news and articles about Linux and open source.