Oct 13, 2010 — by Eric Brown — from the LinuxDevices Archive — 2 views
Sony unveiled four Sony Internet TVs and an Internet TV Blu-Ray Disc Player, all running Android-based Google TV software. Employing an Intel Atom-based CE4100 SoC, the new Internet TV devices range from 24-inch to 46-inch HDTVs, ship with a QWERTY-enabled remote, and offer Wi-Fi, HDMI, and USB connectivity.

Last week, Logitech got the Google TV ball rolling with the formal announcement of its Revue set-top box (STB), shown at right. The Revue was the first hardware manifestation of Google's Android-based Google TV platform, which was announced in May. (Just prior to Logitech's announcement, Google released some more details about Google TV, and announced an impressive list of new content partners.)
Google TV attempts to wed television programming with web surfing. For example, users will be able to watch TV, surf the Internet, and access web applications such as YouTube and Twitter via a special remote control that includes a miniaturized keyboard.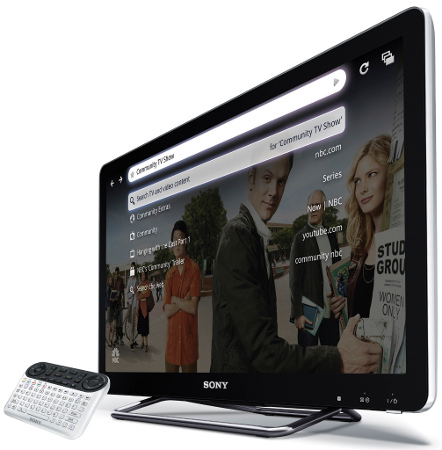 Sony Internet TV 24-inch NSX-24GT1
(Click to enlarge)
While many of these capabilities are available on other IPTV set-tops and media players, Google TV promises a more integrated experience. The key feature is a universal search function that examines TV and Internet listings simultaneously. The Google TV service itself is free and offers automatic upgrades.
According to Sony, its Internet TVs will be the only HDTVs offered with Google TV this year. They are available for pre-sale now at Sony Style, and will be available there on Oct. 16, with Best Buy availability due on Oct. 24, says Sony.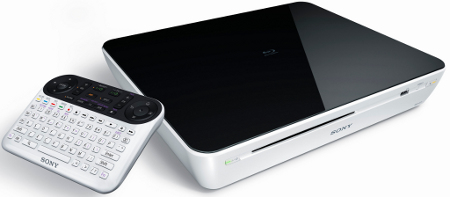 Sony Internet TV Blu-Ray Disc Player


(Click to enlarge)
The Sony Internet HDTVs come in a variety of sizes, starting at $600 for a 24-inch model with a cold-cathode fluorescent backlight, as well as larger screen sizes, all of which have edge LED backlighting. There's also a $400 Blu-Ray player that offers all the same features except for the TV itself.
Specific models include:
Sony Internet TV 24-inch NSX-24GT1 ($599)
Sony Internet TV 32-inch ($799)
Sony Internet TV 40-inch ($999)
Sony Internet TV 46-inch ($1,399)
Sony Internet TV Blu-Ray Disc Player ($399)
All but the 24-inch model enable customers to use their Android phones as a remote control alternative to the supplied RF wireless keypad remote. The Android app that can do this, however, will not be out until later this year.
Sony's keypad remote offers a full, fixed QWERTY keyboard and an optical mouse. According to one early hands-on review, however, it is the least appealing aspect of the generally impressive Sony Internet TV/Google TV experience (see farther below).
All the TVs are built on the Intel Atom-based CE4100 system-on-chip (SoC), which was designed specifically for STBs (see further below for details). All the devices are equipped with Wi-Fi and four USB 2.0 ports, says Sony. The four HDTVs each supply four HDMI inputs, while the Blu-Ray player offers a single HDMI input and a single HDMI output, the company adds.
Sony Internet TV supports DLNA discovery and media sharing and connects automatically to select HD DVR devices from Dish Network, says Sony. This feature is said to enable the addition of previously recorded content in the search results, as well as enabling users to control DVR functionality from the Google TV UI.
At the launch event: Dual views and video on demwnd
At the launch event in New York City yesterday evening, Sony Senior Product Manager Matt Seymour showed off the new Sony QWERTY keypad remote, according to a report from our sister publication eWEEK by Clint Boulton, who attended the event. Seymour demonstrated the remote easily switching between live television programming and web applications on a demonstration unit of the 46-inch model, says the story.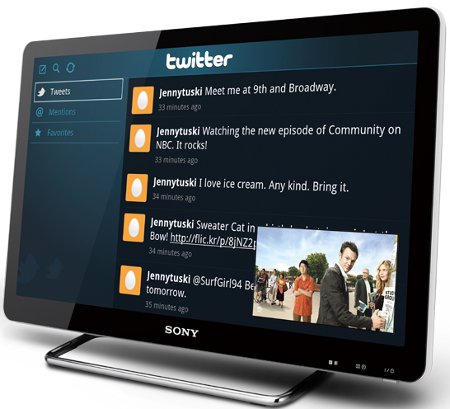 Sony Internet TV with Dual View PIP feature
(Click to enlarge)
Seymour then switched to Google TV's "Dual View" feature, which allowed him to watch a show about Katz's Deli in New York City, and then look up more information on it on Wikipedia, says the story. He then went on to find the deli's location of Google Maps, and accessed Twitter to tell his friends that he was headed there, writes Boulton. (Dual View is a general Google TV feature also available with Logitech's Revue.)
Other demos were said to have shown bookmarking of content in the Chrome web browser, and running several applications that Sony has preloaded on the devices. The latter include Sony's Qriocity video-on-demand service, as well as apps such as CNBC, Napster, NBA, Netflix, Pandora, Twitter, and YouTube, says eWEEK.
Sony anticipates many more apps will be available in 2011, once Google opens Google TV to developers, says the story. However, currently, the platform does not appear to support unmodified Android apps. Android Market support is expected to be added in early 2011, says Sony.
Sony hands-on: Google TV UI survives hamfisted remote
Stewart Wolpin of Dvice has already published a first-impression evaluation of the Sony TV called "5 pros, 5 cons for Sony Internet TV." Most of the "pros" seemed to relate more to the Google TV interface itself, which he lauds for being well-designed and easily readable from eight feet away.
Wolpin especially likes the unified content searches, and also praises Google TV for its ability to automatically discover and communicate with linked devices such as DVRs.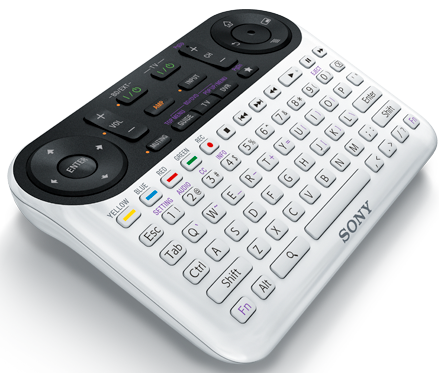 Sony Internet TV keypad remote
The biggest flaw with the Sony Internet TV is said to be the poorly designed keypad remote. Writes Wolpin, "It's awkward, if not impossible, to control basic volume/channel functions with one hand, [and] … there's no 3 x 4 numerical keypad array to casual thumb as you channel jump. To go to a specific channel, you have to use the QWERTY numeric row."
While Wolpin praises the Dual View interface, he says the picture-in-picture TV window is too small, and is not set up as the default. He also faults the TVs for being too thick, and says that it is a shame the largest model was only 46 inches.
All in all though, the Google TV UI overcomes the few technical drawbacks. he concludes, "Sony and Google TV have finally fulfilled a 30-year-old search for a successful convergence of the TV and the PC." He also suggests that Google TV "could replace Yahoo! [Yahoo! Connected TV] as the dominant connected TV platform."
Hardware background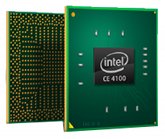 The Sony Internet TV devices, as well as Logitech's Revue, use Intel's CE4100 SoC (system on chip). This 45nm chip (right) measures 27 x 27mm, and includes an Atom processor core clocked at up to 1.2GHz, a NAND controller, video display controller, graphics processor, dual DSPs, transport/security processors, and I/O, Intel says.
The CE4100's graphics processor is based on Imagination Technologies' Powervr SGX535, which provides 2D/3D graphics acceleration and makes the SoC compatible with Open GL ES 2.0, says Intel. Compared to the earlier, Pentium M-based CE3100 — which used the same SGX535 graphics core, but clocked it only at 200MHz — the CE4100 employs either 200MHz or 400MHz versions, and now provides hardware acceleration for both JPEG and MPEG-4.2 decoding, the company adds.
According to Intel, the CE4100 is capable of decoding dual 1080p HD video streams at up to 60 frames per second, or a single 1080p stream at twice that rate, the company says. The chipmaker adds that it worked with Adobe to adapt Flash Player 10 especially for the CE4100.
Stated Mike Abary, senior vice president of Sony's Home Division, "Finally, you can seamlessly search your favorite TV programs and web sites on the same screen, at the same time."
Availability
The four Sony Internet TVs and Blu-Ray Disc Player are available for presale now at Sony Style, and will be available there on Oct. 16, with Best Buy availability due on Oct. 24, says Sony (see prices farther above).
The Sony Internet TV announcement may be found here, and a more informal blog entry should be here. Sony's Internet TV web page may be found here.
Sony has set up an Android Developer Site for developing Sony Internet TV apps and services. Currently, it offers no content, but there's a registration page for interested developers, here.
The eWEEK story on the Sony Internet TV launch event may be found here, and a compendium of analyst takes on Google TV and how it stacks up to the rival Apple TV may be found here.
The Dvice hands-on evaluation of the Sony Internet TV may be found here.
---
This article was originally published on LinuxDevices.com and has been donated to the open source community by QuinStreet Inc. Please visit LinuxToday.com for up-to-date news and articles about Linux and open source.