May 23, 2011 — by LinuxDevices Staff — from the LinuxDevices Archive — views
Samsung's Galaxy Tab 10.1 is a remarkable media-chomping tablet with Android 3.0, a crisp, 10.1-inch touchscreen, 10-hour battery life, and a slim, lightweight design, says this eWEEK review. Despite the modest three-megapixel camera and lack of ports — or even an SD slot — the tablet is said to best the Motorola Xoom for straightforward media consumption purposes.
The Samsung Galaxy Tab 10.1 is an excellent alternative to Apple's iPad 2, the ultra-thin tablet it is designed to challenge in the burgeoning market for lightweight slate computers. The current evidence shows Samsung will sell the new U.S.-destined Tab 10.1 for $499 (16GB) and $599 (32GB), beginning June 8.
I received the Limited Edition version of the Galaxy Tab 10.1 at Google I/O May 10. This 32GB flash memory tablet has a 10.1-inch display rendering 1280 x 800 pixel resolution, as well as a 1GHz dual-core Nvidia Tegra 2 processor. The 7,000mAh battery is great for longevity. I can report a full day's worth of heavy multimedia, emailing, and gaming before charging.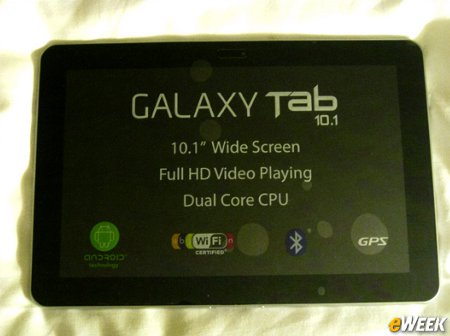 Samsung Galaxy Tab 10.1, Limited Edition
(Click to enlarge)
The Google I/O Limited Edition is encased in plastic on the back, revealing an army of Android robots and their silhouettes. Cool, geeky. The commercial version will have a black, textured back for better grip.
How else the commercial version differs from the limited edition I can't say, but the Google I/O edition appears to match the specs of the lighter, thinner, revised version announced by Samsung in March when it also unveiled a new 8.9-inch Galaxy Tab 8.9. The last-minute changes were clearly a hurried response to the arrival of the thinner new iPad 2.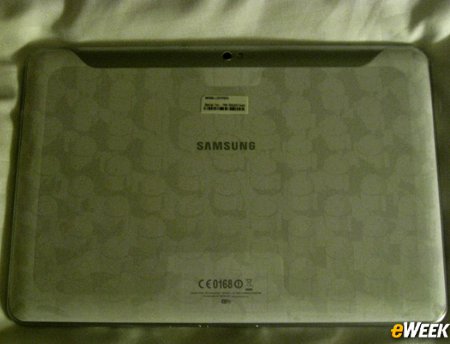 Galaxy Tab 10.1 Limited Edition, rear view
It appears that the
original Galaxy Tab 10.1 design
will still appear in the second quarter in Europe on Vodafone's network. That version is thicker (under a half inch) and heavier (1.3 pounds) than the revised model, but will offer an eight-megapixel rear-facing camera instead of the three-megapixel camera on the new U.S. version.
The new Galaxy Tab 10.1 measures 10.1 x 6.8 x 0.34 inches (256.6 x 172.9 x 8.6mm), and weighs 20.1 ounces (595 grams), says Samsung. The three-megapixel rear-facing camera is capable of recording 720p video, and a two-megapixel front-facing camera is touted for video chat. Video is said to play back in crisp 1080p high-definition.
From a hardware perspective, the Tab 10.1 bests the Motorola Xoom, which I certainly enjoyed testing back in March. The Tab 10.1 is just under 1.3 pounds compared to the Xoom's 1.6 pounds, weighing even a touch less than the svelte iPad 2 (1.3 pounds). Whereas the Xoom is fully a half-inch thick, the Tab 10.1 is as thin as the iPad 2 at 0.34 inches.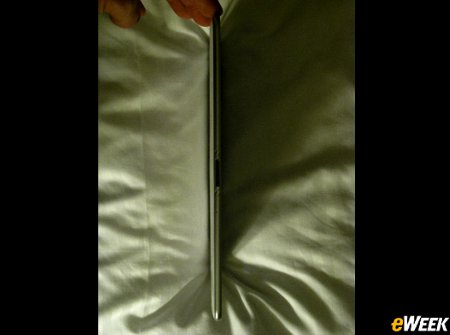 The Galaxy Tab 10.1 is even thinner than the iPad 2.
You might not think the size and weight difference with the Xoom is that significant, but wait until it's in your hand and lap. You want to be able to carry a tablet with a 10.1-inch screen comfortably in one hand. In my hand, at least, the Tab 10.1 certainly fits the bill.
The software is Android 3.0 "Honeycomb," so yes, it's very much like the Xoom in many aspects. Samsung is touting a TouchWiz user interface, but to be honest, I didn't see much difference between from the Tab 10.1 and Motorola's Xoom UI.
The Xoom, of course, is now being updated to Android 3.1, which purports to fix some of Android 3.0's bugs and flaws. Considering, however, that Google chose to give away the Samsung Galaxy Tab 10.1 at the same event where it was announcing 3.1, an upgrade will likely arrive soon for that tablet as well. As an aside, I'm super-psyched about Honeycomb 3.1, which has better widgets, but more importantly for me, a movie application. That will be fun to test.
Like the Xoom, the Tab 10.1 offers Android 3.0's awesome application tray, which sits along the left of the screen to let users multitask and flit from one application to the next. It also offers Honeycomb widgets including the deck-of-card style YouTube widget on one of the five home screens of the Tab 10.1. This lets users flip through YouTube videos with a single flick of a forefinger. Super easy, efficient, and fun. Notifications stream in from the lower right for Gmail, Google Talk, and other applications.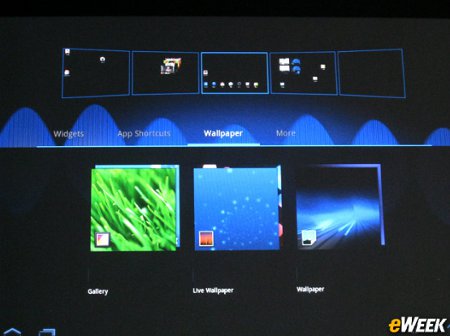 Tab 10.1 with Android 3.0
Although a HSPA+ version will be available, the Limited Edition I tested is a Wi-Fi-only model. Applications such as Angry Birds downloaded from the Android Market in seconds. The Tab 10.1 leverages Google's cloud, so once I associated my Google account with this device, magical cloud things happened. For example, my Google Music beta account synced up and put my music on the Tab 10.1.
As I sit here at my desk, the tablet now alerts me as I get a new Gmail, just as my Motorola Droid X does. I can access Google Maps, where 3D buildings rise up just fine on the Tab 10.1, as well as the Map navigation service.
Google Places is awesome here. The restaurant, coffee shop, and other options sit in a window on the left, with the Maps in the background. Tapping pubs, for example, calls up the O Bar and Grill near my house here, possibly because I've rated it via Places' Hotpot recommendation engine from my desktop. The cloud at work, works for me.
Next up, text input. When I tested the Xoom, I tried to see if it would be possible for me to do work on it. I found the keyboard solid, but not as comfortable as a laptop keyboard with physical chiclet keys, of course. However, the virtual keyboard on the Tab 10.1 was superior and better spaced.
It lent itself well enough for typing that I was able to compose a blog post on it — no problem. The Honeycomb Gmail application is a real treat; it's easy to use, with easy one-touch copy-and-paste functionality.
I wouldn't want to type a long report on the Tab 10.1, however. Tablet keyboards aren't there yet.
Media powerhouse
Ultimately, I approached the Tab 10.1 as it's intended: as a pure media consumption device, which is where it shines. Reading digital books through the Web Reader in Google's eBookstore was great and clean. It's tough to tackle the Amazon Kindle here, and it's true that the brightness of the Honeycomb tablets can wear on the eyes, but darned if I didn't think I was reading the actual book until I remembered I was holding a tablet.
Taking pictures worked okay, though I found the Tab 10.1's latency between shots annoying, making it tough to photograph an infant boy running around. The video camera worked well enough for this, allowing me to upload to YouTube easily. Leveraging the front camera with Google Talk proved solid.
YouTube sparkles on this gadget, with only minimal delays and latency. The only mobile devices that have streamed YouTube streams better for me have been 4G Android handsets such as the HTC Thunderbolt 4G and Samsung Droid Charge.
People love to make a big deal about Flash on Android devices so I made sure to test it out on the Tab 10.1. Knowing I wouldn't be able to access my Netflix on the Tab 10.1, I logged into my Amazon Instant Video account to try watching a movie there. I found "Leaves of Grass," starring Edward Norton. When I tried to watch it, Amazon Instant Video informed me I needed Adobe Flash 10.2, which I was surprised wasn't already on this tablet.
Anyway, I downloaded it in about five seconds, returned to Amazon, and the movie began playing. I was worried at first, as the first three minutes were pixelated in a way that I've seen on Netflix at times. However, this went away, and the movie played brilliantly.
A caveat: Amazon Instant Video isn't tailored for tablets, but for larger TV screens. That's why the pause, fast forward and rewind buttons were scrunched together and hard to access. Google and Amazon need to work on this, especially if Amazon is indeed preparing its own Android tablets.
Lack of ports limits flexibility
The Tab 10.1 has its faults. After I unboxed it and used it in my hotel in San Francisco, it froze several times, especially starting it up from being asleep overnight. That could have been the hotel's Wi-Fi network providing a spotty connection. The speed and rendering have been better, but not perfect, on my home network.
There is also no SD card slot or ports of any kind. That is a problem for people who want to transfer media. This sort of come-as-you-are, this-is-all-you'll-need approach is arrogant and limiting, but perhaps Samsung sacrificed ports to keep the thin and light feel. I certainly appreciated the 10-hour battery of the Tab 10.1.
My recommendation is that if you are in the market for an Android tablet — heck any good, solid tablet — the Tab 10.1 will not fail you, particularly for the $499 to $599 price range. It's competitive with the iPad. And it's not the iPad.
An eWEEK slide show of the Limited Edition Samsung Galaxy Tab 10.1, with further comments on the tablet's features, may be found here.
Clint Boulton is a writer for eWEEK.
---
This article was originally published on LinuxDevices.com and has been donated to the open source community by QuinStreet Inc. Please visit LinuxToday.com for up-to-date news and articles about Linux and open source.