Apr 11, 2011 — by LinuxDevices Staff — from the LinuxDevices Archive — views
The Acer Iconia Tab A500 "Honeycomb" tablet will be available for pre-order for $450 at BestBuy.com on April 14, with shipments scheduled for April 24. In other tablet news, the Wi-Fi-only Samsung Galaxy Tab is now shipping for $349, and Barnes & Noble (sort of) opened up its Nook Color e-reader tablet to Android developers.
Customers will be able to place orders for the Acer Iconia Tab A500 at BestBuy.com beginning April 14, according to an Acer America announcement April 8. The Android 3.0 ("Honeycomb") tablet will begin shipping Easter morning, April 24. Last month, AT&T announced that it will also launch a version of the Acer tablet during the second quarter — an Iconia Tab A501 with 4G capabilities.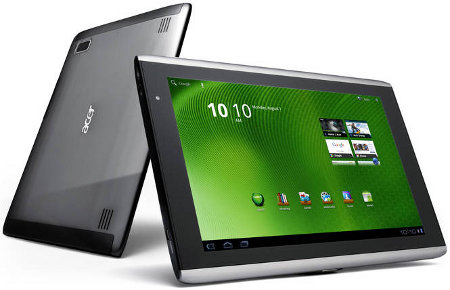 Acer Iconia Tab A500
(Click to enlarge)
Previewed by Acer
in November, and
tipped again at CES in January
, the Iconia Tab features a 10.1-inch multitouch screen, and runs Android 3.0 "Honeycomb") on a 1GHz Nvidia Tegra 2 dual-core processor with an integrated GeForce GPU. There's also 16GB of flash storage, a microSD card slot for 32GB of additional storage, a five-megapixel camera on the back, and a two-megapixel camera with HD video-recording capabilities on the front.
Housed in aluminum, the Iconia Tab A500 includes Wi-Fi, GPS, and Bluetooth connectivity, but for now foregoes either 3G access or the need for a wireless carrier contract. The tablet is said to offer 10 hours of battery life, but measures 10.24 x 6.97 x 0.52 inches and weighs 1.69 pounds, making it heftier than the iPad 2's 1.33 pounds and 9.5 x 7.31 x 0.34-inch frame.
The Iconia Tab's price tag, however, is lighter, at $450. The 16GB Wi-Fi-only iPad 2, Apple's starting model, is priced at $499. Hop up to 64GB and add 3G support from AT&T or Verizon, and Apple's pricing rises to $829.
The only currently shipping Honeycomb tablet is the Motorola Xoom, which sells for even higher than the iPad 2. According to some reports, Xoom sales have been slow, although AT&T and Verizon countered these reports late last week, claiming — without offering sales figures — that the Xoom is selling just fine.
With the Iconia Tab A500 offering roughly similar features as the Xoom, but at a significantly lower price, the tablet may well be a contender. However, if the consumer hesitations with the Xoom are due more to questions about Android 3.0's stability and application availability, it could be a long, slow spring for Android tablet makers.
Acer counts on tablets to reverse netbook decline
Acer is counting on tablets to revive earnings that have been slashed in large part by the iPad and the tablet market it created. Acer rode high on the netbook craze of the last few years, overtaking Dell in 2010 for the No. 2 position among global PC manufacturers. However, Acer's PC business has slowed, as consumers and enterprise users have turned their attention from the thin-and-light, travel-ideal netbooks to the even thinner and lighter tablets.
With sales continuing to fall, Acer on March 25 lowered its guidance for the first quarter of 2011. Originally expecting positive growth of 3 percent, it instead has warned of a negative annual growth rate of 10 percent, according to CENS.com, a Taiwan economic news source.
"We may not be able to get back to the golden days, as notebook-plus-netbook may be only able to maintain single-digit growth compared to 20 to 30 percent in the past," Acer Chairman J.T. Wang said during a conference call with investors April 7, according to Bloomberg. "We had too much emphasis on the volume in the past. Any growth in revenue this quarter will come from tablets as computer sales will remain unchanged from the first quarter."
Wang reportedly added that Acer has an "aggressive plan" for gaining share in the tablet market over the next two years, which likely includes more feature-rich versions of the Iconia Tab.
In addition to the challenge of getting the company's balance book back in the black, Acer's Wang is currently tasked with finding a new president and CEO for the company, after Gianfranco Lanci resigned March 31. Lanci, according to an Acer statement, held different views than a majority of the company's board members and put a different degree of importance on "scale, growth, customer value creation, brand position enhancement, and on resource allocation and methods of implementation."
Wi-Fi Galaxy Tab ships as Nook Color opens up

In other recent Android tablet news, eWEEK reported that Samsung began selling the Wi-Fi-only version of its seven-inch Galaxy Tab from CompUSA, TigerDirect, and Circuit City on April 10 for a low $349. Sprint and T-Mobile have previously sold the 3G-ready version of the device for $399 with two-year contracts, Verizon Wireless and AT&T sold it for $599 and $649 off contract, respectively.
The tablet runs Android 2.2, which is not optimized for tablets. However, XDA-Developers has released a rather shaky, prerelease version of Android 3.0 optimized to run on the Galaxy Tab.
In addition to the Galaxy Tab, one of the other best-selling Android tablets is not billed as a tablet at all. After Barnes & Noble's seven-inch, Nook Color e-reader (pictured) began receiving interest from Android developers, some of whom have succeeded in rooting the device, the company is now actively courting them.
According to an April 7 story by AllThingsD, Barnes & Noble released new tools for developing apps for the highly customized Android stack, and said it plans to offer developers 70 percent of revenue generated through its store, with Barnes & Noble getting the remaining 30 percent, says the story.
The store and the supporting Android tools are expected to be available in the next major update to the Nook, due this spring, says AllThingsD. Android developers are encouraged to apply to the developers program to gain access to the tools, but Barnes & Noble says it reserves the right to be selective, says the story.
Sony and Dell models wait in wings
Finally, Dell's rumored 10-inch Android 3.0 tablet could be coming as soon as June, according to Forbes last week. And in the better late than never category, earlier this month, Bloomberg reported that Sony will offer an Android tablet by the end of the summer.
Michelle Maisto is a writer for our sister publication eWEEK.
---
This article was originally published on LinuxDevices.com and has been donated to the open source community by QuinStreet Inc. Please visit LinuxToday.com for up-to-date news and articles about Linux and open source.