Jun 28, 2010 — by Eric Brown — from the LinuxDevices Archive — 1 views
Samsung announced new versions of its high-end Galaxy S Android phones for Sprint, Verizon, and T-Mobile. Like the original Samsung Galaxy S, which will be sold under that name at U.S. Cellular, the Verizon Fascinate and T-Mobile Vibrant are keyboard-less phones, whereas Sprint's WiMAX-enabled Samsung Epic 4G mimics the recently tipped Galaxy S Pro design, which adds a slider keyboard.
All the Samsung phones appear to be close spin-offs of the Samsung Galaxy S, which went on sale earlier this month in Korea and Singapore and was already spun into a similar AT&T Samsung Captivate earlier this month. The notable exception is the Sprint Samsung Epic 4G which adds a keyboard and a 4G radio, but otherwise appears to be functionally identical to the Galaxy S. All the phones differ slightly in pre-installed apps, however.
Like the original Galaxy S (pictured at right), all the n

ew Samsung phones run Android 2.1 on a 1GHz Samsung S5PC110 "Hummingbird" system-on-chip, and feature a 4-inch Super AMOLED display with WVGA (800 x 480) resolution. Other common features include 802.11b/g/n, Bluetooth 3.0, GPS, a five-megapixel camera, and a separate, front-facing VGA videocam.
The phones provide tri-band 3G connectivity, including HSDPA, as well as quad-band GSM technology. A 3.5-millimeter headphone jack is offered, as well as microSD slot and a six-axis sensor, which combines the accelerometer and gyroscope.
Like the Galaxy S, the phones offer Samsung's social-networking app, called Samsung Social Hub. They will also provide the DLNA media sharing app, Samsung Media Hub.
Sprint's Samsung Epic 4G
Sprint's Samsung Epic 4G is the most notable smartphone of the bunch, as it is Samsung's first 4G phone. Like the HTC Evo 4G, it supports Sprint's Clearwire-based WiMAX network, which is claimed to offer from between two and ten times greater download bandwidth than 3G. The phone also stands out as being the first example of the recently tipped Galaxy S Pro design, which includes a slide-out QWERTY keyboard.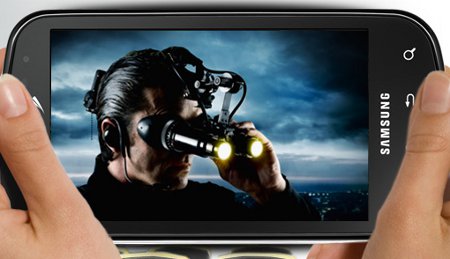 Sprint's Samsung Epic 4G
The Epic 4G offers a mobile hotspot feature that spreads 4G bandwidth to up to five Wi-Fi enabled devices. Presumably — as with the mobile hotspot router offered by the Evo 4G, as well as the one offered by the Motorola Droid X — this feature won't be enabled until the iminent arrival of Android 2.2, which adds support for mobile hotspots. As with the other Galaxy S phones, the Epic 4G will be equipped with Android 2.1, but Sprint has said it plans to
soon update the Evo 4G
with Android 2.2, so the Epic 4G is likely right behind it.
Supplied software includes push email and integrated calendar services, including Google and Yahoo, as well as Exchange ActiveSync for corporate email, says Sprint. The carrier also announced the availability of a Sprint 4G developer guide, which offers details on developing for an Android 2.1 handset, with specific tips on working with the Samsung Epic 4G.
T-Mobile's Samsung Vibrant
T-Mobile's Samsung Vibrant variation on the Galaxy S is loaded with entertainment features, says the carrier. These are led by the movie, "James Cameron's Avatar," which is said to be stored on an included 2GB external memory card.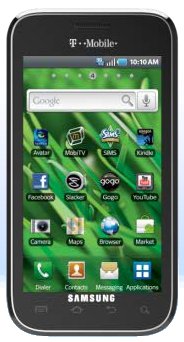 As with the Epic 4G, the Vibrant (pictured at right) can act as a Wi-Fi hotspot for up to five other devices. The shared bandwidth may not be 4G, but the Vibrant is touted as supporting T-Mobile's new HSPA+ network, which the carrier claims offers 4G-equivalent speeds.
Pre-loaded software is said to include a collector's edition of Sims 3, as well as the Amazon Kindle for Android application. Other pre-loaded applications include MobiTV, which offers consumers access to live and on-demand TV available in English and Spanish, including more than 35 channels of news, sports, and entertainment, says Sprint.
The Slacker Radio mobile application also comes pre-loaded, offering free personalized radio with more than 120 genre stations. In addition, the phone is said to ship with a month of free in-flight Wi-Fi access on the Gogo Inflight Internet service.
Stated Paul Cole, VP, devices and accessories, T-Mobile USA, "We are proud to introduce the Samsung Vibrant as the latest addition to our growing lineup of Android-powered devices."
Verizon's Samsung Fascinate
Verizon Wireless' version of the Galaxy S offers 2GB internal memory expandable to 32GB, says the carrier. Like the Epic 4G and Vibrant, the Samsung Fascinate is said to offer a mobile hotspot for up to five users.
The Fascinate comes pre-loaded with Microsoft Bing Maps and Bing Search, and offers Verizon V Cast applications including Rhapsody, Video on Demand, Song ID, and Tones. Other Verizon apps pre-installed on the Fascinate are said to include Visual Voice Mail, VZ Navigator, and Mobile IM.
The Fascinate offers integrated calendar information from portal calendars, on Exchange, Google Calendar, as well as social networking services, including Facebook, says Verizon. The phone is also said to offer integrated contacts syncs with Exchange, Google, Twitter, and Facebook, along with feeds and updates from social networking services. Other features include Daily Briefing and Write and Go apps, as well as a Weather Clock.
Pricing or availability information was not supplied, nor did Verizon appear to post a photo of the Fascinate.
Samsung's Galaxy S goes to U.S. Cellular
The smallest of the U.S. carriers to nab a Galaxy

S apparently could not afford the tab required to rebrand the phone, but that could be a good thing for both the carrier and its customers. Like the original version being sold in Asia, and soon, worldwide, U.S. Cellular's Galaxy S (pictured) offers Google Mobile Services including Google Search, Maps, Gmail, YouTube, Google Talk, and Android Market, says Chicago-based mobile provider.
Stated Ed Perez, VP of marketing and sales for U.S. Cellular, "The Galaxy S delivers on our customers' need to have popular applications at their fingertips while keeping them in touch with those who matter most."
Availability
Sprint's Samsung Epic 4G is available for pre-registration now, prior to release in the "near future," here. The Sprint 4G developers guide may be found here.
The Samsung Vibrant is expected to be available to T-Mobile customers beginning July 21, for for $200 plus a two-year contract. Pre-orders are said to begin on July 1, here, or at any one of more than 4,000 RadioShack stores or via their website, here. To pre-order, customers must purchase a $50 gift card, which will be applied toward the retail price of the device, says T-Mobile. A story in our sister publication eWEEK with more software details on the Vibrant may be found here.
Verizon did not appear to offer pricing or availability information for the Samsung Fascinate, let alone a web page, but an eWEEK story offering more software details on the phone, may be found here.
U.S. Cellular says that its version of the Samsung Galaxy S smartphone will be available in the fall. More information may be found here.
---
This article was originally published on LinuxDevices.com and has been donated to the open source community by QuinStreet Inc. Please visit LinuxToday.com for up-to-date news and articles about Linux and open source.