May 18, 2010 — by Eric Brown — from the LinuxDevices Archive — views
Amazon.com announced that a free e-reader app for its Kindle Store is coming to Android. The Kindle for Android app arrives amidst growing competition from low-cost e-readers such as the Kobe, Android models like the hot-selling Nook, and multi-function color tablets ranging from the iPad to a possible new Sony device.
Due this summer, the Kindle for Android app will offer access to over 540,000 books in the Kindle Store, providing a basic version of functionality found on its Linux-based Kindle and Kindle DX e-reading devices, says Amazon. The Android app joins other Kindle e-reading apps available now for RIM's BlackBerry, as well as Apple's iPhone, iPod touch, and iPad. (Amazon's e-reading app is also available in desktop versions for Windows and Mac computers.)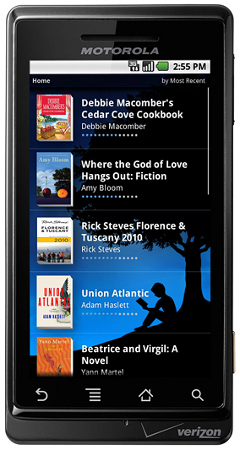 Kindle for Android
(Click to enlarge)
The new Android app includes Amazon's Whispersync technology for synchronizing bookmarks across the existing Kindle platforms named above, as well as with the
Kindle
and the larger-screen
Kindle DX
, says the company.
Other features of Kindle for Android are said to include:
Search more than 540,000 books, including 96 of 110 New York Times bestsellers
Browse by genre or author, and use Kindle Store features like customer reviews, personalized recommendations, and editorial reviews
Access library of previously purchased Kindle books stored on Amazon's servers
Synchronize last page read between Kindle, Kindle DX, iPhone, iPod touch, iPad, PC, Mac, and BlackBerry
Choose from five font sizes
Read the beginning of books for free before purchasing
Read in portrait or landscape mode, and tap on either side of the screen or flick or turn pages
Amazon looks for new Kindle angles amidst growing competition
The new app is another sign of Amazon's increasing investment in the Kindle and Kindle e-reader service at a time of growing competition. Earlier this year, the company announced a Linux software development kit (SDK) for its Kindle e-book readers, offering a 70-30 revenue split for "active content" to be sold in the Kindle Store.
The relatively vague description of the active content would nevertheless appear to suggest that a more robust Kindle model and/or software will be appearing later this year. In February, meanwhile, the company signed a broad patent agreement with Microsoft over the use of Linux, which would certainly appear to cover any future Kindle plans.
According to Amazon, the Kindle (pic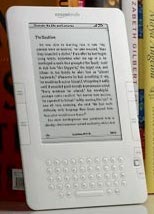 tured at right) is "the most wished for, most gifted and #1 bestselling product on Amazon.com," and in January, analysts estimated that 2009 sales of all the Kindle devices totaled a half million units.
Still, the company faces growing competition from a number of low-end e-reader devices, many of them running Linux. The latest contender — of an unknown OS lineage, as far as we've been able to determine — is Borders' Kobo e-reader device. Announced last week, the Kobo is expected to sell for $150, or over $100 less than the Kindle.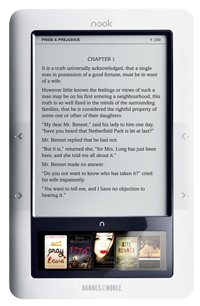 In late April, Digitimes Research estimated that Barnes & Noble's Android-based Nook e-reader (pictured at left) was responsible for 53 percent of e-book readers shipped to U.S. vendors in March, outpacing the Kindle. The Nook has thrived, despite some negative reviews, and an ongoing lawsuit from Spring Design, which claims Barnes & Noble stole the basic design from its own, Android-based Alex e-reader. The Alex is also shipping, but despite innovations that push it beyond the Nook, it lacks the clout of a major book chain.
Publishers prefer the iPad
The Kindle's greatest competition may come from color-based multi-function tablets, starting with Apple's iPad. If consumers prove to be comfortable with reading from color screens — and can put up with much more limited battery life than is enjoyed by the Kindle and other E-Ink-based monochrome displays — the Kindle party could be over in a hurry.
Exacerbating Amazon's challenges is the fact that major book publishers are lining up behind the iPad to challenge Amazon's $9.99 e-book pricing, according to an April 26 piece by Ken Auletta in The New Yorker (see link farther below). The iPad's $14.95 price point for most new books is much more to the liking of publishers, which are concerned that Amazon is accelerating an ongoing downward trend for the industry.
Auletta's fascinating piece also looks at the emerging e-book role of Google, which has gone from the publishing industry's number one enemy with its Google Books endeavor to something more akin to an ally. Once Google agreed to pay $125 million dollars to authors and publishers for the use of their copyrighted material in late 2008, the industry became more comfortable with Google opening up large sections of its book scans to free Internet searching.
Later this year, Google is setting up an online e-book store called Google Editions, which will let publishers set the price for their books, Auletta adds.
WePad becomes WeTab
Google itself is said to be preparing an Android tablet reference design, which may form the basis for a product to be sold by Verizon. Yet Amazon has more to fear than Apple and Google. Some of the new color tablets, for example, are specifically targeting e-reading as the core function. These include Neofonie GmbH's WePad, which was recently renamed to the "WeTab."
A new WeTab GmbH joint venture has also launched to sell the tablet, controlled by Neofonie GmbH and 4tiitoo AG, both of which will provide content. No reason was given for the name change, announced on May 7, although it would not be surprising if Apple's legal team, which has been quite active of late, was dropping some helpful suggestions. The Intel Atom- and Android-based WeTab will focus on selling magazine and newspaper content to a European audience.
Sony mulls tablet and Nvidia doubles down on Android
Along with the Nook, Sony's Reader (most likely Linux-based) has been one of Amazon's main competitors for the Kindle. Now Sony is said to be taking a "deep look" at building a multi-function tablet device, according to a story that appeared in Bloomberg last week. Like other companies, Sony is greedily eyeing the over million unit sales enjoyed by the iPad already.
By the end of the year, however, the iPad will see considerable competition from a number of Android-based tablets that have already been announced. Many of these Android-based tablets use Nvidia's Tegra 2 processor. Yesterday, MobilitySite reported that Nvidia's recent earnings call suggested a major focus for the company on Tegra 2-based tablets for Android.
The story quotes Nvidia CEO Jen-Hsun Huang, as saying, "I think the second-generation Tegra has been doing incredibly well because Android is doing incredibly well. So we're going to come to market with the second-generation Tegra with the third-generation Android. And so that's our focus now."
Availability
Amazon's free Kindle for Android app should be available this summer, says Amazon. A sign-up page for availability notification may be found here.
The Ken Auletta story in The New Yorker on the iPad and Kindle may be found here.
The MobilitySite story on Nvidia's earnings and comments on Android tablet plans should be here.
---
This article was originally published on LinuxDevices.com and has been donated to the open source community by QuinStreet Inc. Please visit LinuxToday.com for up-to-date news and articles about Linux and open source.