Jan 27, 2009 — by Eric Brown — from the LinuxDevices Archive — 9 views
Advanced Micro Devices (AMD) has no plans to upgrade or replace the low-power, X86-based Geode processor, says an industry report. However, AMD will continue to sell the chip, which has long been a mainstay of Linux devices in many industries.
The decision to discontinue development on the Geode system-on-chip (SoC) stems in part from the current recession and AMD's ongoing financial troubles, writes Agam Sha in an IDG News Service report that broke the story. The story quotes AMD spokesman Phil Hughes as saying "There are no plans for a follow-on product to today's available AMD Geode LX products, but we expect to make this very successful processor available to customers as long as the market demands."
The story also quotes Dean McCarron, president of Mercury Research, as saying that the core problem is that the Geode architecture is too old to revamp, and the SoC is considered a "niche" product at the company. McCarron was quoted as suggesting that AMD may instead target one of today's most lucrative embedded markets — netbooks — with a lower-power version of its new Athlon Neo processors, which are clocked at 1.6GHz and are currently targeted at small notebooks.
In fact, the IDG story refers to a previous quote from AMD SVP Randy Allen saying that, "You are going to continue to see us offer lower-power processors just like the Neo being offered at 15 watts." By comparison, the Geode LX runs at speeds of up to 600MHz and draws between 0.9 watts and five watts of power, says the story.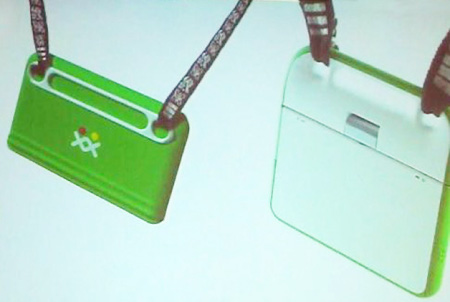 A prototype of the XO-2 (left) and the Geode-based XO-1 (right)
(Click to enlarge)
AMD's Geode LX800 was at the heart of the device that arguably first touched off the low-cost netbook craze, the One Laptop Per Child (OLPC) Foundation's XO, and the SoC has appeared in a wide variety of embedded Linux devices over the years. The architecture is based on a Cyrix MediaGX chip from the mid '90's that was aimed at the low-cost PC market. It was later acquired by National Semiconductor and relaunched as the Geode. AMD acquired the architecture from National Semi in 2003, and relaunched it in 2005 as the Geode LX — the first and only embedded processor designed by AMD (though like most chipmakers, AMD re-packages select mobile cores for embedded applications).
| CPU | Clock | Typical Power | TDP |
| --- | --- | --- | --- |
| LX700 | 433MHz | 1.3W | 3.1W |
| LX800 | 500MHz | 1.8W | 3.6W |
| LX900 | 600MHz | 2.6W | 5.1W |
AMD's successful Geode LX line
Fabbed on a 0.13-micron process, the chip has an x86/x87 compatible core, and integrates typical northbridge functions such as memory and graphics controllers. It is designed for use with AMD's CSCS5536 companion chip. The semiconductor giant revamped the LX line in 2007, sandwiching its existing 500MHz LX800, which has a 3.6 Watt TDP, with a new 600MHz LX900 with a 5.1W TDP and a 433MHz LX700 with a 3.1W TDP.
Several higher-performance chips have, in recent years, eclipsed Geode's power efficiency:
The embedded version of Intel's Atom processor, the Z5xx (formerly "Silverthorne"), is fabbed on 45nm process technology, clocks from 800MHz to 1.8GHz, and dissipates 0.65W to 2.4W.
Via's Eden ULV, meanwhile, clocks from 500MHz to 1.5GHz, dissipating from 1 Watt to 7.5 Watts.
Meanwhile, several lower-powered x86-compatible chips have begun to approach Geode's performance. For example, DMP Electronics's IGP-equipped Vortex86MX system-on-chip clocks to 1GHz while dissipating 2 Watts, according to one report.
According to the IDG story, the OLPC, which like AMD, was struggling financially even before the recent financial crisis, could turn to another semiconductor vendor to build its next-generation XO-2 (pictured above, at left). The story points to a Wiki page at OLPC that suggests that either Intel or Via could provide chips for the XO-2.
Availability
The IDG News Service story, "AMD sees no Geode chip replacement in sight," should be here.
---

This article was originally published on LinuxDevices.com and has been donated to the open source community by QuinStreet Inc. Please visit LinuxToday.com for up-to-date news and articles about Linux and open source.