Aug 13, 2008 — by Jonathan Angel — from the LinuxDevices Archive — 1 views

AMD has been taking a "wait-and-see" attitude to the netbook market, but its Turion 64 X2 processor has reportedly made it into one anyhow. Raon Digital announced the Everun Note, which also includes a seven-inch display, 1GB of RAM, and a 60GB hard drive.
Raon Digital's website does not yet offer any details about the Everun Note. However, Grace Won, of global computing news publishing firm Aving.net, says the Note is based on AMD's Turion 64 X2 processor, clocked at 1.2GHz.
As Won writes, the Everun Note will be one of the smaller netbooks, offering 1024 x 600 resolution packed onto a seven-inch screen. The Everun Note is said to weigh just 1.6 pounds, and to measure 7.87 x 4.64 x 1.08 inches (200 x 118 x 27.5mm).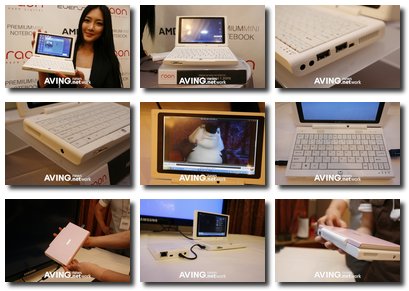 Raon Digital's Everun Note
(Source: Aving.net. Click for originals)
Likely to be less touch-typeable than larger Linux netbooks such as the Asus EEE PC 1000, the Everun Note is said to include a 60GB hard drive, as well as a 1.3 megapixel camera, WiFi, Bluetooth, and an SD card reader.
Interestingly, the diminutive Everun Note looks to be one of the more expandable netbooks. According to AVING's story, it has both a PCI Express Mini card slot, together with a front-mounted Universal Subscriber Identity Module (USIM) USIM slot. These two slots could potentially be utilized to give the device cellular connectivity, although none has been announced.
The Everun Note is cited as having both two standard USB 2.0 host ports and a phone-style mini-USB device port. Photos on the AVING website additionally suggest that the device also offers an RJ45 Ethernet connector, via an external adapter.
AMD's dual-core Turion 64 X2 processor family includes TL-50, TL-52, TL-56, and TL-60 models that clock from 1.6GHz to 2.0GHz, respectively. The TL-52, for example, runs at 1.6GHz, has a pair of 512KB L2 caches, and has a thermal design power (TDP) of 31 Watts. According to AVING, however, the Everun Note clocks the Turion 64 X2 at just 1.2GHz, in an apparent attempt to ease cooling and extend battery life. The device includes 1GB of RAM and AMD/ATI's RS690E graphics chipset.
The initial version is said to preload Windows XP Home. No mention of Linux support was given, but the device appears to be based on a standard PC hardware platform that is likely to be well-supported under Linux.
Everun Note features and specifications cited by AVING include:
Processor — AMD Turion 64 X2 clocked at 1.2GHz, with 1MB second-level cache

Memory — 1GB of DDR2 RAM

Display — seven-inch screen with 1024 x 600 resolution, featuring ATI RS690E graphics chipset and DirectX 9.0 support

Camera — 1.3 megapixel

Storage — 60GB hard drive

Networking:

LAN — Ethernet with RJ45 connector (via apparent external adapter)

WLAN –802.11b/g

PAN — Bluetooth

WAN — USIM for potential cellular option (unconfirmed)

Other I/O:

2 x USB 2.0 host ports

1 x USB 2.0 device port

Audio mic in and headphone out, with 3.5mm connectors

Expansion:

Connector for external expansion box (apparently includes RJ45 connector and additional USB 2.0 device port)

SD slot

USIM slot

Battery life — "2.5 hours for web surfing"

Dimensions — 7.87 x 4.64 x 1.08 inches

Weight — 1.6 pounds (742g)
Background
AMD's low-power Geode LX800 chipset was at the heart of the device that arguably first touched off the low-cost mini-laptop craze, the One Laptop Per Child (OLPC) Foundation's XO. Since that device's 2007 introduction, though, Intel has seized the initiative, first by creating its own Celeron-based reference platform, the ClassMate PC, and then by launching both the "netbook" moniker and a N270 Atom processor to support it.
Today, there are exceptions such as HP's 2133 Mini-Note PC, based on a Via C7 chip. However, Intel's 1.6GHz, 22mm x 22mm N270, 945GMS northbridge, and ICH7M southbridge dominate the netbook market. (To track the N270's progress, see LinuxDevices.com's regularly-updated showcase of Linux netbooks.)
Meanwhile, AMD has remained on the sidelines — by design, according to company officials. The company's chief marketing officer, Nigel Desseau, told our sister publication eWEEK.com last month that AMD would stand aside to see how the netbook market develops. "We are watching that segment rather than playing in it, but as it matures we'll see where it goes. At this moment, we are going to focus on what we do best," he is reported as saying.
Further information
As mentioned above, information on the Everun Note is not yet posted on the Raon Digital website, though AVING reports that the device will be available in September. To read Grace Won's report on the device, visit the AVING website, here.
To read the interview with AMD Chief Marketing Officer Nigel Desseau, see the eWEEK.com website, here.
---

This article was originally published on LinuxDevices.com and has been donated to the open source community by QuinStreet Inc. Please visit LinuxToday.com for up-to-date news and articles about Linux and open source.