Feb 26, 2007 — by LinuxDevices Staff — from the LinuxDevices Archive — 6 views
TI will bundle VirtualLogix's Linux distribution and platform virtualization layer with a DSP development kit that targets multimedia applications. TI's TMS320DM6437 Digital Video Development Platform (DVDP) for DaVinci technology will include a trial version of VLX-DM (digital multimedia) v2.0, along with a no-cost, royalty free Linux BSP (board support package).
Single-core TI DSPs were the first target processors supported by VirtualLogix's platform virtualization technology, which emerged in 2004, and has gone on to appear in mobile phones, telephony infrastructure, and military/aerospace products. However, VirtualLogix VP of marketing Mark Milligan notes, "This is the first time that we're shipping a version of Linux that runs on the DSP, and that will be available to all TI customers at no cost and at no royalty."
VLX-DM enables to run multiple OSes or OS instances side-by-side on a single processor core — in this case, both Linux and TI's DSP/BIOS on the TMS320DM6437's single DSP core. Following evaluation, companies wanting to embed the virtualization component in production devices will need to license VLX-DM from VirtualLogix. However, they could in theory use the free VirtualLogix BSP as the basis for a Linux-only DSP product, without VLX-DM, Milligan confirmed. Ordinarily, Linux must be ported to VLX; however, Milligan said VirtualLogix has "separated the components a little bit," enabling the Linux BSP to stand on its own, without the VLX-DM virtualization layer.
DM643x chip family and DM6437 DSP
The TMS320DM643x processors are DSP-only members of TI's Davinci chip family, which also includes RISC/DSP models. The DM6437 chip and associated DM6437 Digital Video Development Platform appear to be the first shipping products from the family.
The DM6437 DSP is based on a C64x+ DSP core, with DaVinci video extensions. It can be clocked at 400MHz, 500MHz, or 600MHz.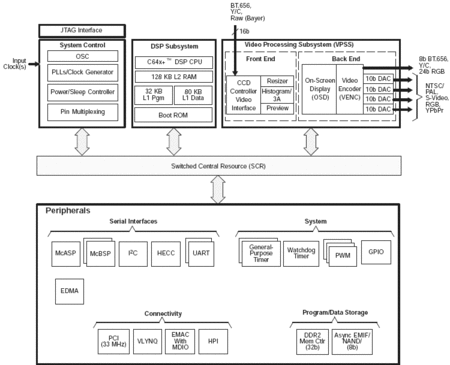 TI DMS6437 block diagram
(Click to enlarge)
TI targets the DM6437 at in-flight entertainment systems, machine-vision systems, robotics, video security, video telephony, and automotive vision applications such as lane departure and collision-avoidance systems. VirtualLogix claims that its VLX-DM kit lets developers add rich functionality to devices such as IP set-top boxes, videophones, and webcams.
Lots more technical details about the DM6437 and DM643x-series DSPs and VirtualLogix's VLX-DM port for the chips can be found in our earlier coverage last November.
Free Linux BSP
VirtualLogix's no-cost Linux BSP for the DM6437, to be bundled with TI's digital video dev kit, is distributed as source code that can be built using TI's Code Composer Studio (CCS), an integrated compiler for DSP cores. The free BSP includes driver support for most of the DM6437's many interfaces, including, video, audio, EMAC Ethernet, integrated UART, EDMA, I2C, McBSP, timers, VPSS, AIC33, and LEDs.
Supported filesystems include Ext3FS, NFS, DevFS, CRAMFS, AutoFS, MSDOSFS, VFAT, ISO9660, JFFS, and JFFS2. Also included is a networking stack supporting: TCP/UDP, IPv4 and IPv6; IP multicast; IP forwarding and advanced routing; DHCP/BOOTP/RARP configuration; IP Tunneling; and fair packet scheduling (DiffServ, RSVP).
Additional protocol support and BSP features are available by request, through VirtualLogix services, the company said.
Availability
TI's TMS320DM6437 Digital Video Development Platform (TMDXVDP6437) is shipping now, priced at $500. It includes a DM6437 DSP, a development board, a board-specific version of Code Composer Studio, and various codecs and evaluation kits.
VirtualLogix's VLX-DM v2.0 is available now, priced at $7,500 per development seat, not including royalties. In addition to the DM6437, it supports TI's TMS320DM643x, TMS320DM64x and TMS320C641x DSP families, according to VirtualLogix.
VirtualLogix also recently began offering an evaluation version of its VLX-MH (mobile handset) product.
---

This article was originally published on LinuxDevices.com and has been donated to the open source community by QuinStreet Inc. Please visit LinuxToday.com for up-to-date news and articles about Linux and open source.