Sep 26, 2006 — by LinuxDevices Staff — from the LinuxDevices Archive — 3 views
Jaluna has renamed itself as VirtualLogix, and rebranded its OSWare product porfolio as VLX, it announced Sept. 26. Additionally, the company has begun targeting specific market segments, beginning with three products aimed at helping companies lower costs and preserve legacy software investments while adopting Linux, including one targeting mobile phones.
CEO Peter Richards told LinuxDevices that the name "VirtualLogix" was chosen to reflect the market the company serves. "It's a name to define the market we want to lead, the virtualization market, and it's a terrific play on words. 'Logix' is an international word, to reflect our global strategy. And the 'x' symbolizes multicore."
Additionally, the company's new "VLX" branding aims to "align and communicate [our] products and business value within key market segments," the company says. The three initial market-specific products now include:
VLX for Digital Multimedia
VLX for Network Infrastructure
VLX for Mobile Handsets
The first of these, VLX for Digital Multimedia (VLX-DM), is merely a rebranding of its OSWare for Texas Instruments DSPs, which was last revised about a year ago, and recently demonstrated in an IMS (integrated multimedia subsystem) context.
The Mobile Handset and Network Infrastructure versions of VLX, on the other hand, represent significant technological revisions to earlier Jaluna products.
What's VLX?
VirtualLogix describes VLX as a "high-performance" software virtualization platform for embedded systems. Basically, VLX enables multiple OSes to run concurrently on the same general-purpose processor or DSP (digital signal processor).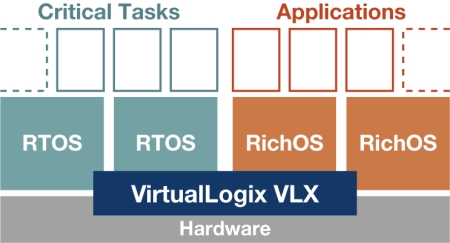 VLX system architecture
The company says the technology preserves the hard real-time characteristics of RTOSes, while allowing RTOSes to interoperate and share a processor and other hardware with Linux. Because hardware resources are partitioned, operating systems are isolated with regard to failures, security breaches, or possible licensing contamination, the company says.
Additionally, VLX can be used to run several instances of Linux, as a software-based cluster, Jaluna says.
VLX for Network Infrastructure — Intel partnership bears fruit
VLX for Network Infrastructure (VLX-NI) is based on a version of OSWare previously available for Intel's IA architecture, and previously used by Alcatel to support multiple versions of a proprietary softswitch RTOS on a Xeon processor. Entirely new is the product's support for Intel's Core2 Duo architecture — an architecture slated for use across multiple Intel product lines, including mobile and desktop chips,
VLX-NI is said to allow multiple, unmodified operating systems to share a single multicore processor based on the Core2 architecture. The "unmodified" part is especially important, and comes thanks to "Intel VT" (virtual technology) hardware integrated into the chips, according to VirtualLogix co-founder Michel Gien, who now serves as EVP of corporate development.
Gien explains, "In the past, and still on [non-Intel Core] architectures, we did para-virtualization. That is, we make some modifications in order to switch OSes' getting control of hardware. We call them OS plugins. They are quite straightforward, but still a modification. The cool thing Intel has done is to allow us to eliminate the need to change the OS at all."
Gien adds, "The virtualization hardware works regardless of number of cores, and the VT tech is being enhanced with DMA switching, for even better performance."
VirtualLogix says that the ability to run existing real-time OSes and legacy software on modern, multi-core Intel hardware will eliminate porting efforts completely, while "dramatically reducing" re-validation. Other touted benefits include reduced bill of materials, optimized performance, and lowered power consumption.
Gien said, "One example is a customer with four boards. One runs Linux 2.4, two run Linux 2.6, and then there is a softswitch in their own RTOS. Now they can consolidate to a single board, move to standard hardware, and the OSes can run without any modications."
"We worked closely with Intel on this," Gien adds.
VirtualLogix, then Jaluna, joined Intel's Communications Alliance as an Affiliate member in June, after demonstrating Core2 virtualization technology at GlobalComm. The company said at the time that the demo showed that legacy software stacks "do not need to be re-architected in order to take advantage of Intel multi-core CPUs, while maintaining real-time performance bounds."
VirtualLogix VP of marketing Mark Milligan adds, "Intel has announced that all processors going forward will be at least dual-core. In the telco space, people are in danger of being left behind, because there are not very many [in-house] RTOSes that are ready for multiprocessing. We can help them keep up with the Intel technology train."
Joe Jensen, GM of marketing for Intel's communications infrastructure group, stated, "Intel recognizes VirtualLogix's continued leadership in real-time virtualization software. The VirtualLogix team has been a successful early adopter to initially support the Dual Core Intel Xeon processor 5100 Series and now the Intel Core2 Duo processors."
VLX for Handsets
VirtualLogix's VLX for Mobile Handsets (VLX-MH) grew out of the company's OSWare 2.0 for ARM product, and is versioned "3.0" in order to reflect the product's maturity. OSWare 2.0 for ARM was previously used in a Philips mobile phone reference design.
New in VLX-MH 3.0 are added security features specifically aimed at improving reliability and fault-tolerance, lowering cost, and "fighting malware," VirtualLogix says. Mobile viruses will become "increasingly widespread" by 2007, according to a Gartner study cited by the company.
VLX-MH can increase phone security, VirtualLogix says, by isolating core phone services from open OSes and their applications. Touted benefits include:
"Revenue Protection" — preserves revenue-generating functions, such as placing and receiving calls, in case Linux or another open OS fails
Supports "trusted services" such as security agents, access control, and authentication, protecting them from potential corruption of the open OS
Enables "premium service guarantees" to content providers and business users
Functions such as OS monitoring and automatic restart are isolated from the open OS — allows system repair or restoration, if corruption occurs
Additional touted benefits not related to security include:
Ability to run Linux without a separate applications processor
Ability to re-use existing modem software without modification or re-validation
Isolation of proprietary code from open source license requirements
VDC Senior Analyst Matt Volckmann stated, "VDC expects the market for operating systems and bundled tools in [the mobile phone] segment to increase at a rate of just over 40 percent year-over-year as manufacturers and operators look to deliver more than 950 million new phones to their customers in 2007. VLX for Mobile Handsets directly addresses many of the key concerns, such as the demand for new features, the increased adoption of Linux, and the growing need for security and reliability."
Milligan stated, "VirtualLogix is committed to delivering solutions that allows operators and manufacturers to add new revenue sources, while protecting the integrity of their brands by creating more reliable and trusted products."
Availability
VLX for Network Infrastructure is expected to ship in Q4, with initial support for Intel's E6400 and T7400 Core2 Duo processors. VLX for Mobile Handsets version 3.0, meanwhile, is generally available now, with pricing available on request. It will be demonstrated at the ARM Developers' Conference in Santa Clara, Calif., October 3-5, 2006.
VirtualLogix, formerly Jaluna, was founded in 2002 by the creators of Sun's Chorus microkernel operating system, in Saint-Quentin-en-Yvelines, a modern, high technology-oriented village located in the French countryside west of Paris. The company shipped its OSWare product in 2004. Later that year, it attracted $12M in venture funding, making it France's fourth best-funded startup. In 2005, the company hired former Wind River executive Peter Rich as CEO, and relocated its head office to Santa Clara, Calif.
---

This article was originally published on LinuxDevices.com and has been donated to the open source community by QuinStreet Inc. Please visit LinuxToday.com for up-to-date news and articles about Linux and open source.